Climate Change Essay
Climate Change refers to the long-term shift in average temperature, precipitation, wind patterns, and other measures of climate that occur over several decades or longer. The Earth's climate has changed naturally over geological time. Still, human activities, notably the burning of fossil fuels, have greatly accelerated the pace and extent of these changes. The effects of climate change are wide-ranging, including rising sea levels, more frequent and severe heatwaves, droughts, and other extreme weather events, and changes to ecosystems and wildlife habitats. Let's learn more about the Essay on Climate Change.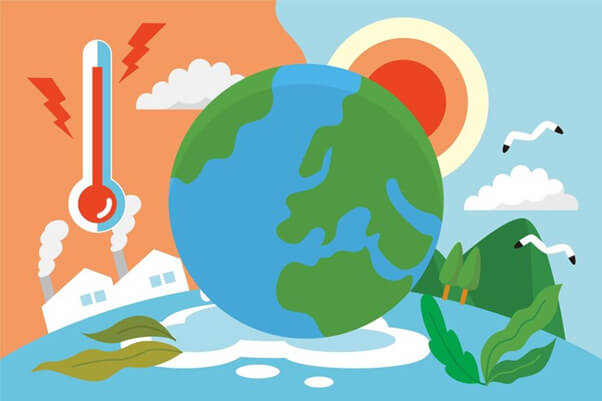 (Image Credit : Freepik)
The Science Of Climate Change
The scientific evidence for climate change is clear and overwhelming. The Earth's average temperature has risen by about 1°C since the late 19th century, with most of this warming taking place in the last four decades. This warming is primarily due to increased greenhouse gases in the atmosphere, particularly carbon dioxide produced by burning fossil fuels like coal, oil, and gas.
Greenhouse Gases trap heat in the Earth's atmosphere, much like the glass walls of a greenhouse. This results in a warming of the planet, which has many impacts on the environment. For example, rising temperatures are causing the melting of polar ice caps and glaciers, leading to rising sea levels. This rising sea level can lead to coastal flooding and erosion and affect water quality and supplies.
The Intergovernmental Panel on Climate Change (IPCC), a scientific body created by the United Nations, has produced several reports over the years confirming the reality of human-caused climate change. In 2018, information from the IPCC stated that it is highly likely that human activities, especially burning fossil fuels, have been the dominant cause of the observed warming since the mid-20th century.
Impacts of Climate Change
The impacts of climate change are wide-ranging and can be worldwide. Some of them are as follows:
#1 Rising Sea Levels
As ice caps and glaciers melt and thermal expansion occurs, sea levels rise, threatening coastal communities and infrastructure.
#2 More Frequent and Severe Weather Events
Climate Change increases the frequency and intensity of extreme weather events, such as heat waves, droughts, and hurricanes.
#3 Changes To Ecosystems and Wildlife Habitats
Climate change is causing shifts in species distribution and altering ecosystems, including forests, wetlands, and coral reefs.
#4 Health Impacts
Climate change can have various effects on human health, such as increased air pollution, the spread of disease by insects, and heat-related illness.
#5 Agricultural Impacts
Climate change can affect crop yields, water availability, and livestock productivity, with implications for food security.
Tackling Climate Change
Addressing climate change will require a coordinated global effort involving governments, businesses, and individuals. Several ways to reduce greenhouse gas emissions and slow the pace of climate change are as follows:
#1 Reducing Carbon Dioxide Emissions
Reducing carbon dioxide emissions by transitioning to cleaner energy sources such as wind and solar power, improving energy efficiency, and reducing emissions from transportation, agriculture, and other sectors.
#2 Protecting And Restoring Ecosystems
Forests, wetlands, and other ecosystems absorb and store carbon, so protecting and restoring them can help slow the pace of climate change.
#3 Adapting To The Impacts Of Climate Change
Adapting to the impacts of climate change may involve protecting coastal communities and infrastructure from sea level rise, developing drought-resistant crops, and improving water management.
#4 Promoting Sustainable Land Use:
Promoting sustainable land use can include planting trees, promoting agroforestry, and restoring degraded land.
How can Individuals tackle Climate Change?
Individuals can play a critical role in combating climate change by changing their lifestyles and consuming habits. Simple actions such as reducing energy use at home and public transportation can significantly impact. Further, reducing meat consumption can have a significant impact when combined with similar efforts by millions of other people.
In addition, individuals can also advocate for policy changes at the local, national, and international levels to tackle climate change. This can involve supporting politicians who prioritize climate action, participating in protests and advocacy campaigns, and supporting organizations working to protect the environment.
Conclusion
In conclusion, the challenge of climate change is a complex and pressing issue that affects everyone. The scientific evidence for human-caused climate change is clear and compelling, and there is an urgent need for action to reduce greenhouse gas emissions and slow the pace of change. Fortunately, many ways have the potential to tackle climate change, including transitioning to cleaner energy sources, protecting and restoring ecosystems, adapting to the impacts of climate change, and promoting sustainable land use. The role of individuals, governments, and businesses is critical in this effort, and each has a unique contribution to make. Working together and taking bold action can help ensure a safe and secure future for ourselves and our generations. Let us all play our part in tackling the greatest challenge of our time.
Recommended Articles
We hope that this EDUCBA information on "Essay on Climate Change" was beneficial to you. You can view EDUCBA's recommended articles for more information,