Essay on Tree
Trees have been a part of our lives for centuries, providing food to wildlife stabilizing soil, and helping to regulate climate, trees are essential components to the health of our planet. This essay on tree will explore the many ecological, economic, and social benefits of trees and how they help to improve our quality of life.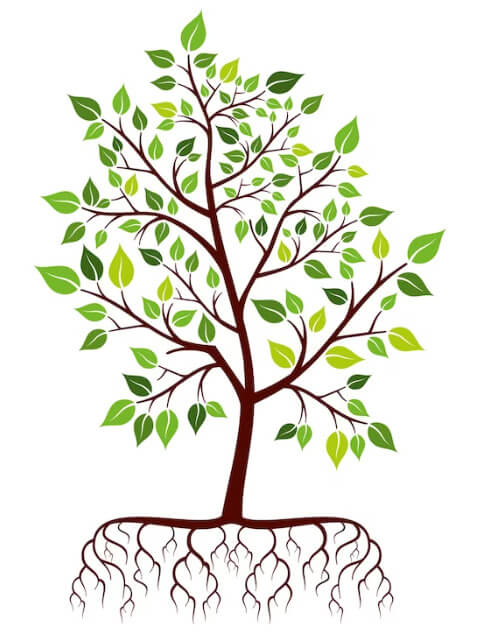 Parts of Tree
#1 Roots
The roots of a tree are the parts that anchor the tree to the ground. They absorb water and nutrients from the soil to help the tree grow.
#2 Trunk
The trunk is the main body of the tree and consists of several layers. The innermost layer is the heartwood, which is the hardest and oldest part of the tree. The outermost layer is the bark, which helps protect the tree from disease and weather.
#3 Branches
The branches of a tree are the parts that bear leaves, flowers, and fruit. They also provide support for the tree's weight and help spread the tree's canopy to provide shade.
#4 Leaves
Leaves are the parts of the tree that produce food for the tree. They also help the tree absorb sunlight for photosynthesis.
#5 Flowers
The flowers of a tree are the parts that produce the seeds for reproduction. They range in color and size depending on the tree species.
#6 Fruit
The fruit of a tree is the part that contains the seeds. It may be edible or inedible, depending on the species.
Classification of Trees
The classification of trees is according to a variety of criteria. One way to classify them on their growth habit.
There are four main types of trees: conifers, deciduous, broadleaf evergreens, and tropical.
Conifers are cone-bearing trees that produce needle-like foliage. These trees are typically evergreen and have a tall, slender growth habit. Examples of conifers include pine, spruce, fir, and cypress.
Deciduous trees are those that lose their foliage during winter and produce new leaves each spring. Examples of deciduous trees include oak, maple, and birch.
Broadleaf evergreens are trees that retain their leaves throughout the year, such as holly and magnolia.
Tropical trees are those that are present in tropical climates and typically thrive in warm, humid environments. Examples of tropical trees include palm, bamboo, and banana.
The classification of trees also according to their use. Some trees are grown for their timber or lumber, while others are grown for their fruit or nuts. Shade trees are to provide shade and reduce the temperature of a home or landscape. Ornamental trees are for their aesthetic value and to add beauty to a landscape.
Uses and Benefits
Trees help maintain the balance of Oxygen in the air, which is essential for the survival of most living organisms. Trees also act as natural air filters, trapping dust and other airborne pollutants, thus improving air quality. Trees also provide us with food. Many of the fruits, nuts, and spices we enjoy are provided by trees. What's more, trees is to create animal feed, providing much-needed sustenance for livestock.
Trees are also a vital natural resource. Wood creates furniture, construction materials, paper, and fuel. Trees can also create medicines, providing natural remedies for many illnesses. Trees also help protect our environment. They act as natural barriers, reducing erosion, noise pollution, and air pollution. Trees also provide habitat and food for wildlife, creating a balance between humans and nature.
Culture for Trees
In many cultures, trees are symbols of fertility and abundance and hence receive respect. For example, in some parts of India, trees are the embodiment of the divine, and their branches are decorated with offerings and prayers. In some cultures, trees are the protectors, with certain trees associated with particular gods or spirits. In some cultures, trees are the guardians of the dead and planting certain species in cemeteries as a way to honor the deceased. Trees are also seen as symbols of wisdom and knowledge. Ancient cultures such as the Greeks and Romans associated trees with philosophers and the pursuit of knowledge, and in some cultures trees are a source of power and strength.
Trees in various spiritual practices and rituals. In some traditions, trees are a source of healing, with certain species burning as part of a ritual or used in divination. In some cultures, trees are also seen as a source of spiritual guidance and protection, with certain species planted near homes or other important sites in order to ward off negative energies and bring luck.
Trees are an integral part of many cultures, from the ancient to the modern. They are symbols of life, fertility, abundance, and wisdom. They are also a source of spiritual power and protection. For these reasons, trees get respected and revered by many cultures around the world.
Final Thoughts – Tree Essay
In conclusion, tree essay explains that tree is an essential part of life on this planet. They provide us with oxygen, food, shelter, and many other benefits. Trees also help to beautify our environment and can provide a calming effect. They are worth protecting and preserving, and we should all do our part to ensure that our forests are healthy and protected.