Republic of India
India is a nation where every citizen empowers and has access to fundamental human rights. It is a nation where women have respect and get equal opportunities. In this India of my Dreams essay or real-life people of all religions, castes, and creeds can live in harmony and peace. In my dream India, education is affordable and accessible to everyone, and healthcare is easily accessible. The government assists those in need and takes measures to eliminate poverty. The economy is strong, and citizens have a sense of security. India of my dreams is a clean and green country with sustainable energy sources and innovative technologies. People are open to new ideas and are tolerant of each other. The atmosphere is with positivity and hopes for the nation's bright future.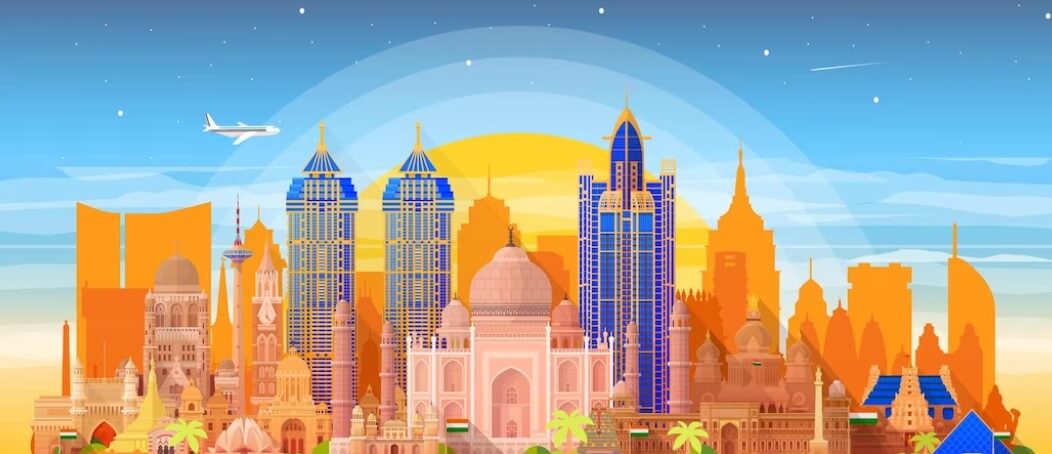 Essay on India of My Dreams
Empowering Women:
Empowering women and providing them equal opportunities as men is an important part of the vision of my India. In this essay on the India of my dreams, I'm sharing my thoughts on how I can change women's life with Empowering. I dream of a nation where women get equal opportunities to work, study and enjoy life without fear of discrimination or societal prejudice. Women in India will empower to make their own decisions, choose their destinies, and pursue their goals with the same confidence as men.
Women's safety and security are a priority in India. The government will take measures to ensure that women are safe in public places, in their homes, and in the workplace. There will be zero tolerance for any kind of violence or abuse against women. They will have the same respect as men and notice and acknowledge their voices.
My India will also be an India of love and peace. There will be no place for hatred or bigotry in my India. Everyone will treat equally regardless of their gender, caste, class, or religion. We will celebrate diversity and learn to respect and appreciate each other's differences.
Education will be a priority in India. Everyone will have access to quality education, irrespective of their background. Encouragement of women to pursue their dreams and participate in higher education. The government will provide scholarships and other incentives to help women pursue their dreams.
Employment Opportunities
#1 Entrepreneurship
India is ripe with opportunities for budding entrepreneurs to start their businesses. This could range from starting an online store, launching a tech startup, or creating a unique product or service.
#2 Education
India has a vast potential for growth in the education sector. There are ample employment opportunities for qualified teachers and educators, from primary schools to universities.
#3 HealthCare
India is in need of more qualified healthcare professionals, including doctors, nurses, and lab technicians. The demand for these professions will only grow in the coming years.
#4 Agriculture
India has a vast agricultural sector that offers employment opportunities for those looking to work in farming and animal husbandry.
#5 Tourism
India has a booming tourism industry, with major cities like Delhi, Bangalore, and Mumbai attracting millions of visitors each year. This creates job opportunities in the hospitality sector, from tour guides to hotel staff.
#6 Technology
India is becoming a hub for information technology, with a booming software development industry and demand for software engineers, app developers, and other tech professionals.
#7 Manufacturing
India has a vast manufacturing sector, with opportunities for those looking to work in factories and production lines.
#8 Transportation
India has a growing need for qualified truck drivers and other transportation professionals, as well as a booming logistics industry.
#9 Creative Arts
India is also home to a vibrant creative arts sector, with a growing demand for painters, musicians, dancers, and other professionals.
#10 Government Services
India has a growing need for qualified government employees, from civil servants to tax auditors.
Corruption free
The India of my dreams is one that is free from corruption. I envision a nation where people are not afraid to voice their opinion and serve justice without any bias or favoritism.
The government should work for the people and not its interests. People should be able to access basic facilities such as healthcare, education, and clean drinking water without having to pay bribes. Government officials should be accountable for their actions and punished if they are guilty of corruption.
The government should implement strict laws and regulations to ensure that corruption eliminates. People should educate on the dangers of corruption and how it affects everyone in the country. A strong judicial system should be in place to ensure that the guilty get punishment.
The government should invest in creating more jobs and providing better wages to its citizens. This will help reduce the need for people to resort to corruption in order to make ends meet.
No Caste Discrimination
In the India of my dreams, there is no longer any discrimination based on caste. Every person in my essay on India of my dreams or in real life treats with dignity and respect, regardless of their socio-economic background. All citizens get equal opportunities to pursue education, employment, and other opportunities regardless of their caste. Everyone is equal and given the same rights and privileges regardless of their caste. People get judged based on their merits and character instead of their inherited social standing. There is no discrimination in terms of access to healthcare, education, and other services. Everyone has the same rights, and everyone has a fair chance at success.
Final Thoughts
India of my dreams is a country where I can see a bright future for everyone. It is a land where everyone will respect and have equal rights and opportunities. We will have access to quality education, healthcare, and other basic amenities of life. I dream of an India where everyone is safe and secure and lives happily and peacefully. In this Essay on India of My Dreams I shared my Dream with You. We must strive to make this dream of India a reality by working together and taking initiative to make a difference.