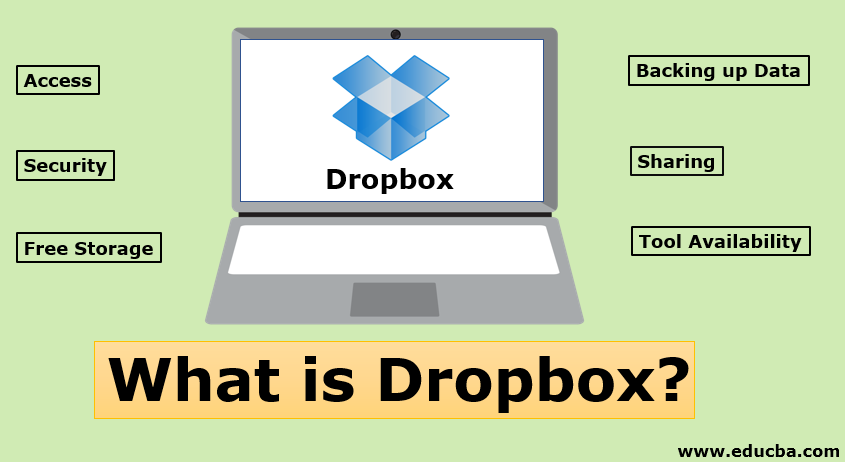 Introduction to Dropbox
It is a cloud-based productivity tool built for individuals and a team that enables them to save and store documents or files or pictures across the cloud and the same can be shared with others as needed.
The best thing is that it offers an amazing suite of storage and sharing capabilities. It is also known as online backup service because all our files which are needed important to keep back up to those important files and to ensure that we never lose those files permanently, preferably store in more than one place, we use the dropbox. This comes free of charge. Dropbox Hosted in cloud, to use it is not complicated just you need to download the app on your preferred device ( the app is available for all platform, for example, Windows, Linux and Macintosh desktop operating systems even apps is for iPad, iPhone, BlackBerry, and Android devices.), next step is to create an account, and start sharing content as required. It is like you synced local storage with dropbox account data, data will always available to you, even offline can use them.
The Key Features of Dropbox
In brief, if we can talk about its features which are any device accessibility, Automatic updates, Automatic organization and back-up, File storage, Efficient syncing, File sharing, Large file sharing, Offline access, Manually set bandwidths, Online back-up and file recovery, Simple link-sharing via chat, email or text message, Preview and download lastly security.
1. Free Storage
It provides free storage up to 2GB and 100 GB on various for-fee plans. The 350 GB free storage for Teams provides by it.
2. Encryption Security
The most important feature is the security, while we are sharing the most confidential files it is important to share securely, so it uses the 256-bit AES encryption security to share files.
3. Extend Storage
It provides an option to extend the storage space upto 100 GB based on pay cost.
4. Access
All stored files can be accessed anytime and from anywhere, because it stores all files on remote servers and can access via the internet.
5. Security
It stores all the files securely and only the authenticated person can give access with the help of using user name and password. you wish to by using a password and username.
6. Backing up Data
As it stores all data and files remotely, while you may need to back up, it backs up instead of storing everything on your computer.
7. Sharing
Another best thing is you can share files with others. To share the files with others we need to place the files in a dropbox folder that is designated for sharing with specified users or the general public.
8. Tool Availability
The tool is available for all the platform like windows operating system, Linux operating system, and Mac operating system. The tool is even available for the android operating system platform as well.
9. Share Screenshots Quickly
Screenshot feature reduces the work for screenshots, we no need to take a screenshot, no need to drag them into it, and no need to copy the share link. Just we need to enable the screenshot-sharing feature on your Mac or PC.
10. Add Comments to Files
As we know Sharing this folder is very easy, just right-click on the folder or file, which we decided to share and invite people to join our folder or another way is to just share a link to peoples of the file. Now with the help of the commenting feature, we can add comments to the shared files such as using email or chat to discuss your changes to the file. And this way we can easily keep the conversation about our files in the same place.
11. Edit Microsoft Office Files Online for Free
The dropbox's feature integration with Office Online is a free basic version of Microsoft Office that runs in your browser by which we can open and edit Office files from Dropbox, without installing a copy of Office.
12. Use Selective Sync to Save Space
The users can select the most important files to save or sync by using the Selective Sync feature of it.
13. Go Back in Time with Previous Versions
By mistake, if we save the file by different versions to recover it we can backup the file/s to its Previous Version with the help of the Previous Version feature of it.
14. Find Everything you're Sharing
All our shared history we see just by opening Dropbox.com and select the Sharing or Links button in the left sidebar.
15. Back up all your Pictures to Dropbox
The Carousel feature of a dropbox where we can see all the photos you've uploaded, based on the date and location which is organized into sharable albums.
16. Customize your Dropbox Notifications
As we share and comment on a lot of files, Dropbox's email and push notifications can get overwhelming, but no problem dropbox notification can be customized and we can turn on or off email and push notifications.
17. Request Files via Dropbox
The new feature FileRequests in it is a simple tool that enables the user to send a request for files from others and have them automatically show up in your Dropbox folder.
We can create two types of account into dropbox that are Professional and Business Standard, which increased storage space officially for customers, which allows to save and host the most important files. The Professional account holders of dropbox will get a 2, 000 GB (2 TB ) of storage and shared space, whereas the Business Standard teams account will get a 3, 000 GB (3 TB ) of storage and shared space, which help the business to simplify their task easily.
How to Use Dropbox?
To work with it or to use it the first step is to download and install the dropbox associated application, once it is installed and after we login, we can see the Dropbox folder. We can use this folder to save all important files to the folder, drag and drop the system files from folders just as we do with the local storage, we can add folders, we can delete files or folders, etc. The Files which we saved into the Dropbox folder with an Internet connection can be accessed from anywhere. Just in short we need to login to our account and upload files, download any files and any share files.
How to Share a File?
For sharing a file, first, we need to upload a file into the dropbox folder and then generate a URL from the Dropbox website and share the generated URL with others to whom we want to share the files. The others to whom we share the files they also should have a dropbox account and sign up to access the files or folder. The shared files or folders show up in the folder system of the recipients, they can access and can make changes to shared files. It enables us to store and share files of all versions. It is broadly used in IT, post office, bank, libraries, and video stores, etc.
Advantages
Following advantages are as explained below.
Work without Limits – Without eating up our hard drive with Dropbox Sync, we can keep all our projects at our fingertips.
Free up Desktop Space – All our desktop data photos, files, videos and all can be uploaded to dropbox directly from our desktop and delete them off from the desktop to free the desktop space. By doing this we will get more space to store the other data.
Free up Phone Space – All our phone data photos, files, videos upload to Dropbox directly from our phone and delete them off from the phone to free the phone's precious space.
View any File without Installing Extra Software – The file preview tool of it is actually one of its more handy features. If we want feedback on an Adobe file, and the rest of our team members doesn't have Adobe installed then no worries the it can preview all different types of file, so the only and only one software required that is browser.
Present Large Files – In an enterprise or its sector, the large files need to be sent to a client for review. With the other services like Gmail and others, we cannot send such large files, but with this service, we send large files and even without downloading special software with any web browser anyone can mark up previews. And if we have a Professional plan, then we can share files as tailor-made presentations with the help of Dropbox Showcase.
Keep Our Files Safe – The best advantage is that we can keep all our files safely and when required we can take them.
Community – The community of it is one of the best things, which creates your shared file and when the system available file we edited, all who are having the credentials will receive an instant notification when the updates have been made and also will be able to see it. This kind of community communication, discuss changes and in teams need to edit a file as teamwork these all can perform at a minimal cost.
Automatically Backs up Camera Photos – The automatically backs up camera photos makes it unique which automatically backs up camera photos from our mobile or computer device. Just we need to sign in, automatically all camera's photos and albums stores in chronologically and can back up them when we need where ever need we can take the backup. If by mistake we delete files from the system, we have the option to recover them, and 30 days undo history. This is another way of data security precautions.
How much does it cost?
The cost for free trial Plus is $11.12 per month, or we can get a yearly subscription for $99.99 and for the professional is $27.81 per month.
Conclusion
It is a cloud-based productivity tool built for individuals and a team that enables us to save and store documents or files or pictures across the cloud and the same can be shared with others as needed.
Features of this are any device accessible, updates automatically, organization and backup automatically, file storage, syncing efficiently, file sharing, sharing a large file, offline access, manually set bandwidths, back-up or file recovery online, Simple link-sharing via chat, email, text message etc, Preview and download and security, etc.
Advantages of this are work without limits, Free up desktop space, Free up phone space, view any file without installing extra software, present large files, to keep our files safe, community automatically backs up camera photos.
To share a file, first we need to do login to dropbox account and upload a file into the folder and then we can generate a URL from it the Dropbox website and share the URL with others to whom we want to share the files.
The cost for free trial Plus is $11.12 per month, or we can get a yearly subscription for $99.99 and for the professional is $27.81 per month.
Recommended Articles
This is a guide to What is Dropbox?. Here we have discussed the basic meaning, key features and how to use Dropbox along with its benefits. You can also go through our other suggested articles to learn more –