Updated October 11, 2023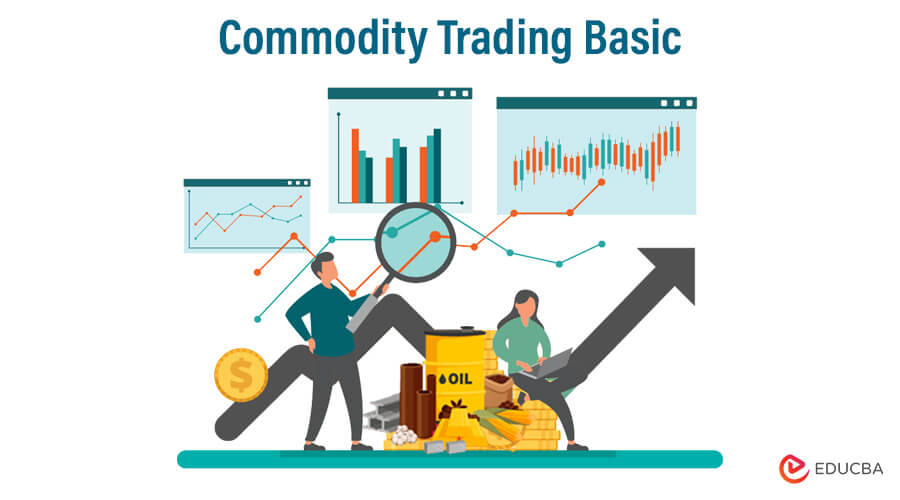 Commodity Trading Basic
In this Topic, we are going to learn about Commodity Trading Basic. Every day, people engage in activities that involve the use of products. The raw materials that go into creating these products are called commodities. People can buy and sell commodities, such as copper or coffee, which are natural materials or primary agricultural products.
Have you wondered about these questions, like if the gold prices would go up? Or has the barley crop been good this year, and then the prices will likely fall? If you think these predictions have a good chance of coming true and are keen on putting money into it, you could try your hand at commodity trading Online.
Commodity trading Basic is an investment strategy that includes the buying and selling of goods called commodities. A commodities derivative is where people speculate on the trend of commodities to generate profit if the price moves in their favor.
The most commonly traded derivative in commodities is a futures contract. For instance, if you buy a futures contract, you agree to purchase something a seller has not yet produced for a set price. It also does not necessarily mean you would buy the vast bulk of physical commodities because the contract would end before its expiry date.
Now we will see How to Start Commodities Trading Online
Commodities and Exchanges
Commodities and several other derivative products are traded primarily on exchanges such as the Chicago Board of Trading (CBOT), London Metal Exchange (LME), Multi Commodity Exchange of India Limited (MCX), and many other such exchanges.
Maximum commodity markets worldwide trade in agricultural products and other raw materials like wheat, barley, sugar, maize, cotton, cocoa, coffee, milk products, pork bellies, oil, metals, etc., and contracts centered on them.
These commodity trading online exchanges are standardized in nature and decently regulated.
An exchange is an intermediary for all commodity dealings and takes an initial margin from both sides of the trade to act as a guarantee.
The Good Side and the Wrong Side of Commodity Trading Types
Over the years, commodity trading has gained popularity because of its various benefits. Commodity futures are universally accepted as part of every successful and diversified investment portfolio. Apart from that, commodity provides liquidity, requires a small investment, and gives quick profits and hedging options, which make them attractive to investors.
Let's now look at the dark side of it. Well, Trading in commodities has been considered something just for the experts. Many traders have lost money and hence regard it as a risky venture. The risk factors such as variability in the prices of commodities, the volatile nature of quantity of output that can be obtained after the production process, no guarantee if an investment will make a profit, and various other factors such as weather, foreign exchange rates, national monetary policies, inflation, etc. related with the commodity trading basic may affect the returns.
How Does Commodity Trading Online Work?
It all starts when you buy a futures contract of any commodity traded on the exchange. Here, you do not pay the entire amount of the commodity but only the fixed percentage of the cost, known as the margin.
Take a commodity trading Basic example: you purchase a Gold Futures contract. The minimum contract size for a gold future is 100 grams; we assume it may be worth $5000. The margin for gold is said to be 3%. So, you would pay $150, which means you would pay a small amount to buy a large amount of gold.
You could sell this contract any time before its expiry of it. The expiry could be after one month, two months, and so on. You don't have to worry about buying the gold if you sell the course contract before it expires.
If the price of gold reaches $6000 per 100 grams, we will credit $1000 to your account. But if the price reduces to $4000, $1000 will be debited from your account.
As stock prices are quoted daily in the stock markets similarly, the commodity futures prices are quoted on the commodity trading essential exchanges.
Pre-requisites of Commodity Trading Types
At times, the tiny specifics make a big difference in investment performance. Familiarity with various order types and how to properly place each of them is crucial to being a successful trader. Irrespective of whether you trade online or through a broker, knowing the type of order and putting it accurately is vital.
To avoid confusion, we have standardized the sizes of commodities allotted for Trading by assigning them respective lot sizes. The number of lots you have determines the profit or loss you make. You can buy or sell any number of lots depending upon the risk appetite and margin you have with your broker.
It would be best to find a commodities broker, which is not a big problem. Many brokers offer commodity trading Tips these days. A brokerage fee is also low for commodity futures.
Commodity Trading Tips
Traders and brokers are highly distinctive when it comes to commodity trading strategies. They should follow and trade with the trends rather than attempting to pick tops and bottoms.
Traders need to apply money management techniques to their Trading.
Define your commodity trading Basic limits, and do not overtrade.
Decide on your profit goal and only then take a position. Also, be sure when to leave if the market goes against you.
Don't try to trade many markets with small capital.
Determine the correct mix of contracts and avoid trading only the volatile contracts.
Establish trading plans before the market opens, which can help eliminate any emotional reactions. Define your entry points and exit points.
Once a position is established, the trades do not get out unless the stop is reached. Plan everything from which position you will get in the market, how much you will risk on the trade, and where you will take your profits.
Use discipline to remove impulse trading.
Train your mind to accept many small losses and significant gains.
Don't trade on rumors.
Analyze your losses. Learn from them. They're costly lessons; you paid for them.
Always use stop orders.
Recommended Articles
This has been a guide on Commodity Trading Basic. We have discussed the Commodity Trading Basics, Tips, Types, and Online. You may also look at the following articles to learn more –
Infographics
Learn the juice of this article in just a single minute, Commodity Trading Info-graphics