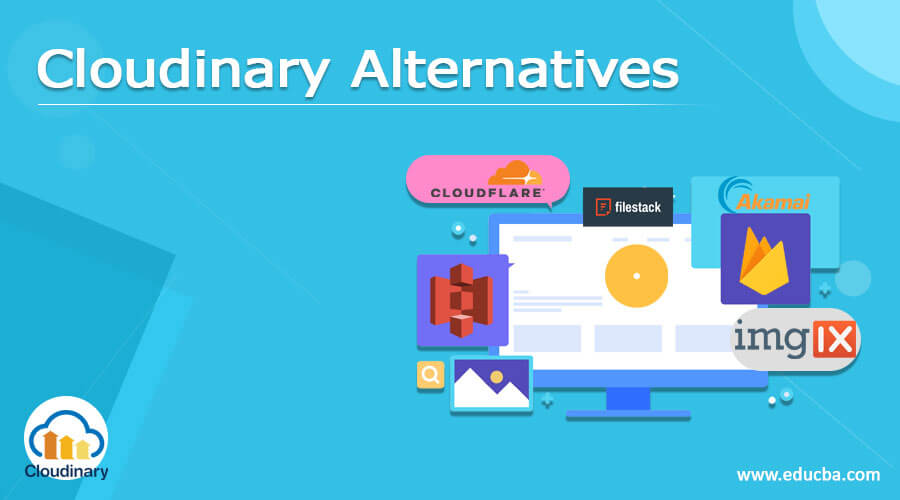 Introduction to Cloudinary Alternatives
Cloudinary Alternatives address the shortcomings faced by users while consuming Image & Video management features of Cloudinary and some of the main issues plugged are: Price of this product is on the higher side and Users don't get value for money invested in this product,  No of features in this product are too high and users find it difficult to use all of it and it is better the features are reconfigured and presented in a better way to improve usage, Searching old images is a challenge, Documentation could be better organized for easy navigation and faster learning.
A Brief on Cloudinary
Founded in 2011 by Itai Lahan, Nadav Soferman, Tal Lev-Ami in Israel to offer Image/ Video management services in SaaS model in Cloud. This company grew on it own strength organically and only in the year 2015 it got one strategic investment form Bessemer Ventures. Other technology features and several add-ins were incorporated over this tool in the year 2014.
This tool helps web-site / apps developer to streamline image / video content workflow and manage uploading, storing, manipulating, updating and delivering contents dynamically to various applications and websites.
Top Alternatives of Cloudinary
Alternatives of cloudinary are given below:
1. ImageKit
Bandwidth based pricing plan makes it cheaper than Cloudinary. The price is 40% cheaper on a monthly basis for the premium plan.
Integrations with WordPress, Magento, and Shopify are available.
It is secured and has a Metadata Management feature.
Has inbuilt performance alert and inherent issue fixes
Contains Extensive image manipulation facility like Watermark, Text overlay
Has Plenty of Image transformation features
Supports all OS and devices
Provides smart content delivery network on the existing infrastructure to drastically improve the delivery speed
Good support is available from the product team
Ensured delivery of high quality images at reasonable bandwidth
Watermarking facility to protect copywrites for all the documents
Wide Image library are available to choose from
2. Amazon S3
Branded as a leading Cloud Storage product, this tool offers unlimited storage space in cloud to store data of any size ranging from a single byte to terabytes. It enables storing and retrieving data of any size from anywhere. Each data element is bucketed and then stored in different regions to optimize cost and latency and adhere to regulation standards.
Such data buckets are protected by unique keys and access is prevented to others.  Reliability, scalability, economical and simple operations are some of the key features in this product. It takes a while to organize the data in buckets and decide the regions for faster retrieval. Users feel bit irritated as it insists on Credit card for making payments.
3. Akamai
A costlier solution as compared to Cloudinary
It offers distributed platform for hosting web contents
Akamai has a wider userbase in the top 1 million sites than many other solutions.
Used across variety of Industries
Its solution is ideal for organizations dealing with high volume of data.
Caching technology is used by Akamai in managing large sized media content. It reduces the overhead appreciably by serving such data from the local compute resources taking advantage of distributed platform.
It delivers the contents at a faster rate.
Akamai provides greater flexibility in configuring various services to improve the utilization of resources.
Luna control center operation can be simplified to improve user experience.
4. Cloudflare
It enables building a smarter website or an API connecting to internet without compromising on speed and security. Its pricing is attractive and offers the best value for money through its performance. Over and above an efficient content delivery, Cloudflare offers protection against denial of service (DDOS) as a complementary service.
It enables developers to easily integrate Cloudflare delivery services with their website and its associated infrastructure. It also helps developers to gain new scale and self-sufficiency by utilizing its serverless architecture.
5. Imgix
It offers
On-demand Image processing
Simple set up process
Superior performance
Efficient cropping facility
Simple pricing structure without any hidden clause
Cheaper development cost
Using CDN to serve images from the nearest server
Optimizing the size of the image to save bandwidth
Supply the right sized image to the browser without compromising its quality
6. Firebase
Firebase is a comprehensive tool to facilitate shorter application development life cycle, meets all the requirements of a robust functional application. Unique feature of this tool is that firebase is well integrated with google platform which helps in scaling the applications very fast. It provides services of a real-time Firebase NoSQL real-time database in cloud for exchanging data across all its platforms.
Data synchronization is achieved in this tool without having to write a code or managing connection. It also integrates third-party tools and other technology plug-ins seamlessly with web applications. Performance issues and lack of support from the vendors are the disadvantages of this tool.
7. Uploadcare
Uploadcare manages uploading/ storing of data files, process the data objects and provides efficient content delivery over its own network. Overall it achieves economy in operations, optimizes the content delivery, meets end-to-end requirements of a modern Web/ Apps. Easy to implement and operate, effective and powerful file uploading, low code platform are the main features of this tool. Lack of documentation is the major complaint from users.
8. Filestack
The most reliable method of uploading file and it has become developers most favourite tool. It ensures safe and secured delivery of data at an amazing speed. It allows extensive transformation in the images before published and one can make wonderful changes in the images.
9. Others
| | |
| --- | --- |
| Tool Name | Features |
| Drupal | Familiar Content management tool.  Easy to use and no Coding knowledge is needed. Provides Blog facility |
| Datadog | Enables easier interfacing with third-party tools |
| Joomla | Most Popular CMS and next only to WordPress |
| HubSpot | Helps to build a good CRM relationship |
| Zoho Docs | A good platform to store and share data objects |
| Libris | Specialises in managing photographs |
| Optmyzr | Prominently  used by Advertisement agencies |
Conclusion
There are plenty of options available to choose alternates to Cloudinary, but users will have to sufficient due diligence before deciding that tool that meet their tech / budget requirements.
Recommended Articles
This is a guide to Cloudinary Alternatives. Here we also discuss the definition and alternatives of cloudinary along with explanation. You may also have a look at the following articles to learn more –