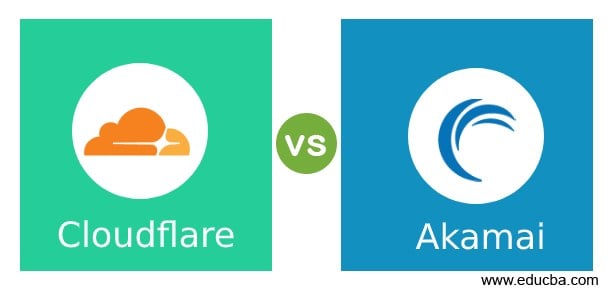 Difference Between Cloudflare vs Akamai
Cloudflare is web and security enabled, which provides services such as content delivery network, DDoS, internet security, and domain name server services. The History of Cloudflare starts from the year 2009 when it was created by Matthew Prince, Lee Holloway, and Michelle Zatlyn, which was later launched in the year 2010 in Tech Crunch Disrupt conference. It came into notice in the year 2011, when it provided security services to the website.
In the year 2012, Cloudflare partnered with several web hosts to improve performance. In the year 2014, twice it mitigated DDoS attacks which peaked at 400 gigabits/second, 500 gigabits/second. Cloudflare as the most popular reverse proxy service provides DNS services to more than 13 million websites. Cloudflare provides several services such as DDoS protection, Web Application Firewall, DNS, etc.
Akamai, on the other hand, is a CDN, cyber security and cloud service provider headquartered in Cambridge, US. It is the world's largest content delivery network which serves around 15 % to 30 % web traffic. Akamai entered into the market in the year 1998 but later recognized in the year 2001 when it was added to Russell 2000, 3000 index. Akamai currently has its base at Broadway as of December 2019.
Akamai has several technologies such as Akamai Intelligent platform, content delivery services, peer to peer networking, state of the internet, visualization of internet, etc.
Head to Head Comparison between Cloudflare vs Akamai (Infographics)
Below are the top 11 differences between Cloudflare vs Akamai:

Key Differences between Cloudflare vs Akamai
Akamai and Cloudflare both classified as content delivery network tools. Cloudflare speeds up performance and boosts up by protecting millions of websites, API, SaaS connected to networks. Akamai is one of the leading sources for mobile, cloud, media, and security across anywhere. Companies preferring Cloudflare are Udemy; Digital Ocean etc whereas Akamai is preferred by Linked In (a professional network site). There are several alternatives to Cloudflare and Akamai such as CloudFront, Cloud CDN, Fastly and many more.
Comparison of Cloudflare and Akamai as per several benefits and disadvantages:
Cloudflare
Cloudflare comes with a free plan package and provides DDoS protection security on higher added plans. It is a package afforded by potential users.
It has an easy setup installation process with the easy handled interface.
Cloudflare works well with both static and dynamic content.
It has a feature of a wide selection of app support, which allows users to install the app through Cloudflare instead of their site.
It is highly secure and provides free SSL certificates and SSL encryption.
It works well with different Content Delivery Networks.
It has automatic IPv6 and page rules are more powerful.
It provides an official WordPress plugin too, that provides easy customization.
Cloudflare Demerits
Anonymity a user always requires to enter captcha at each site they access using Cloudflare. Sometimes this results in an unnecessary roadblock.
Cloudflare mostly relies on Captcha screens to validate users, which in turn results in problems for potential and legitimate users.
Secure Communication using "Https" with different sites using Cloudflare are intercepted in their servers and encrypted and decrypted with Cloudflare certificates (SSL).
There is a lack of cache control & end Layer 7 of Cloudflare must be manually controlled by users.
Akamai
Akamai has a large scale of presence across networks with responsibilities of handle bulk attacks.
Akamai has customizable rules where the site defender is customizable with regular updates of what happening and regarding protection views.
Akamai provides a dedicated bandwidth of 2.3 terabytes per second for DDoS absorption.
Akamai provides tools for rate controlling traffic segments according to request rate consequences.
It caps bursting fees i.e. if a sudden & unknown attack damages a lot of bandwidth, then the bandwidth costs are capped.
Akamai provides a WAF (web application firewall) to protect against application-layer attacks.
Akamai having an extensive reseller program which results in selling its services.
Akamai Demerits
Akamai is quite expensive as it services are almost 3 times the cost of other security-related CDN services.
Due to its large CDN network structure, it takes some time for security propagation.
Cloudflare vs Akamai Comparison Table
Let us discuss the top comparison between Cloudflare vs Akamai:
| | |
| --- | --- |
| Cloudflare | Akamai |
| Cloudflare is the global CDN which provides unique performance with a strong focus on security. | Akamai is the oldest Content Delivery Network and recognized as the global CDN. |
| The company has a global infrastructure using high-performance equipment. | They have widespread servers and a range of products and services. |
| It doesn't support live video. | It supports live video. |
| It has an easy setup method. | It is more complicated. |
| Documentation is public and it is in the Cloudflare community. | Documentation is provided but it's not public. |
| There is no minimum contract term for the avail of services. | There is a minimum of 12 months of contract duration for the avail of services. |
| 24/7 email and phone support is provided with high pricing. | 24/7 email and phone support to its customers. |
| Cloudflare doesn't charge on bandwidth. | Akamai charges on bandwidth. |
| It has 2 factor authentication. | It doesn't have 2 factor authentication. |
| Free SSL certification. | No SSL encryption. |
| The networks are well spread across boundaries. | The networks are wide but still unknown. |
 Conclusion
Cloudflare and Akamai both are the best CDN proving services. Cloudflare is a combination of network security and performance solution that increases the performance of website and network speed, plus it provides secure DNS with load balancing and web optimization. In the case of Akamai, being a global CDN, it provides a highly secure web, mobile experience. Here the pricing model is scalable enough, as it goes with pay as you go. Akamai has lots of benefits as compared to Cloudflare but that comes through paid services which are quite expensive as compared to Cloudflare free services. No matter akamai automatically delivers the best image for every end-user. Cloudflare is quite responsive when it comes to assistance and advice to products. Both CDN are comprehensive and have easy setup process which provides complete control to the users.
Recommended Articles
This is a guide to Cloudflare vs Akamai. Here we also discuss the Cloudflare vs Akamai key differences with infographics and comparison table. You may also have a look at the following articles to learn more –