Updated July 28, 2023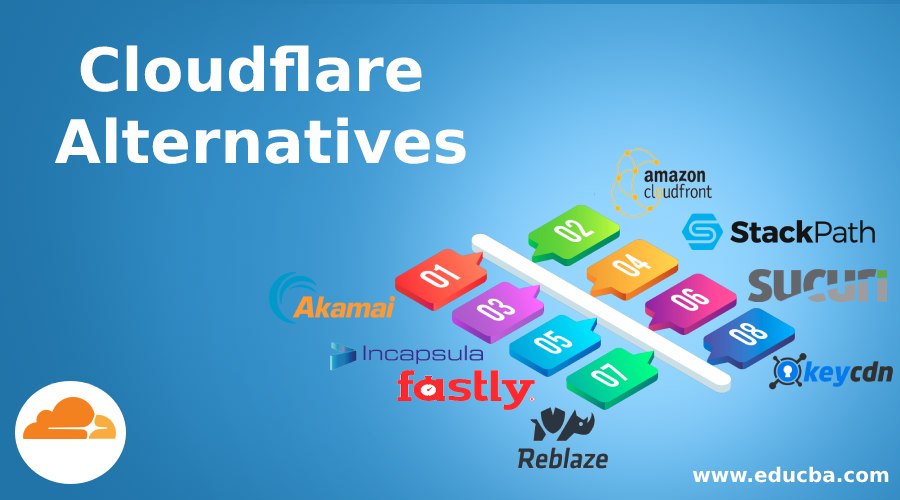 Introduction to Cloudflare Alternatives
Cloudflare was initially created in the year 2009 and was launched later in 2010 at TechCrunch Disrupt Conference. Cloudflare gained attention in 2011 when it provided security services to the website and, later 2012, partnered with various web hosts to improve performance. By 2017, the most popular reverse proxy, Cloudflare, will provide DNS services to millions of websites. Moreover, Cloudflare provides services just as DDoS protection, web application firewall (WAF), DNS, reverse proxy, Content Delivery Network, and Domain registrar (introduced in the year 2019, which provides low-cost pricing and easier ways to enable DNSSEC (Domain Name System Security Extensions). Users can opt for various Cloudflare alternatives according to their requirements and point of interest.
Alternatives for Cloudflare
Cloudflare has received several complaints, with US law enforcement agencies giving up information about its clients to the government whenever they ask for it. So users considering migrating to a different CDN (content delivery service), which may be due to its Pricing factors or security issues, opt for the below alternatives:
1. Akamai
Akamai is one of the largest and quite popular CDN (content delivery networks) and cloud service providers around the globe. It serves around 20-30 percent of web traffics. Most convincing services, like stopping DDoS attacks and content delivery speeds, make it better than any other alternatives and a top priority after Cloudflare. Akamai technology provides a well-built 2.3 Tbps bandwidth for DDoS absorption and WAF services for application-layer protection. One of the value-added services Akamai provides is "Kona site defender," which protects the website from DDoS attacks and other malicious attacks and offers a customized real-time experience monitoring experience. Users can make the change as required.
Demerits of Akamai:
According to its size and scope, it can't change its rules overnight like smaller agile companies. Unlike Cloudflare, it doesn't provide free value-added services; for Those users who want premium benefits, Akamai serves them the best alternative to Cloudflare.
2. Amazon CloudFront
CloudFront is a well-known CDN (Content delivery network) that uses the "pay as you go" model. CloudFront has huge competition with Akamai and Limelight Networks in Content Delivery Services. Launched in 2008, having more than 138 access points across 29 countries provided web static and dynamic content, website acceleration, content download, and video streaming. CloudFront provides GUI on its management console, allowing users to add custom SSL and Wildcard cName Support. Another service provides is dynamics scaling, which automatically allows hardware resources in case of web traffic issues.
3. Incapsula
Incapsula, a cloud-based application delivery platform, provides web application security, DDoS protection, load balancing, failover services, and application content delivery.
Features Provided by Incapsula:
Bot Recognition Engine, which reduces most false positives when attackers often target specific areas and make it difficult to detect.
 DDoS extra layer protection protects subnet network infrastructure such as Email and FTP.
It provides mostly free services but needs to pay if users need DDoS or WAF (firewall) protection.
Backdoor protection is a tool launched in 2013 that detects and blocks malicious web shells. Later in the year 2013, it launched Login Protect, a 2-factor authentication as an added feature to its products.
 A recent launch in its feature is its "Incap Rules," which gives fully-fledged security policies to its clients.
4. StackPath
StackPath provides content delivery services with WAF and a fully documented API. It provides services with instant configuration, purging, and real-time instances. Stack Path provides plans for mid to high-range users, which are simple and affordable, starting from $20 to $600.
5. Fastly
If you are fond of real-time CDN, then "Fastly", an alternative to Cloudflare, founded in the year 2011, provides a range of services, including instant configuration updates, instant purging, dynamics content cache, real-time streaming and analytics, private CDN, WAF, Image Optimizer, load balancing. Fastly comes with pricing such as the total number of requests and volume of data transfer. It allows users to test up to $ 50 of traffic.
6. Sucuri
A platform-agnostic cloud service provider protects your site, whether running a WordPress, PHP, or Magneto e-commerce site. It's too supports free Open CMS platforms. Services offered are Web application Firewall and load balancing. It blocks DDoS attacks and SQL injections. Like Cloudflare, Sucuri has no free pricing plans. Moreover, it provides SSL certificates, WAF, and Website monitoring.
7. Reblaze
Another alternative claim is protection against SQL injections, XSS, DDoS, Zero Vulnerabilities, and blocking traffic from certain cities or countries. Reblaze also provides Elastic load balancing to transmit increased traffic across its global network. It also uses the Next-generation human and bot identification algorithm to identify advanced scraper bots. It integrates seamlessly, including cache & SSL, analytics, and management.
8. KeyCDN
Is it the best alternative to Cloudflare in terms of CDN services when it comes to increasing the performance of websites? Moreover, it offers two-factor authentication, DDoS protection, and real-time protection.
Conclusion
Choosing the best alternative from all the possible alternatives is a bit of a concern. Looking at the features of all the alternatives of Cloudflare. Users choose according to services provided, and security added (such as DNS, DDoS, CDN, and SSL certificates). Being a Cloudflare user, the most expected service is the CDN services which are quite promising according to pricing plans. According to their services, those alternatives speed up and protect your site with no performance tradeoffs and provide fast and global security networks. Users should choose a solution that supercharges their needs and requirements.
Recommended Articles
This is a guide to Cloudflare Alternatives. Here we discuss the introduction and top alternatives of Cloudflare in detail. You can also go through our suggested articles to learn more –