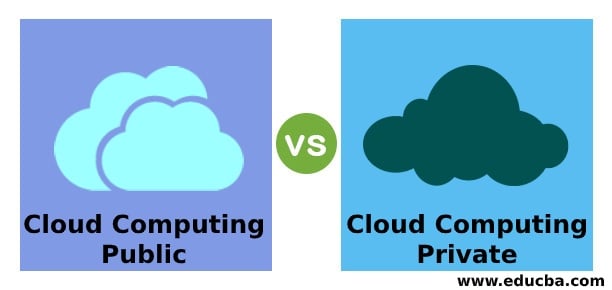 Difference Between Cloud Computing Public vs Private
Cloud computing is the process of using remote servers or computers across the internet to perform data operations, storage and managing data instead of using a local computer or server. Cloud computing offers delivery services directly over the internet. The services provided by Cloud computing can be of any type such as storage, databases, software, applications, network, servers, etc.
Cloud computing is the utilization of different services available such as storage, software development applications, servers, and databases. Cloud computing provides more accessibility to the operating servers or applications easily without any limitations
Cloud computing is of two types, one is private and the other is private. A private cloud computing is nothing but something that is limited to a few numbers of users to access such as members or employees of an organization and anything that is to be restricted to limited users. A private cloud is also called an internal cloud or enterprise cloud which resides on the company's intranet protected behind a firewall with high security.
A public cloud computing is not responsible for maintaining any of the infrastructural things by a user, it will be maintained by different third party service providers where data will reside somewhere and application is at another location. The maintenance and management of data will be taken care of by data hosting Service Company. Even the security of the public cloud will not be maintained by us and can be weak compared to a Private cloud.
Cloud computing services are offered based on the server applications and it allows the users from any location to access the services from different types of devices such as Computer, Mobile, and Tablet etc.,
Head To Head Comparisons between Cloud Computing Public vs Private (Infographics)
Below are the Top 6 comparisons between Cloud Computing Public and Private:

Key Differences Between Cloud Computing Public and Private
Below are the most important differences between Cloud Computing Public and Private:
Public Cloud computing architecture has an infrastructure that is shared by multiple businesses that are operated and owned by different service providers which is a low-cost option for deploying applications whereas Private Cloud Computing has intranet within the business environment with infrastructure hosted onsite and internal service hosting facility.
Public Cloud computing has hardware components distributed across the hosted locations of the service provider whereas Private Cloud Computing has hardware components completely dedicated to the specific business which can be customized as per the requirements.
Public Cloud computing provides services to multiple businesses where the security of data can be compromised in terms of a data breach or any incidents whereas Private Cloud Computing technology will not be sold as a service to external customers which is entirely dedicated to a single company that ensures high levels of security.
Public Cloud computing has low-cost maintenance facility but with compromised security and less customized features whereas Private Cloud Computing has advantages such as security, compliance, customizable and hybrid deployments.
Public Cloud computing has advantages such as shared hardware, pay as you go, model, without any contracts and self-managed architecture model whereas Private Cloud Computing is a non-shared resource where the complete architecture is dedicated to a single business requirement.
In public cloud computing, the services will be offered as free and paid by some host providers or cloud service provider companies such as Google Apps, Office 365, etc., whereas in private cloud computing the services are not at all free or provided to external customers which are built behind some strong firewall with high security to ensure the safety of customer data.
In public cloud computing, if there is any breach of security, then it result s in loss of productivity, loss of reputation, loss of revenue and customers with extreme actions such as corruptive actions and fines whereas in private cloud computing it is completely reverse and secure but incurs high cost of maintenance and management of infrastructure.
In public cloud computing, the services are managed by different people across the world whereas in private cloud computing the services and functions are maintained by their own employees of the company.
In public cloud computing, it is useful for small business companies to access the services anywhere any time with low cost whereas in private cloud computing the physical servers and maintenance and up-gradation costs completely lies in companies premises.
Public cloud computing is more accessible compared to private cloud computing anywhere around the globe.
Cloud Computing Public and Private Comparison table
Below are the lists of points, describe the comparisons between Cloud Computing Public and Private.
BASIS FOR

COMPARISON

CLOUD COMPUTING PUBLIC
CLOUD COMPUTING PRIVATE
Latency
Public Cloud Computing has low latency compared to Private Computing
Private Cloud Computing has high latency in terms of network
Utility
Public Cloud Computing provides pay as you go model which is flexible for small organizations.
Private Cloud Computing has own maintenance and management costs.
Management
Public Cloud computing provides self-management system
Private Cloud Computing is completely customized within the intra network.
Responsiveness
In Public Cloud Computing, Response time of the system is not ensured high all the time.
In Private Cloud Computing, Response time of the system is always high and distributed across the network for any failure.
Security
High and depends on service provider but less compared to Private Cloud Computing
Ensures very high security.
Hardware
Hardware for the Public Cloud Computing is shared
It is completely owned by the maintaining company in terms of Private Cloud Computing
Conclusion
The cloud computing service to be considered is mostly based on the requirement, where if it is required in terms of a large organization and large user base, then private cloud computing is preferred which has more security and that can be managed completely by the company itself. It ensures more security and complete infrastructure resides within the company intranet and premises. The entire network can be managed by the company whereas the Public cloud resides with the host service provider who gives us the services which do not ensure 100% security and reliability.
In terms of large users and widely distributed networks, Private Cloud Computing is preferred and recommended to get more efficiency and high productivity mainly within the financial organizations where more security is ensured.
Recommended Articles
This has been a useful guide to Cloud Computing Public vs Private. Here we discuss Head to Head Comparison, key differences along with infographics and comparison table. You may also look at the following articles to learn more –