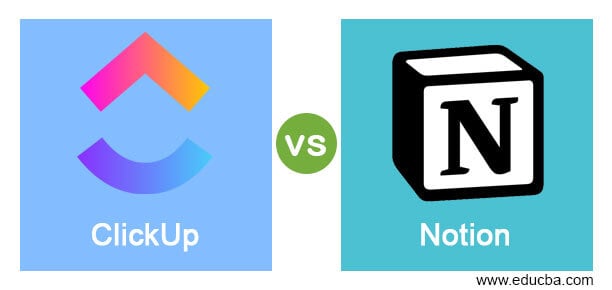 Difference Between ClickUp vs Notion
The following article provides an outline for ClickUp vs Notion. ClickUp deals with different types and sizes of teams as well as business through cloud-based working systems and assigns different helpful and innovative tasks to team members, handles projects in different ways for clients not only this but also collaborate with colleagues through documentations. It offers many tools and features which play very important roles for having good efficiency, visibility and accessibility in output of any work. Notion also works in most similar ways as ClickUp does and with it you can create good database management in different project, in between teams and the important thing about it is that it can works for individual objects or in collaboration with teams. Here we will see main facts of both software by comparing and by finding difference between them so that you can build a good knowledge about these software in your mind.
Head to Head Comparison Between ClickUp vs Notion (Infographics)
Below are the top 5 differences between ClickUp vs Notion:

Key Difference Between ClickUp vs Notion
Let us discuss some of the major key differences between ClickUp vs Notion:
The very first thing which you know about them is their pricing and ClickUp offers different type of facilities if you want to start working with it that means you can have its free version with 100 MB storage capacity, you can assign unlimited task as well as unlimited members with this version, Two-factor authentication is also included in this version.
For unlimited storage, unlimited list, Board and Calendar, Unlimited Dashboards, Unlimited Integrations, Guests and for Permissions, Goals, Portfolios and Custom fields you have to pay $5.
For Business purpose you can pay $9 which offers google SSO, goal folders, custom exporting, private, protected and default views, all dashboard widgets, extra guests, all automations, mind maps and timelines views as well as advance time tracking. You will also have some other plans with it that is Enterprise version which you can check on its official website.
While Notion offers four type of subscription which are for free, for personal use, for team work, and for enterprise. For personal use you have to pay nothing but for personal pro version which has unlimited file uploads, unlimited guests, version history features you have to pay $4 whereas if you go with team version then you have to pay $8 and its contains unlimited team members, collaborative workspace, advanced permission's, admin tools feature with it. You can visit its official website for having detail about Enterprise version.
There is number of features which you will not find in Notion but ClickUp has all those feature such as there is not client portal features in Notion, cost-to-completion tracking it also not available with Notion but you can customize template in both of the software.
You can have training before start working with these software for getting interact with their user interface as well as working strategy. You can get this training through live online systems, through webinars platform, through documentation system but through 'In person' option offers only by ClickUp application and this option is not offers by Notion. One thing will tell you that you will enjoy 24/7 hours support from both of the application for getting solution of different type of hindrance which you face during working with them.
Notion is also available with dark mode theme as well as flexible working features through which you can go through simple online database, structured documents, quick edition with shortcuts and many more things it offers. In ClickUp application you can easily deal with customization features for good management in business of its business type version not only this but you can take an overview on all projects in one status by folder & L feature.
ClickUp vs Notion Comparison Table
Let's discuss the top comparison between ClickUp vs Notion:
| | | |
| --- | --- | --- |
| | ClickUp | Notion |
| Definition | It is cloud-based systems which works for management of business as well as develops collaboration between teams. | It is that type of application which offers different type of components and these components includes calendars, reminders, Kanban boards, wikis etc. These components play major role for creating management systems of data base, note taking and some others. |
| Developer and Launched Year | It was developed and launched by ClickUp company in 2017 but company was founded in 2016. In June 2017 its Beta version was launched with lot of good features. | Developer of it was Notion Labs Inc. and launched it in 2016 for different type of management task. |
| Versions | You have its version in the sequence of 2.0 (its Beta version), 2.09…..2.73. You may visit on its website for having information about it. | Its latest version and stable release is 2.10.23 which has lots of good features that makes its working smoother. |
| Operating Systems | You can have this application on Microsoft Windows, Mac OS, Linux, iOS, Android operating systems and also on different Web browsers. | You can run it on different operating systems such as Microsoft Windows, Mac OS, Android, iOS and also on Web browsers. |
| Availability | You can visit on www.clickup.com for start you work with this software and you can also gather more information from there if you want. | You can have this software for start working on it from its official website which is www.notion.so. |
Conclusion
Now you have gather good knowledge about ClickUp and Notion applications from this article and now you can start working with any one of them for different type of task which offers by them. There is plus point about both of the software that both are free with limited features so you can try both one by one.
Recommended Articles
This is a guide to ClickUp vs Notion. Here we discuss ClickUp vs Notion key differences with infographics and comparison table respectively. You may also have a look at the following articles to learn more –