Updated May 5, 2023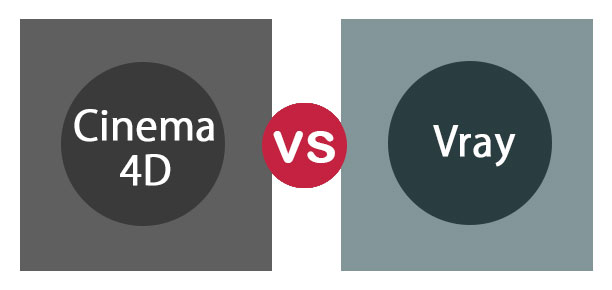 Difference Between Cinema 4d and V-ray
Cinema 4D is an application developed by Maxon Computer GmbH for 3D modeling, animation, motion graphic, and rendering. It is easy to understand and extremely vivid. The capabilities include procedural and polygon/sub modeling, animating, lighting, texturing, rendering, and other common features in 3D modeling applications. The application was initially developed for AmigaOS in the early 1990s, but now it is supported across all major operating systems, namely Microsoft Windows and macOS.
Some of the core features of Cinema 4D are as follows –
Take System: Allows flexible scene management and numerous takes of the scene.
Lens Distortion Support: Allow to generate and remove distortion profile for tracking and scene creation for an
Graph View for Motion Tracker: Highlights problem track points that can be removed from the calculation
Spline tools: Manipulate points, lines, tangents, and arcs. Use Boolean operators like Intersect, Subtract, Union,
Animation workflow Enhancements: Control F-curves with weighted tangents, remove Gimbal lock with Euler
Sculpting improvements: Automatically creates morph targets for every sculpt layer that helps in the transition from design to
Houdini Engine Integration: Load HDA and operate them like principle Cinema 4D.
Sketchup integration: Load scenes with ready-to-use objects for
On the other hand, the Bulgarian company Chaos Group developed V-ray in 1997, a computer-generated imagery rendering software application. It is a commercial plugin for visualizations in media, entertainment, video, film, product design, and architecture. It has changed the face of computer graphics and powers the most advanced photo-realistic images generated today.
V-ray supports Maya, Cinema 4D, Modo, SketchUp, and Blender, and some of its core features of it are as follows –
Accurate Lightning: Unreal engine scenes can be rendered with physically accurate, ray-traced
Global illumination: Realistic bounced light can be rendered using V-Ray's brute
Rendering Animation: Render sequences from Unreal Sequence Editor to create animated.
GPU plus CPU Rendering: Render on all your
Unreal Foliage Support: Compatible with Unreal's native foliage
V-Ray Proxy support: Load high-resolution assets at the render
Render Elements: Wide range of render elements is supported for composting.
Distributed rendering: Improved speed of rendering and light
Head To Head Comparison Between Cinema 4d and V-ray (Infographics)
Below is the top 8 difference between Cinema 4d vs V-ray

Key Differences Between Cinema 4d and V-ray
Both are popular choices in the market; let us discuss some of the major differences.
V-ray was found to be critical in deep understanding but found to be easy to start. On the surface, V-ray offers pre-made materials along with other basic plugins. But the depth of understanding you can grasp when working on lighting and materials is very robust. With every update, the renders become better, and V-ray offers improvement options for enhancing quality. On the other hand, Cinema 4D provides a modular system for designing a 3D software solution and is easy to learn and master. The core application provides functions for creating images and animations. It offers great tools and enhancements to use immediately and a peek into the foundations for the future. It is chosen for its fast, easy workflow and rock-solid stability.
The cost of Cinema 4D is comparatively more than V-ray according to small business users as they found Cinema 4D more expensive. Small business users also rate Cinema 4D better in meeting requirements than V-Ray. The rating for both applications was found closer for over a duration. Still, the interesting finding was that small business owners prefer V-ray, and large businesses prefer cinema 4D. The majority of people belonging to graphic design prefer Cinema 4D. In contrast, people from the architectural domain prefer V-ray as they found that Cinema 4D outperforms V-ray in quality but also stated that V-ray was close to meeting their user requirements.
Cinema 4d vs V-ray Comparison Table
Below is the 8 topmost comparison
The basis of comparison 

Cinema 4D

V-ray

Ease of use
Easier to use according to small-business users
Comparatively complex to understand for small-business users
Quality Support
Cinema 4D outperforms V-Ray in Quality of Support as reported by small-business users.
Quality support is adequate.
Pricing
More expensive as compared to V-ray
Less expensive as compared to Cinema 4D
Product Direction
Product direction is adequate
Comparatively better satisfaction level for small business users.
User rating
Rated slightly lower than V-ray
Rated higher
User Requirements
Meets user requirements better as compared to V-ray
Meets user requirements.
System Requirements
Minimum Configuration

Cinema 4D requires R15 – R18 (64 bit only)
Windows 7 (or higher) or OS X 10.9 (or higher)operation systems
Intel® or comparable main processor
RAM: 8 GB
Installation Disk Space: 75 MB
License Activation: Network adapter and internet access for RealFlow | Cinema 4D
Both GPU-based simulations and multi-core or multi-processor systems are supported.

Minimum Configuration

Processor: Intel® Pentium
® IV or compatible processor with SSE3 support.
RAM: 4 GB RAM and 4 GB swap minimum – advised 8 GB or more RAM, 8 GB or more swap file
USB port: Mandatory for hardware lock, if possible USB 2.0
TCP/IP only IPv4 is supported, and IPv6 is not supported.

Trial Version Available
Yes
No
Conclusion
Both companies use commercial-based applications for visualizations and design in media, entertainment, video, film, etc. Both require the license to run across Windows and Macintosh and have their advantages and disadvantages for small and large businesses. Cinema 4D is preferred by people for creating graphic design, while a majority of people in the architecture domain and planning prefer V-Ray. People found Cinema 4D easier to use and found it costly compared to the price of V-Ray.
Recommended Articles
This has guided the top difference between Cinema 4d vs V-ray. We also discuss the Cinema 4d vs v-ray-key differences with infographics and a comparison table. You may also have a look at the following articles to learn more.