Updated July 3, 2023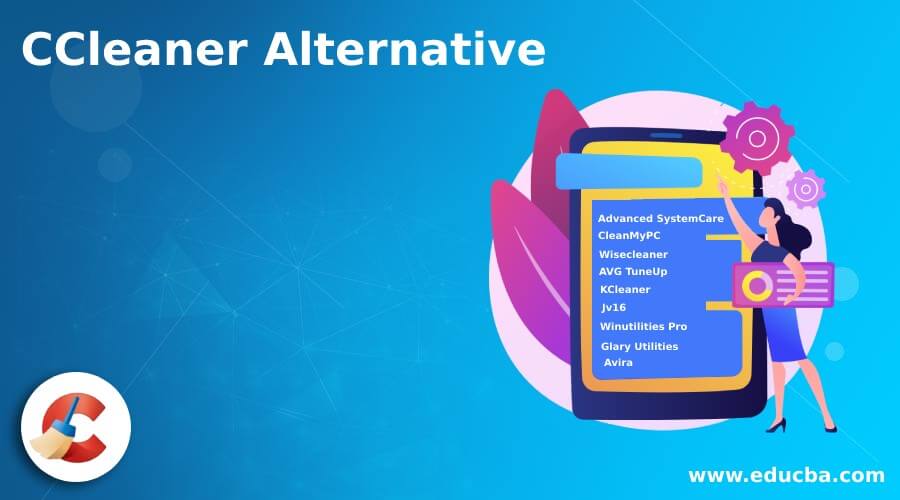 Introduction to CCleaner
The following article provides an outline for CCleaner Alternative. In addition to clearing online tracks and freeing up space, CCleaner also helps you manage your computer, increasing the speed of your PC. But Piriform CCleaner has limitations like it can't remove every deleted file from your hard drive because of how Windows stores files. CCleaner also auto-updates without your knowledge and runs in the background. As a result, CCleaner has been replaced by several other tools listed below. As well as commercial software, the list also includes open-source software (free).
List of CCleaner Alternative
Given below is the list of CCleaner Alternatives:
1. Ashampoo WinOptimizer
It's a highly customizable Windows cleaner and accelerator from Ashampoo. Your PC will be faster, more efficient, and safer with this software's 23 modules. There is also a network optimizer, which allows for better network settings. The automatic section is my favorite. Auto Clean, Game Booster, and Live Tuner are all included. While working, Auto Clean consumes very little RAM. Using Live Tuner, you can speed up all of your heavy applications. This program has always provided me with a slight boost in computing power while playing a game that requires lots of processing power. Background services and programs that are not related to gaming can be disabled.
2. Advanced SystemCare
One of the most powerful optimization programs for Windows, Advanced System Care, is available. It has artificial intelligence (AI) and creates a personalized plan for your computer. Learns from your optimization habits and PC performance as you use it. This program can clean up all kinds of junk files, private information, and internet speed, making your PC faster and cleaner.
3. CleanMyPC
CleanMyPC is also a great alternative of CCleaner. The software can help keep your PC clean and make it faster by removing unwanted files and programs. Scan the entire computer for unwanted files. Many users have positively reviewed CleanMyPC, stating that the software is highly effective and generally improves PC performance. Additional features and tools include fixing window registry problems, uninstalling multiple programs at once if necessary, and accelerating Windows boot-up time.
4. Wisecleaner
Using an easy PC optimizer, you can safely remove unusable files and increase your computer's performance. It also provides various custom selection options that allow you to eliminate files that are no longer needed. The program removes your computer's internet history and other traces, preserving your privacy. Rearranging and defragmenting files on your hard drive will improve computer performance.
5. AVG TuneUp
AVGIntuneUp is an AVG system optimization tool. It is most commonly used to clean up discs, increase computing performance, and speed up the startup process of a computer system. It keeps your computer running smoothly and automatically cleans your registry. As a result, computers running AVG TuneUp have very few junk programs or bloatware installed.
6. KCleaner
KCleaner was designed to be the most effective solid-state drive cleaner or hard drive available today. To provide you with all the resources you may need for documents, songs, pics, and cinema, it tracks and eliminates every useless byte. You don't have to open KCleaner whenever you want to clean your computer because it runs in the background, and you don't have to be concerned about it.
7. Jv16
Jv16 PowerTools cleans the Windows registry and unwanted files and data to improve performance. In addition to fixing system errors, it optimizes your PC. Uninstalling software with Jv16 PowerTools is easy, as the software leaves no traces behind. Microsoft Windows XP, Vista, 7, 8, 10, and 11 are compatible with this software program. According to the manufacturer, it can be used in various languages, including English, Deutsch, Dutch, and Francis.
8. Winutilities Pro
Use WinUtilities Pro, a system utility software that's easy to use. Your computer's performance will be improved using one of the best alternatives to CCleaner available today. Information that slows down your system is removed from discs. All traces of activity on your PC are erased with this software. Executable files can be password protected. It makes managing the memory of Windows easier.
9. Glary Utilities
Glary Utilities provide system maintenance, repair, and protection. The program includes a registry cleaner, disk cleanup, spyware detection, memory optimization, etc. Provides a comprehensive and authoritative PC cleaning utility. Fixes crash and errors that can be frustrating. Optionally, you can automate it and make it secure. Make your PC perform at its best. Glary utilities provide an intuitive and easy-to-use interface.
10. Avira
With Avira free security, an all-in-one security solution, Windows, Android, Mac, and iOS users can keep their devices free of viruses, ransomware, and spyware. Thanks to its smart scan, it scans your devices for threats, software vulnerabilities, insecure networks, and performance optimizations, then fixes issues with a single mouse click.
Recommended Articles
We hope that this EDUCBA information on "CCleaner Alternative" was beneficial to you. You can view EDUCBA's recommended articles for more information.