Updated April 6, 2023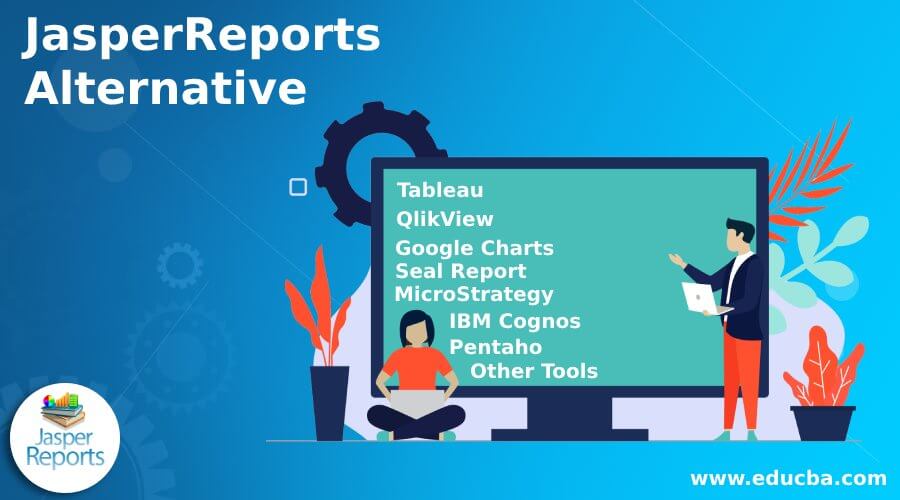 Introduction to JasperReports
The following article provides an outline for JasperReports Alternative. JasperReports alternatives provide ways and means to overcome shortcomings faced by users in JasperReports core logic of the report need to be changed to accommodate any changes in business logic or minor enhancement, cross tab reports/ subreports/ graphical reports are a bit complicated to configure, while editing the report there is a difference between the preview shown in the screen and what is displayed during the actual run in the web, compilation of programs are mandatory that warrants installation of Java SDK by developers, reversal of settings back to original setting post any unwanted/ incorrect changes is really difficult and the learning curve is too steep for this tool.
Reporting requirements of Java are well handled by this reporting tool. It presents data in a variety of formats like XML, PDF, CSV, HTML, RTF, TXT and XLS. It is also used in Java Enterprise Edition and Web applications for generating dynamic reports. It has a built-in authentication mechanism for validating users while accessing the reports and integrates well with another security framework of the IT landscape of the organization. It takes data from multiple sources and presents it as intelligent reports or visual graphics to the users. It adds watermarks to the reports to protect copyrights.
Various JasperReports Alternatives
Given below are the various JasperReports Alternatives:
1. Tableau
Provides best insights into the data and new perspectives. It handles all form of data from Excel to Big data and legacy application to Hadoop systems. It is a self-service tool to analyse the data in the way user wants and get the insights and no coding experience is required.
It provides dynamic, interactive and appealing dashboards to visualise the data. Automatic refresh of all interconnected dashboard information upon the change in the query condition. Quick response, real time information with 100 times faster than other BI applications. Very powerful tool that enables business to take fast decision. The information can be shared with all the stakeholders instantly.
2. QlikView
QlikView democratised business intelligence activities across organisation and played a critical role in spreading analytics culture among the users. It offers a cognitive platform to build next generation analytics and provides solution for all possible business cases. It has cloud offering and well governed architecture.
Its features include:
Free licenses for personal use.
Dashboard generation using drag and drop method.
Storytelling ability using data insights.
Dynamic visual analytics.
Data model creation by users.
Data sets and pictogram creation for quick retrieval of information.
No dependence on third party ETL for data model creation.
UI in QlikView is not contemporary in look and style. It doesn't support map functionality.
3. Google Charts
Google Chart provides easy to use, intuitive, self service reports apart from a set of standard reports it provides. Data can be represented through innumerable charts and graphs. Information can be extracted with least number of processing steps and it provides varieties of visual reviewing tool to track KPI scores. Users can design/ redesign the dashboards and enables collaboration through them.
Self service features like data filtering facility to visualise data, calculating new data values using the existing data, information gathering by exploring data and comprehensive data searching empower users to get great insights from the data by themselves. It allows free sharing of data within Google and other collaborative platforms.
Only disadvantage in this tool is that users cannot manage their code and Google does not permit it.
4. Seal Report
This reporting tool works with database or any other data source and it provides holistic framework for churning out periodical or real time report. It is simple to install, operate and takes minimal turnaround time to become productive. It allows combining data from variety of data sources and get insights. It supports task scheduler, plotly libraries, NVD3, ChartJS.
Report designer takes care of the content design in the output report and server manager manages data resource and provide graphical administration tool to manage data assets. It works with Windows, Linux OS and developed in C sharp.
5. MicroStrategy
It offers comprehensive BI platform that connects to hundreds of data sources and produce dashing reports, impressive dashboards. It also provides complete cloud platform to manage entire analytics. It also permits users to conduct a pilot trail to have a feel of the product before venturing out. The information retrieval is really fast and users could get the information within a second.
Hyper performance level enables users to build dashboard to display information with zero or one click operation. MicroStrategy provides mapping services, extensive chart / graph interfaces to design interactive and vibrant dashboards. Its dashboards are mobile friendly and fits easily into any OS and any make. It supports more than 50 languages.
6. IBM Cognos
IBM provides extensive self service features for users to build their own dashboards to derive insights into the data. It also embeds AI features into its intelligence platform to simplify user's effort in exploring information from its data. It also acts an effective collaboration platform to share vital information across all stake holders and to interact on improving business operations.
It meets the information needs of everyone in the organisation from an employee doing transactions to strategic decision-makers and empowers them to design their own data space and attain organisation goals coherently.
7. Pentaho
Unique features of Pentaho are as follows:
Data integrations.
Allows embedding other technologies into it.
Contemporary in look and functionalities.
Meets future analytics requirements of the organisation.
8. Other Tools
Dundas BI: Rich dashboards, Embeddable, Self-service platform.
Zoho analytics: Powerful data visualization and good insights.
Oracle analytics cloud: End-to-end analytics solution.
Domo: Well integrated with other ERP solutions.
GoodData: Secured, superior in a performance analytics platform.
Exago: Available in SaaS model.
Izenda: Self service facility and embedded.
Conclusion – JasperReports Alternative
The market is flooded with alternative solutions for JasperReports and users will have to do due diligence on the product options available to them and choose the product that will address the issues faced currently in JasperReports.
Recommended Articles
This is a guide to JasperReports Alternative. Here we discuss the introduction and various JasperReports alternative for better understanding. You may also have a look at the following articles to learn more –