Updated June 2, 2023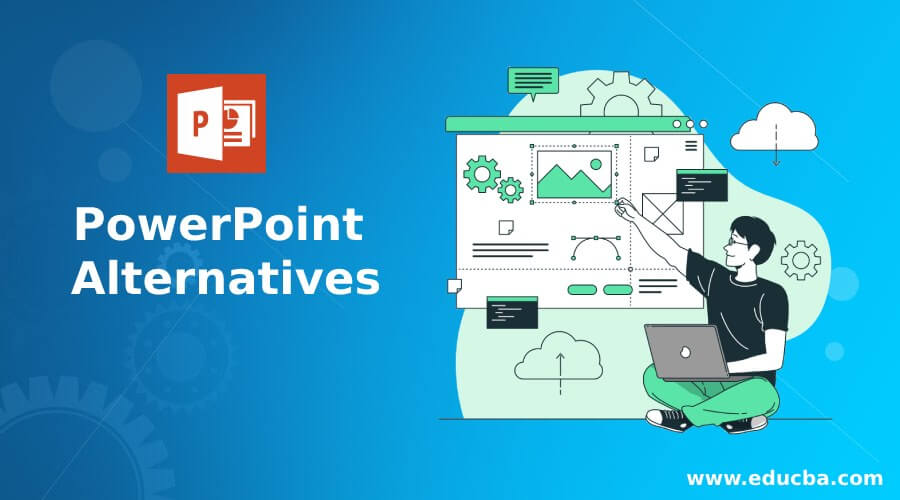 Introduction to PowerPoint
The following article provides an outline for PowerPoint Alternatives. PowerPoint is Microsoft's presentation software. This software helps you to create a necessary information diagram. However, PowerPoint has certain restrictions, such as the inability to represent the complexity of certain themes and limited integrated infographics. However, accessibility in presentation software is only one factor that you need. You will need more functional software to create presentations that capture audiences' attention consistently.
An ideal application allows you to create and display amazing performances across devices at an expense that fits your budget. A list of the best instruments to replace PowerPoint can be found here. This list contains tools with popular features for commercial and open-source presentations.
List of PowerPoint Alternatives
Given below is the list of PowerPoint Alternatives:
1. DesignCap
DesignCap is an online presentation tool. It enables everyone to create professional presentations without the necessary technical skills. It offers thousands of professional templates on various subjects. This is free to set objects' color, position, and size and use other useful features such as ungroup/group, image editing tools, etc. Multiple options to save and share designs online and offline everywhere. Over a million photos and icons are in inventory.
2. Google Slides
Google Slides is a Google-developed presentation application. It allows editors to work together in real time and offers many options for sharing presentations. Google Slides offer a hundred fonts, video embedding, display subjects, animation, etc. A wide range of portfolios, slots, and other precast presentations can be chosen.
3. Vyond
The video has proved to be better attracted and involved than most media in various industries. Videos increase people's understanding by drastic margins of a product or service. Moreover, video power is placed everywhere in everyone's hands. The platform provides anyone with the tools to create powerful, dynamic media regardless of their production skills. You can build character-driven accounts or compelling data visualizations that engage the general public and yield results with features beyond moving text and images.
4. Zoho Show
Zoho Show is also a sliding platform with a more basic, clean, and easy interface than PowerPoint. As a PowerPoint alternative, Zoho provides a free version for any beginner with minimal design skills who do not want to pay for PowerPoint but needs to create a simple slide presentation. The Zoho Show is easy to use, with minimal features in just a few tabs, so all users can use the platform regardless of their experience level. For teams of up to 25 users, the Zoho Show is free. They offer premium plans of between $4 and $6 per user for larger teams.
5. Haiku Deck
Haiku Deck is one of the most imaginative presentation applications in Europe. If it's all about visuals. It is intended like PowerPoint to produce slides, but the templates encourage little text to give users amazing images in the background. In addition, Haiku Deck has a large library with free templates and pictures, so you don't have to start building a wonderful presentation. Concurrent editing in Haiku Deck is not supported, but presentations can be shared with the user to view and edit at various times.
6. Slidelog
Sometimes you must show more than just your PowerPoint when giving a presentation. You might also need other files, such as a video or a document. The SlideDog software allows you to collect all your files into one presentation rather than having a clunky presentation where you switch to different formats. It is easy to set up a playlist with a SlideDog interface. But users have sometimes reported technical problems when switching between different media.
7. Visme
The templates of PowerPoint can feel restrictive space for texts and images is very clear. Try to rearrange various elements and suddenly misalign your presentations. Visme is a much more flexible alternative software to personalize templates and add various visual elements. Even without design experience, the platform is simple enough to use. It has complicated features and hundreds of templates to simultaneously produce a superb, visually impressive display.
8. Haikudeck
Haiku Deck offers a simple and easy way to make an iPad, web, or iPhone presentation. It promotes best presentation practices by making their messages easier and providing clear information. Your presentation will be available in the cloud to share with related devices. More than 40 million free common creative images are available.
9. Genially
It is generally used to create CVS, video presentations, questionnaires, infographics, e-posters, files, etc. This tool allows anyone to create unbelievable visual stories for a better communication experience.
Conclusion – PowerPoint Alternatives
In this article, we have seen various alternatives to PowerPoint. You can choose any of them based on your requirements.
Recommended Articles
This is a guide to PowerPoint Alternatives. Here we discuss the introduction and list of PowerPoint alternatives for better understanding. You may also have a look at the following articles to learn more –