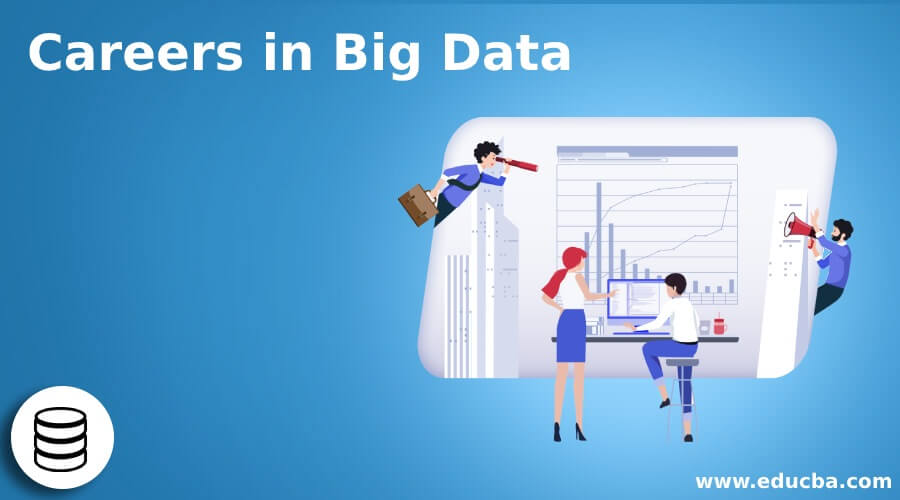 Overview of Careers in Big Data
Big data refers to data sets that are very large in volume and very complex in nature because our traditional data storage and data processing systems are insufficient to meet their requirements. Data plays a key role in enhancing the business by analyzing the customer's requirements and feedback, and as the customer base is increasing on a day-to-day basis, data is growing, Companies need to analyze the data to provide better services to customers and also to remain in competition with today's rapidly changing world. Nowadays companies are in a race, making maximum use of useful data generated from various data sources using multiple tools and technologies which have also increased the need for professionals to process, analyze, store and transfer data. The requirement of big data professionals is increasing exponentially in the industries dealing with electronics, retails, insurance, finance, public sector, etc. In this article, we will see the various available careers in big data options.
Education to develop Careers in Big Data
Certifications: If we talk about courses then one must have at least a diploma in computer-related streams which gives you a basic understanding of computer architecture, operating systems, Networks, etc., and then you can opt for professional online/offline big data certifications provided by different institutes across the globe.
Graduation: If you are a school pass out and especially looking to make a career in big data, then at graduation level you must opt for computer engineering, which will give you a deeper understanding of programming languages and algorithms and how and when to use them. To become a good big data professional one must have good logical, analytical, and problem-solving skills to deal with various real-world data related challenges
Masters: Masters in big data will advance the careers in big data which adds a boom to your big data knowledge resulting in ending up with a good highly paid job.
Career Path in Role of Big Data
Data Analyst: The role of a data analyst is to use various big data tools to process the data. Analysts mainly deal with structured, unstructured, and semi-structured data, and to process this data analysts interact with tools like a  hive, pig, NoSQL databases, and frameworks like Hadoop, spark, etc. Their main responsibility is too big out of the hidden potential information from data to help companies to increase their revenue by making wise decisions. To be a data analyst one must have good problem solving and arithmetic skills. The kind of work analyst do is studying past trends, generating patterns, producing reports, etc.
Programmer: The role of the programmer is to write the code to perform repeated and conditional actions on the available data sets. To write good and efficient code one should have good knowledge of various programming languages and possess good analytical, mathematical, logical, and statistical skills. The most common languages with which big data programmers deal in day-to-day life are Shell scripting, Java, Python, R, etc. The data with which programmers code deals are either stored in flat files or in databases so a programmer should also have a good understanding of file systems and databases.
Admin: The role of an admin is to take care of the infrastructure which manages the data and big data-related tools in the big data ecosystem. Their role also involves taking care of all the nodes along with their network configurations. Admins make sure of the high availability time of infrastructure to support big data operations. Installing various tools and managing the hardware of clusters is also taken care of by admins. To be an admin one must have a good understanding of the file system, operating system, computer hardware, and networking.
Solution Architect:  The role of big data solution architects is to analyze the real-world problem and develop a proper strategy to solve the problem by utilizing their expertise and implementing it by using the power of the big data framework. The solution architect takes the decision on which tool/programming language to be used to achieve the solution. Solution architect, one must have good problem-solving skills along with the in-depth knowledge of frameworks and tools, their licensing cost, and their alternative open source tools available to process big data.
Job Positions or Application Areas
Almost every domain requires big data to unlock the capability of the customer-driven economy. Big data has its deep roots in almost every industry, let's see a few examples.
Banking Sector:  The banking sector is one of the major sectors in the world and uses big data in many ways like
Using big data banks detect real-time unauthorized transactions and block them.
Stores the information of millions of customers and merchants in big data systems.
Study the spending patterns of a customer by analyzing the data of his past expenditures and provides the offers of the customer's interest, basically called Campaigning.
Healthcare in Big Data
It is the data of a patient-generated by various electronic medical devices like Electronic Health Records (EHRs), wearable sensors, etc. which helps the doctors to diagnose the disease and provide better treatment too.
It Analyzes the reviews of medicines provided by patients on various online forums to figure out the effectiveness of medicine and its side effects.
Careers in big data Maintaining patient-related data like treatment, surgery, medication, recovery time, etc. and if treatment results are positive, then giving the same treatment to patients with the same suffering.
Retail industry
Careers in Big data helps in deciding the price of newly launched products by analyzing the price of similar products already present in the market manufactured by their competitors.
Analyze the data to gather the information of products in demand, its review and its feedback from customers, which helps the industry to improve the faulty products.
Understand the real-time requirement of the customer and provide real-time suggestions which help to increase the business and also saves the time of the customer. Careers in Big data is almost in every industry and service providers around us like Railways, transport, educational institutes, energy, telecom, government, etc. with similar use cases.
Salary (US data and not India specific figures)
There is a huge requirement of big data professionals across the globe, this is the sector where the number of professionals is less than what is required resulting in making it one of the highly paid jobs. As per www.glassdoor.com, the salary provided by various organizations in the US is as follows:
J.P. Morgan –                                                                                     $93K – $100K
Cognizant Technology Solutions –                                                $92K – $98K
CSAA Insurance Group-                                                                 $133K – $144K
ZipRecruiter –                                                                                   $81K – $89K
The above salary figures are analyzed based on employees in these organizations. One cannot deny the fact that the salary of an individual directly depends on factors like the degree (Bachelors/Masters), experience in the domain, command over technology, etc. also it is not very easy to go grab a good big data job until and unless one has a good grip on tools and technologies to understand and solve the real-world big data challenges.
Conclusion
As per Forbes, IBM predicts that the demand for big data professionals will increase by 28% by the year 2020. Another survey from Forbes states that 58% are adapting to big data analytics. The careers in big data are at the boom and the requirement of professionals is increasing at a good pace.
This is a good time to grab the golden opportunity to become a part of the big data wave.
The Careers in big data analytics have become the top priority project for a lot of organizations and the career is also not only limited to a type of organization and is independent of a domain of industry.
In the present scenario, big data professionals are paid huge bucks for the right set of skills. There are endless opportunities and scope for growth in big data. If one likes to play with data and maths then this can be among one of the best available options in making a career.
Recommended Articles
This has been a guide to Careers in Big Data. Here we have discussed the introduction, education, career path in Big Data, along with salary and career outlook in Big Data. You may also look at the following article to learn more –