Updated June 15, 2023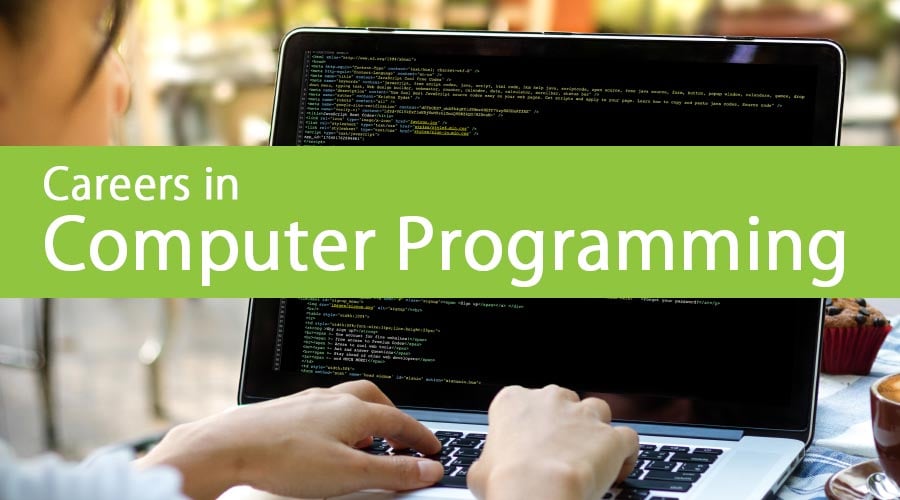 Introduction to Career in Computer Programming
In this topic, we will learn about a Career in Computer Programming as Computer programming has emerged as a great innovation, research, and job area in the last 2-3 decades. The opportunities in the Computer Programming field are endless and growing continuously. There is always a demand for great software engineers, programmers, and developers worldwide. The requirement in countries such as India, China, and Brazil are in demand across leaps and bounds. This is probably the best time to build a career in computer science. If we talk about India's scenario, more than 80% of placements across the engineering colleges in India are in computer science and related domains. Many Indian cities are developing as a hub for software engineering, and these are the centers of major global activities in computer programming.
Education Required for a Career in Computer Programming
Anyone can make a career in computer programming by acquiring the necessary skills. The formal way to get a job is to have an engineering degree or a degree closely related to computer science, such as a bachelor's or master's in computer applications. Students from diverse engineering backgrounds, such as mechanical engineers, electrical engineers, biotechnology engineers, and other disciplines, can find a job in software engineering. Apart from these, people with B.Sc. or M. Sc in Mathematics, statistics, Basic Science, etc., with good programming knowledge, can also find many jobs in this area.
These days many companies are not even looking at the formal degree as long as the candidate possesses the necessary skill set for the job. Even those who have only completed their school education but know a good amount of computer programming can find a job in this area. People from arts, commerce, and management backgrounds also continuously pursue a career in software engineering and allied fields.
Career Path
The usual way is that a person, after graduating from college, starts as a junior developer and spends the next two-three years in the same position. After acquiring the necessary skills and performing his/her tasks most satisfactorily, learning as he/she goes around, receives a promotion to become a lead software developer or senior developer who is spending another 4-5 years. He executes more challenging and complex jobs at this stage and monitors or guides junior developers. Next, once he receives a promotion, he becomes an architect, scrum master, product owner, etc., based on his interest and skill set. Usually, after spending 15 -20 years in the field, the person can become vice president, director of engineering, or senior manager. At this stage, they lead a large team that builds solutions or products for an organization or industry.
After acquiring sufficient field knowledge, many engineers start their own companies and become entrepreneurs. Starts are a great way to become successful and do what one loves. These days there is great support for startups from both industry and government. Because of this, we see new and innovative companies, products, and solutions in the market continuously growing.
The third career prospect is in academia and research. Researchers and engineers continuously invent new technology every other day, contributing to the continuous growth of computer science. Artificial intelligence, Blockchain, the Internet of things, etc., is the newest area of research in this domain, and there is a great scope for research-minded people and create something path-breaking. Because of the advent of new developments and requirements, the number of engineering colleges is also growing; hence, qualified faculties are always required.
Job Prospects and Application Areas for Career in Computer Programming
There are plenty of jobs in the computer programming area, starting from fresher jobs to mid-senior and senior-level jobs. Thousands of people are hired annually by MNCs, small companies, and startups. In the case of India, Bengaluru, Hyderabad, and Pune are major hubs for computer engineering job markets. In addition, most colleges across India provide campus placements in this field, and more than 80% of those students who do not get placed on campus also get a job through offline drives within 6-8 months of graduating from college.
The rapid growth in this field will only enhance further because of the huge application of computers in almost all fields of work.
Salary
Computer programmers are made nicely. Starting salary for freshers from premier colleges is between 50-70 thousand per month, and for average college, it is between 30-40 thousand per month. With experience, the salary increase is also quite nice, with an average of 7-12 lakhs for a 5-year experience person to 12-20 lakhs for 8-10 years experienced person. These figures become even more lucrative if the person has strong academic and professional portfolios, which can go up to 35 lakhs for 10 years experienced person. Senior managers and people in leadership roles usually earn in crores with options of shares and stocks in the company.
Apart from salary, there are many other benefits, such as travel abroad, luxury hotels, annual bonuses, appreciation, etc.
Career Outlook
The Career Outlook of computer programmers is quite nice. There are hundreds of great companies, such as Google, Facebook, Apple, Microsoft, Twitter, SAP, etc., where there are never-ending opportunities for the right candidates. These companies provide equal opportunities for everyone and a safe, convenient, positive work atmosphere that brings out the best in any hard-working and sincere person.
Software engineering can easily be termed the job of the 21st century because it employs millions of people across the globe.
Conclusion
This career in computer programming article sheds essential light on computer programming's career aspects and highlights the benefits of the job. Thousands of students across India choose to work in Computer Programming every year, and many more are already employed in it. Gone are the days when people used to prefer government jobs; the reality is that people prefer a well-paid job with a good standard of living and many other facilities which only this field provides today.
Thus, forthcoming students and interested people who want to make a career in Computer Programming should go for it without hesitation.
Recommended Articles
This is a guide to a Career in Computer Programming. Here we have discussed education, career path in computer programming, jobs, salary, & career outlook. You may also look at the following article to learn more –