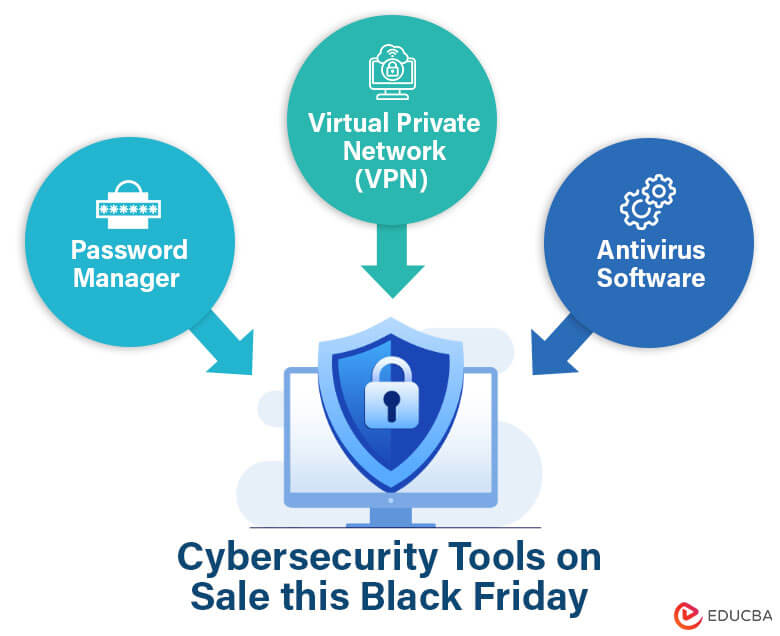 Black Friday Cybersecurity Sale – Introduction
As Black Friday gets closer, the excitement for awesome deals on gadgets and stylish clothes is through the roof. But in our digital age, where our online life is as important as our offline one, there's another kind of treasure during Black Friday – cybersecurity tools.
In this article, we'll explore the best Black Friday cybersecurity sale, helping you strengthen your online defenses while saving money. At a time when the digital world is both a thriving marketplace and a potential minefield of cyber threats, the need for strong cybersecurity has never been more evident.
Black Friday no longer exclusively caters to those seeking physical possessions; it has evolved into an opportunity for savvy consumers to invest in their digital well-being.
Let's get started!
Why Should You Invest in Cybersecurity?
In today's digital world, the internet has become a fundamental part of our everyday lives. In this situation, imagine your photos, passwords, or bank details falling into the wrong hands – that's where cybersecurity comes in. Cybersecurity is an essential shield that protects our digital identities, personal information, and financial well-being.
While the digital world provides great convenience and connection, it also comes with many potential threats. This is why investing in cybersecurity is not just a smart choice; it's a necessity.
Here are some reasons why you must take advantage of this Black Friday cybersecurity sale.
1. The Ever-Present Threat of Cybercrime
Cybercriminals are becoming increasingly smarter in their tactics, targeting individuals, businesses, and organizations alike. Cybercrimes, such as data breaches and identity theft, can have devastating consequences. Therefore, cybersecurity tools and practices protect you against these crimes.
2. Protection of Personal Information
Your personal information, from financial data to sensitive documents, is at constant risk of being exposed to cybercriminals. With the right cybersecurity measures in place, you can trust that your personal data remains confidential and out of reach for cybercriminals.
3. Secure Online Transactions
The digital economy is expanding rapidly, with online shopping and financial transactions becoming the norm. When you invest in cybersecurity, you are ensuring the security of your financial details, making online transactions safer and more reliable.
4. Privacy and Digital Freedom
Cybersecurity isn't just about protecting your data; it's also about safeguarding your online privacy. By shielding your online activities and communications, cybersecurity tools allow you to maintain your privacy and protect your digital freedoms.
5. Data Continuity
Cyberattacks, malware, and viruses can lead to data loss, system failures, and compromised devices. By investing in cybersecurity, you are not only securing your data but also ensuring the continuity of your digital life and work.
6. Peace of Mind
Ultimately, investing in cybersecurity offers peace of mind. It allows you to navigate the digital world with confidence, knowing that your online presence is fortified against threats and vulnerabilities.
Cybersecurity Tools
Here are the top tools that you must buy during this Black Friday cybersecurity sale.
1. Virtual Private Network (VPN)
Virtual Private Networks, or VPNs, need to be at the top of your list! They are one of the most versatile and indispensable guardians of your digital privacy and security. A VPN creates a secret, encrypted path, like a personal tunnel, for all your online activities. It acts as a shield, keeping online activities safe from prying eyes and potential threats.
At its core, a VPN is designed to create a secure and encrypted connection between your device and the internet. It accomplishes this by routing your internet traffic through servers located in different regions or countries. This process effectively conceals your true IP address and location while encrypting your data, making it exceedingly difficult for anyone to intercept or decipher your online communications.
Here's what you get from a VPN:
Protecting your online anonymity
Shielding against cybercriminals
Secure browsing on public Wi-Fi
Access to geo-restricted content
Protection against government surveillance
Secure remote work.
2. Antivirus Software
Antivirus software is a powerful safeguard system protecting you against digital threats and defending your devices and data. It has evolved into a comprehensive shield, protecting your digital world from viruses, malware, and various online hazards.
Antivirus software, often referred to as anti-malware software, is a specialized program that can detect, prevent, and remove malicious software or malware from your computer or device. These malicious entities come in various forms, including viruses, trojans, ransomware, spyware, and more. It uses a range of tools and technologies to scrutinize your files, emails, and downloads, ensuring that your digital environment remains free from these insidious threats.
Here's what you get from antivirus software:
Protection from malware
Real-time threat detection
Safe browsing
System performance optimization
Ransomware protection
Data privacy
Email Security.
3. Password Manager
It is impossible to overstate the importance of robust password management in the digital age, where we manage an ever-growing number of online accounts. This is where a password manager steps in, simplifying the complex task of safeguarding your online credentials and securing your digital security.
A password manager is a software/service that helps you securely store, organize, and generate complex and unique passwords for various accounts. The primary objective is to ensure that your logins are strong, secure, and, most importantly, inaccessible to unauthorized individuals. Password managers offer a centralized and encrypted vault for your passwords, making the process of maintaining your login information not only more secure but also more convenient.
Here's what you get from a password manager:
Enhanced security
Convenience
Secure storage
Password generation
Multi-device synchronization
Protection against phishing
Password sharing
Data breach monitoring.
Final Thoughts
As we approach Black Friday, it's crucial to understand that this shopping season is about making smart investments in your digital well-being. The Black Friday cybersecurity tools sale is a means to a safer and more secure online experience. Cybersecurity isn't just a choice in 2024, where the risks and opportunities are intertwined; it's a proactive step toward ensuring your digital future remains resilient and protected.
Recommended Articles
We hope you found this comprehensive article on the Black Friday Cybersecurity sale helpful. For similar articles, please refer to the following.