Updated May 25, 2023
Hyderabad District
Hyderabad is a city district in the Telangana state. It is the smallest district in the land area yet has the highest population density. Hyderabad in 1948 resulted from a police action that merged the Baghat and Atraf-a-Balda districts. Hyderabad is now known as the Hyderabad Urban District. Hyderabad is the City of Pearls because it was once a global center for the trade of natural pearls, rare diamonds, and emeralds.

Best Tourist Places in Hyderabad to Visit in 2023
With its regal heritage and vibrant modernism, Hyderabad is a fascinating destination as Telangana's capital with tourists and locals. Several incredible tourist attractions in Hyderabad will satisfy your desire. It brings to mind that the city of Nizams is also famous for its Hyderabadi Biryani, is noted.
Let's check out fantastic tourist places to visit in Hyderabad.
#1 Charminar
Charminar, the city's legendary icon, is a stunning sight. This historical relic sits in the heart of Hyderabad's old city, encircled by Mecca Masjid, built of Mecca bricks, & Laad Bazaar, a lively shopping strip. It was built in 1591 by Muhammad Quli Qutub Shah to celebrate Hyderabad's founding and fight off a terrible virus raging in the Golconda region. It is one of Hyderabad's most visible monuments, with four minarets reaching roughly 50 feet in height, a mosque, and 45 prayer places.
Location: Charminar Rd, Ghansi Bazaar, Hyderabad, Telangana 500002
Map: Google Map
Timings: 9 am – 5:30 pm
Entry fee: INR 5 per person for Indians, INR 100 per person for foreign nationals
Photography: Allowed
#2 Ramoji Film City
Ramoji Film City is, without a doubt, among the most amazing places to visit in Hyderabad with family, thanks to its enchanting theme centered on cinema, which is every Indian's favorite. Ramoji Film City is said to be one of the most haunted locations in India. This holiday resort, India's only one of its kind, offers something for everyone and is among the best places to visit in Hyderabad.
The world's biggest integrated film city, stretching across 2,000 acres, guarantees that every tourist gets the most out of their visit. From Eureka, the performance arena modeled after royal forts featuring live events, to obtain a tour of a regular film studio, retail places, multi-cuisine restaurants, a kids' park, and even a bird park, features with good categories of leisure suited for different ages. One of the most extraordinary things to do in Hyderabad is to visit the film city. This location can be enjoyed on a single day or as part of a vacation.
Location:  Ramoji Film City, NH-9, Vijayawada Highway, Abdullahpurmet Mandal, Hyderabad 501512, Telangana
Map: Google Map
Timings: 9 am – 5:30 pm
Entry fee:
INR 800 per individual for an adult regular guided tour without food.
INR 700 per child for a generally recommended time without food for children aged 3 to 12.
Ramoji Star Experience for Adults with Food costs INR 1,799 per person.
Ramoji Star Experience for children (3-12 years), including food, costs INR 1,499 per child.
Photography: Allowed
#3 Qutub Shahi Tombs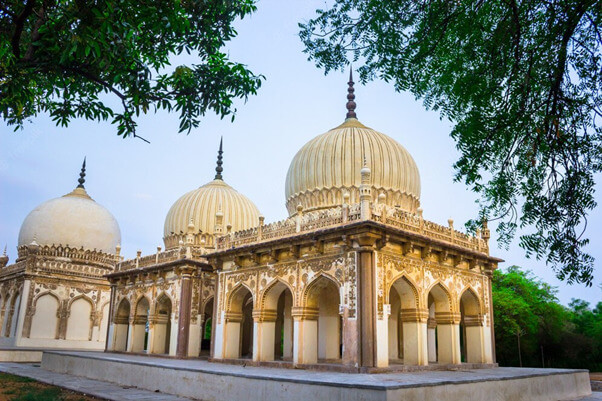 The magnificent Qutub Shahi Tombs, located against the stunning Ibrahim Bagh, is one of the historical places to visit in Hyderabad. These are the ultimate resting places of Hyderabad's founding dynasty's kings. The tombs are the most authentic and beautiful display of Persian, Pathan, and Hindu architectural designs devoted to the seven monarchs who ruled Golconda for about 170 years and by the rulers. Take a Cultural Walk across Hyderabad to see more great architecture in this lovely city.
Location: Qutub Shahi Tombs, Hyderabad, Telangana 500008
Map: Google Map
Timings: 9:30 am – 6:30 pm
Entry fee: NA
Photography: Allowed, INR 20 per camera
#4 Wonder La, Hyderabad
Wonder La Hyderabad is a theme park that provides limitless food, amusement, and entertainment. Wonder La is one of Hyderabad's most popular tourist destinations and has something for everyone. From exhilarating water rides to luxurious accommodations, this intriguing adventure destination is ideal for unwinding and having fun with your family. It has over 40 dry and water rides.
The park's premises include an ATM, lockers, parking space, a lost-and-found area, changing facilities, and more.
Location: Nehru Outer Ring Road Exit No. 13, Raviryal, Telangana 501510
Map: Google Map
Timings: Timings: 11 am to 7 pm (daily)
Entry Fee:
Weekdays: INR 815 for Adults / INR 635 for Children
Weekends/Holidays: INR 1,015 for Adults. / INR 790 for Children
Photography: Allowed
#5 Hotel Shadab
Hotel Shadab is well-known throughout Hyderabad for its dum-cooked Mutton Biryani, which comes with over 20 varieties of kebabs such as Garlic Kebab, Malai Kebab, Mutton Burra Kebab, and many more. This place will undoubtedly make your trip to Hyderabad unforgettable, with its varied aromas delectable enough to entice your taste buds.
Hotel Shadab, also known as "Foodie's Paradise," has successfully maintained the legendary distinction of Hyderabadi Biryani. The famous restaurant is located in the Old City and is well-known for its Irani Chai, which was also the first item served when it initially opened in 1953.
Location: Near High Court, High Court Rd, Madina Circle, Charminar, Ghansi Bazaar, Hyderabad
Map: Google Map
Timings: Daily 5:00 am to 1:00 am
Fee: INR 700 (approx.) for two people
These were the Best Tourist Places in Hyderabad to Visit in 2023. So, plan your next trip to Hyderabad, and remember to see these spectacular places.
Recommended Articles
We hope that this EDUCBA information on "Tourist Places in Hyderabad " was beneficial to you. You can view EDUCBA's recommended articles for more information,