Learn from Home Offer TAKE THIS BUNDLE
JAVA Course Bundle - 78 Courses in 1 | 15 Mock Tests
This Java Certification Course includes 78 courses with 304+ hours of video tutorials and Lifetime access and several mock tests for practice. It is an awesome module of practical and hands-on learning of the most updated training programs and projects in the area of Java. It will explain you concepts such as Java, Struts2, Java Spring, Spring Boot, Design patterns in Java, JDC, JSON, Java Build Tools, Java Hibernate, Java EE/J2EE and many other Java courses.
TAKE THIS BUNDLE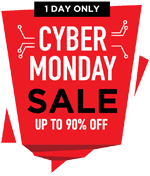 * One Time Payment & Get Lifetime Access
What you get in this JAVA Course Bundle - 78 Courses in 1 | 15 Mock Tests?
304+ Hours
78 Courses
Mock Tests
Course Completion Certificates
Lifetime Access
Self-paced Courses
Technical Support
Mobile App Access
Case Studies
JAVA Course Bundle at a Glance
---
| | |
| --- | --- |
| | |
| Courses | You get access to all 78 courses, Projects bundle. You do not need to purchase each course separately. |
| Hours | 304+ Video Hours |
| Core Coverage | Java, Struts2, Java Spring, Spring Boot, Design patterns in Java, JDC, JSON, Java Build Tools, Java Hibernate, Ajax, Java EE/J2EE. |
| Course Validity | Lifetime Access |
| Eligibility | Anyone serious about learning Java and wants to make a career in this field |
| Pre-Requisites | Familiarity with at least one programming language is recommended |
| What do you get? | Certificate of Completion for each of the 78 courses, Projects |
| Certification Type | Course Completion Certificates |
| Verifiable Certificates? | Yes, you get verifiable certificates for each 78course, Projects with a unique link. These link can be included in your resume/Linkedin profile to showcase your enhanced Java Skills |
| Type of Training | Video Course – Self Paced Learning |
JAVA Course Bundle Curriculum
---
In this section, we talk about all the courses that are offered under our Java Training along with their details.

Goals
Here we present a course to you on Java keeping in mind the gap of the current asks of the organization and the skillset the majority workforce brings in at this point of time and we aim to bridge this gap through the course of this training. We would make you that person who can crack the toughest nut with ease.
Objectives
In this training on Java, we would have a lot of objectives to be fulfilled. At the starting of the course we would chalk out the objectives in detail but here least we would go through the objectives in brief. We would divide our curriculum into 5 different sections and each section has its objectives to fulfill. In the first section we would be attacking the basics of Java to have a strong foundation. In the next section we have Spring Boot tutorials to take care of and following that section we have a section on JDBC. The objectives of the last 2 sections in this training is to take the final leap to cross and cover the left of things of the Java training.
Course Highlights
We here at EduCBA have taken utmost care in delivering what's best in the market at the present and we try to cater to teach every aspect from scratch making sure that we take small steps at the start so that leaping advanced stages is just a small play. Some of the course highlights of Java training are as follows:
In the very first section, we would go through the introduction of Java in its true sense, so that we get all the terminologies we would be using in this course right inside our head in such a way that they can never be omitted. In this section we have a superficial touch of all the concepts we would go through during the training.
The next section is dedicated to the understanding of JavaScript and its vast uses in Java in today's world. Once we have covered JavaScript, we would take a deep dive into the concepts of Java Hibernate. While traversing through the path of learning Java Hibernate, we would need to pass through the dwelling place of Maven and Apache Tomcat as well. Hence these topics would also be covered in great detail.
Now that we know what functionalities Maven, Tomcat and Hibernate provide, understanding of JDBC is, therefore, a must, as the JDBC concepts merged with previous learning of Hibernate, Maven, etc. would enable us to solve real-time problems. This section also contains the security aspect of JDBC without which JDBC would be crippled.
Now we are ready for taking on the real-time concepts of web services and this is exactly what is there in store for the next section. This section covers topics like JWS SOAP and REST, multithreading, JSF and many others.
The final section is all about projects and that's all we will talk about in the project highlights.
Project Highlights
This course on Java training is overloaded with projects because we understand the need for hands-on experience to complete the nature of learning in today's scenario. We have designed the projects in such a way that it will give immense confidence while working on real-time projects. Some highlights from the project perspective for Java training are:
Each section has one or more projects to understand the working of theoretical concepts taught in that section, except the first one. Starting from the second section, we have projects to get accustomed to the working of Spring. This section also contains projects on understanding Java v/s .net.
In the next section we have projects to take care of understanding JDBC. JDBC is an intricate topic and needs an understanding of concepts like Maven, Apache, etc. to be used in implementing a complete JDBC project.
We have loads of projects in the fifth section taking care of all concepts we have learned in the fourth one. To start, we have a project in understanding Java and Junit. The next one gives experience on Spring Boot, followed by teaching Servlets and many such more! In the final section we have projects like building Employee management systems that are inspired by real-time use cases.
---
Java Course  – Certificate of Completion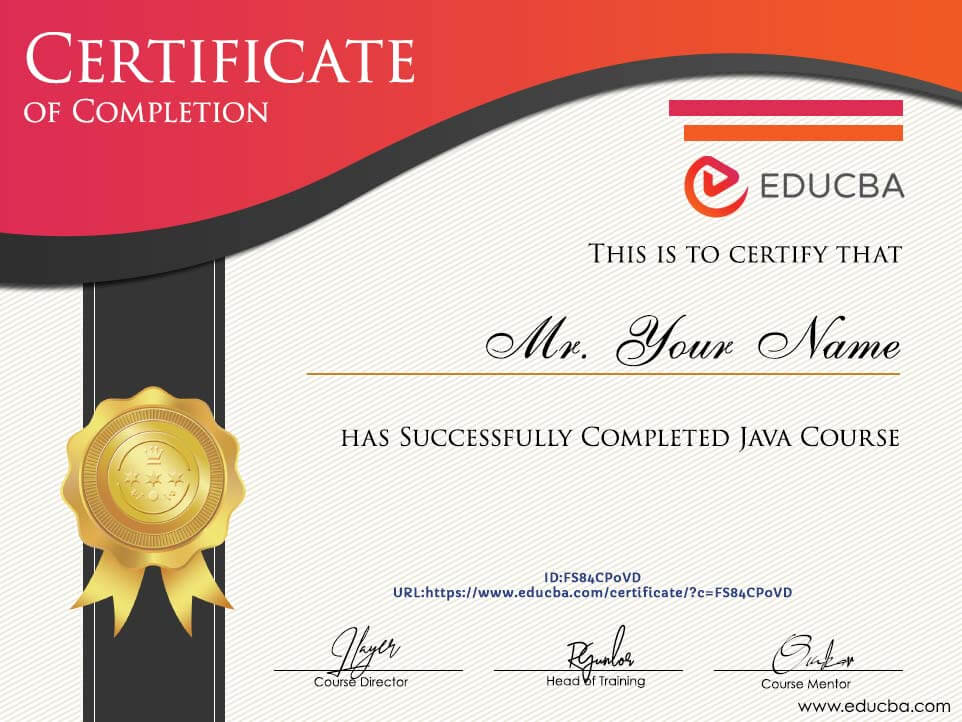 ---
What is Java?
Java is a programming language that can be built once and run anywhere. It is platform-independent and easily portable. Java can be used to develop web applications, standalone GUI applications and complex large-scale distributed applications to enable the resolution of complex solutions more easily. Java is an object-oriented Programming Language and functional features have been added in the recently released Java versions.
Java was developed and is being maintained by Oracle Corporation. It is a general-purpose programming language which has concurrent and multi-threading programming features. Java is safe, static and strongly typed programming language. Java has a special runtime environment called JRE which provided an execution environment instances called Java Virtual Machine (JVM) to enable the running of Java applications as Java bytecodes (conversion of high-level code to machine level code). The theme of the Java application development is Write Once and Run Anywhere while developing applications. It is most popular in client-server application development. It is licensed under GNU General Public License and is being supported by Java Community Process.
Java has multiple functional programming features such as Java Stream API, Java IO enhancements, Java Time API, Lambda Expressions, Functional Interfaces, Concurrency, and Java Collection Framework API improvements. Java has several cores and advanced features where the core language features include several APIs and concurrency enabled features, Java Collection Framework API and advanced features such as several Java EE (Enterprise Edition) Specifications such as Java Servlet, JSP (Java Server Pages) technology, JSF (Java Servlet Faces), JPA (Java Persistence API), JAX-WS, JAX-RS standard specifications for web services API standards.
Industry Growth Trend
The rapid application development market size is expected to grow from USD 7.8 billion in 2018 to USD 46.2 billion by 2023, at a Compound Annual Growth Rate (CAGR) of 42.9% during the forecast period.
[Source - MarketsandMarkets]
Average Salary
Average Salary
$102,205 per year
The average salary for a Java Developer is $102,205 per year in the United States.
[Source - Indeed]
Skills you will learn in this course?
Several skills can be acquired after learning this Java Training such as Core Java and Advanced Java programming features.
Java EE application-specific skills such as JPA, Hibernate, Spring.
GUI based application-specific skills such as Java AWT (Abstract Window Toolkit), Swing, EJB (Enterprise Java Beans), Web Services such as REST (JAX-RS specification) and SOAP (JAX-WS specification).
Several other Java EE technologies skills such as JDBC (Java Database Connectivity API) used to establish a connection between the Java application and the database schemas to update and manage the application data.
Java build tools such as Ant and Maven to manage the Java application build lifecycle and project build and execution phases.
Java Spring framework related technologies such as Spring Boot to develop production-ready applications and embedded serves in Spring libraries to develop lightweight applications.
Java Design Patterns, Algorithms and Data Structures implemented in Java programming language to develop efficient applications, etc.
Different IDEs such as IntelliJ IDEA and Eclipse can be learned that provides a development environment for developing Java and Java EE applications.
Skill related to Java testing and test coverage frameworks like JUnit and TestNG for Test automation purposes can be obtained.
Pre-requisites
Willingness to pursue a career as Software Developer: This Java training has a few prerequisites such as basic knowledge in Java Programming or at least any knowledge or previous experience in any other high-level programming language or object-oriented programming languages. This course would seem a little bit tough without any knowledge or experience in any computer programming language.
Basic knowledge of Computer technologies: Basically, any degree in computer background or any technical or engineering discipline is highly recommended before taking this Java Course. Anyone without computer knowledge can also learn this Java Course based on their interest if having a good logical and technical sense of mind.
Target Audience for this Java Course
Students of Computers: If you're a student of computer science and want to consider Java Developer or Java Engineer as a career option, then this is a great advancement course for you. Since it's so very comprehensive, you will learn a lot from Java training.
Software Professionals: If you want to proceed and switch your career or want to take off your career to the next level, this Java Course is highly recommended for the Software professionals.
Engineering Graduates: Any engineering graduate without a computer science background can also opt for this Java Course as there are many successful software professionals with core technical backgrounds other than Computers as Majors. The only qualification for this Java Course is to have an interest in learning a programming language and logical, analytical & coding skills to develop complex Java applications as a java programmer.
Java Certification Course FAQ's- General Questions
---
Why should I do this course?
Software professionals who are willing to pursue their career as Java Developer or Java Programmer or Java Engineer should pursue this Java training to master the contents of Java Programming Language easily and in a short period.
I don't have a background in Computers, can still consider opting for this course?
The answer is a big YES. Without any background in computers also, one can opt for this course with no reluctance based on the condition that a person is interested in learning and have good logical and analytical skills. One can get the best value out of this course within a short time. Get your basics right and you are more than welcome to do this course.
Would this course add value to my profession?
Yes. This course will add great value to the profession by providing hands-on content.
Is this a quick-fix or I need to continue practicing while learning this Java certification?
This is not a quick fix and you need to practice the Java programming features by applying the acquired knowledge from this Java Course into practical form by developing some java applications.
Sample Preview
---
Career Benefits of this Java Course
To become a Java developer or a Java programmer, this Java course is much enough in terms of course coverage and content.
Even a software professional having several years of experience will also be benefited by this course due to the inclusion of vast topics related to Java from very basic to complete advanced topics that will enable the growth of career easily.
The career benefits are a lot by learning this course, one can become an architect by grasping a more advanced and vast number of frameworks and technologies from Java training so that a Java Developer or Programmer can become Java Architect or Technical architect after gaining five-plus years of experience in their career and thereafter the role can become Solutions Architect who can give efficient and effective solutions to the complex problems.
Being in a technical role, there will be a lot of demand for the resources in technical domains to outperform a lot.
The skills acquired from this Java certification course will benefit a lot to perform as an independent team player and also as a top performer.
Java Course Testimonials
---
Perfect
Thank you for your class. I think the class was very understandable and easy. The educator has a little bit accent but no problem. in this platform, I think it should be more courses regarding Java which is a very significant program language in the computer field. Thank you.
Linked
ILHAN TURKMEN
Helped me a Lot
As a beginner to JavaScript, I was able to learn a lot in very little time. Right from the basics to the concepts such as objects functions and events I was able to learn with the help of examples they were provided during the course.More than anything the pace at which the course has been handled is also awesome.
Linked
Sai Kiran Makena
Excellent
Thanks a lot for such an amazing course. I have gone through a series of your online tutorials and it's very helpful. I have recommended educba to my friends. I completely enjoyed the videos. Great support team.
Linked
George Kwofie
Java Certification Course
I learned a lot about the basics of Java, from variables to lists to basic operators to strings to conditions to loops and functions. This is very useful and helpful. I learned a lot and I can't wait to continue my pursuit of gaining more experience in the computer science and programming departments.
Linked
Grant Eric
My Java experience
This is one of the best courses in Java Course or Java Training I have ever completed. As a Software Developer, I did few courses in other programming languages, but this has been one of my best and all-time favorite courses that I used to enjoy while I learn for being its contents more comprehensible and in-depth in terms of of of the course curriculum.
Elizabeth
Great Java Certification Course
This course is very detailed that includes hands-on and on the go-live training and is very exciting to learn every minute due to simplicity and easily understandable content, this is a must-visit to master the Java course in the shortest time possible
Mathew