Updated April 26, 2023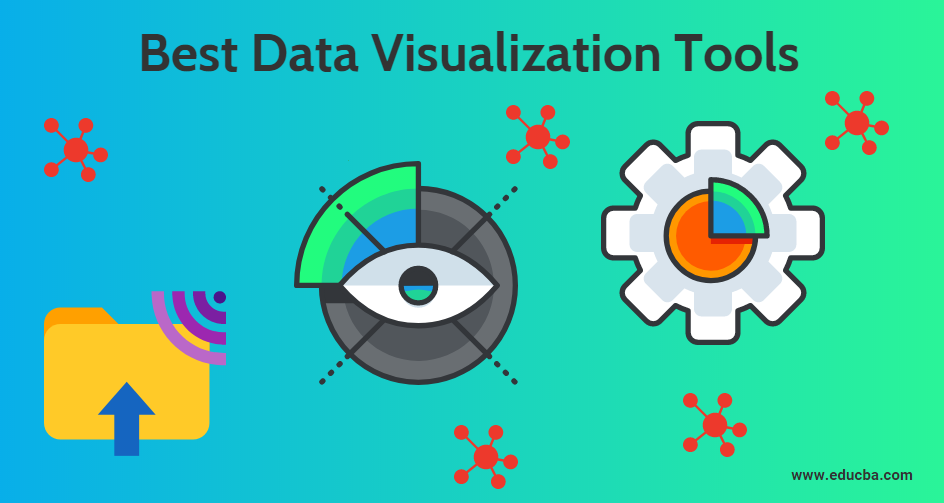 Introduction to Best Data Visualization Tools
Today we are dealing with huge volumes of data; it is necessary to understand the importance of this data and to get a move on with the upgrading tool to make wise decisions in the future. To visualize this data, the need for data visualization tools emerges. They make a user gain insight from the proper presentation. Data visualization tools are meant for designing and analyzing elements like patterns, dashboards, maps, and charts.
In this article, we shall introduce some top visualization tools in the market with the aim of presenting them according to the user requirements. A very good BI tool should have the capacity to analyze and understand the generated reports being a self–service analytics. Dashboards show the analysis process effectively.
Types of Data Visualization Tools -2023
Here come the topmost BI tools in the current markets. Among these, the three tools, namely Tableau, Microsoft Power BI, and Qlik, are the leading tools in Gartner Magic Quadrant.
The following is the list of the most popular free data visualization tools among organizations.
Tableau
Microsoft Power BI
Sisence
Zoho Reports
Jupyter
Google Charts
Infogram
Plotly
Qlik View
Klipfolio
Visme
Adaptive Discovery
Watson Analytics
Domo
High Charts
Let's see the significance of the individual Data Visualization Tools in detail:

1. Tableau: They are often regarded as a powerful business intelligence tool. It allows us to handle extensive and huge data sets used in fields like artificial intelligence, machine learning, business intelligence, and a customer link around many IT organizations due to their simplicity in solving data problems. Tableau helps in importing all sizes of data and managing metadata. The data are pulled from various sources on different platforms. And these data are connected via tableau desktop. These data are published to the tableau server. The tableau reader helps the user in reading and view the file. Tableau has a huge number of data connectors and offers a large community of users.

2. Microsoft Power BI: Power BI has the ability to create a personalized dashboard with easy-to-use platforms. It supports and imports data from various sources and embeds charts, maps, and tables to make better visualizations. Power BI uses the R language for better visualizations and also as cloud capabilities to leverage on the desktop. The storage capacity is limited to 10GB of cloud storage. Power BI helps in publishing data online for the collaborators.

3. Sisence: It is an open-source licensed business intelligence software that makes data very easy to act as a self-service. Sisence makes data very interactive and connects to the different data sources, which are put into a repository for easy access from the dashboards. This real-time data visualization provides ready insights into a particular organization. They have simple, user-friendly drag-and-drop with good interactive graphics, charts, and visualizations. Sisense was chosen for its easy setup and good data exporting range.

4. Zoho Reports: It's a BI analytics tool founded in 1996 with a free service for two users that allows creating Adhoc reports and provides reporting options like sharing, mail scheduling, summary views, and pivot tables with a highly secure platform. This tool is of primary importance to app developers and ISVs. They have intuitive visualizations to have great insights. Zoho reports or analytics is an online Reporting with various capabilities like blend and merging real-time collaboration and high secure SSL connections. Their features include good financial reports, scheduled reports, Streaming analytics.

5. Jupyter: Jupyter is an open-source web application widely used to share source codes and documents and executed them individually. They are interactive 3D visualization known to be handy tools with supportive GUI tool kits. Jupyter is powerful, easy, and shareable to work in the same environment as most data science projects perform visualization in this IDE. They are considered higher when compared with other standard tools. Jupyter has flexible publishing to the users in pdf, dashboards (Plotly's), and HTML.

6. Google Charts: It's an open-source that allows data visualization on the website. It is free of cost and completely used for commercial and educational purposes with a rich set of gallery features. It's a web service with varieties of charts, pie charts, bubble charts, line, area, and scatter charts. All these charts can take either static data or from databases. They are considered to be a JavaScript libraries and have API packages. This API embeds a graph onto an SVG Canvas, which has high-definition clarity. These Google charts are used for business needs, financial reports, and Statistical website reports. Their working steps take an HTML file with JavaScript to embed for the charts; meanwhile, it executes AJAX request and sets into SVG; finally, the Html files import the canvas to the web page.

7. Infogram: Infogram is developed for business strategies with free-paid purposes and is known to be the best infographic tool to handle complex data. This tool builds slick reports, infographics, and one-pagers with a ready-made template design. Infogram doesn't require codes to work with; its operating structure allows a user to save a lot of time. Infogram visually represents data with a variety of options and formats and forms a very reliable platform; the working interface is dynamic. Their visualization content grabs the viewers, and they operate to make and discover new facts and outliers.

8. Plotly: It's an interactive and open-source visualization tool with few code lines to write, specifically, a Python charting library. Plotly is colorful with an open-source script, which is easy to modify then and then. Their objects pose data components and layout components. Plotly products allow high-level API wrappers to save time. Plotly technically provides online graphing, and statistical tools with an easy-to-use interactive python library. Plotly is built on plotly.js, a JavaScript library. All those graphs and charts with stunning visualizations will be completely interactive for presentations. This python library makes use of declarative programming with a complete framework for implementation.

9. Qlik View: It's a powerful business Intelligence discovery platform created for analytics applications. It's a paid query-based tool with an in-memory application. They do not require any professional development skills to build an analytical application. They have benefits like flexible charts, better control of transformation, and an Implementation time period that is very less. A qlik view can take up data from multiple sources to do deeper insights into facing business challenges. A qlik view promotes making users the right decisions, and it is easy to access. It makes to analyze and separates the data association and unwanted data (filtering done by a user's wish). It's a data discovery product and lets the user edit the search and build their own application to fit their needs.

10. Klipfolio: This tool is enriched in the dashboards platform and helpful in real-life business. It is customizable for all sizes of businesses for manipulating complex data using data engines. It connects to multiple sources, and switching between them is very simple. Klipfolio is flexible enough to embed third-party visualization into its own dashboards. Kilpfolio is connected to google analytics, Twitter, and Datawarehouse.

11. Visme: It's a tool to create Infographics with free-to-use design tools as a part of visual evolution. Their feature is the most attractive benefit in creating presentations for content creation. Visme content is published and shared everywhere and has 1000 built-in templates and graphics. In addition, Visme finds an integration of data in the Microsoft application.

12. Adaptive Discovery: Adaptive insights tool allows for identifying the issues spotted on interactive drill down. It is specifically designed for proper decision-making in the business. They are created to analyze the company's financial data for performance management and the planning process. These data visualization tools are the power of self–service dashboards (charts and bars are easy to navigate and easy to monitor the variances). They have the caliber to do calculations and display them as contextual; most importantly, no code is required. Manages financial needs and makes easy collaboration and sharing.

13. High Charts: This tool is very helpful in interactive visualizations for web pages. Its free version helps non-commercial users. The high charts software has varieties of chart types and even combines multiple charts in a single.

14. Watson Analytics: IBM released these analytics for statistical procedures and planned to use them for non-commercial purposes. Visualizes unstructured content by discovering new patterns, automates prediction and insights on the available data, and uses natural languages for communicating with the data. Its features include detecting the patterns faster; data presentation is done with pre-ready-made templates with all-in-one click access. In addition, with customer satisfaction algorithms, we can gather reviews and feedback across social media.

15. Domo: This cloud-based dashboard tool enables us to identify insights and share business stories in real time. The communication is done via notifications and messaging to update or alter the data sets. More importantly, they have data connectors and 350 streams.
Conclusion
In this article, we came across different data visualization tools in Business Intelligence. Before choosing the right tool, it is recommended to explore its features and other available options. As we conclude, this visualization tool is effectively used for analytical insights and has good design tools and data processing.
Recommended Articles
This is a guide to Best Data Visualization Tools. Here we discuss the introduction and explain 15 different tools of data visualization. You can also go through our other suggested articles to learn more-