Updated May 31, 2023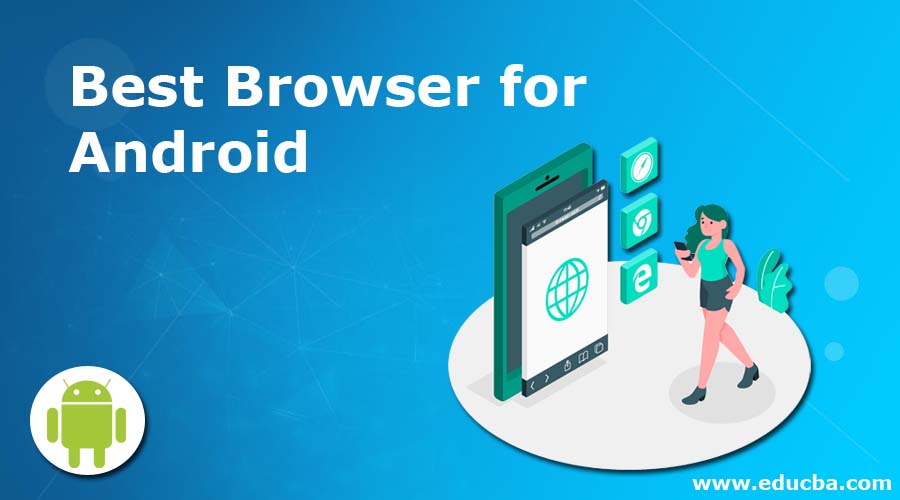 Introduction to Best Browser for Android
For any Android device, web browser apps play a major role. The right browser app is selected that includes excellent features that give you excellent performance, which can change your entire navigation experience. The right mobile app for Android devices is slightly challenging because many apps are available, and the web's face constantly evolves. Based on their features and functions, we will discuss some of the best Android browsers for devices in this article. This lets you choose the right browser to fit your Android app requirements.
The Google Chrome browser is outstanding for Android devices depending on user evaluation and software testing. But Opera and Firefox's mobile version provides its users with excellent support.
List of Best Browsers for Android
Let's see some Best Browsers For Android, which are given as follows

1. Firefox browser
The browser is superbly fast and secure for Firefox. You can block add-ons with browser customization. With build-up tracking security, the app protects your privacy. Firefox provides two browsers known as Firefox Browser and Firefox Focus interface. The Firefox Browser contains standard and most popular device syncing, tracking protection, integrated password management, and more. Firefox Focus is often called a privacy browser that provides protection and privacy.
2. Opera's browser
Also, the Opera browser is one of the mobile user's favorite browsers. It supplies Android with two separate browsers. The first is the well-known Opera browser, and Opera Mini is the second. The classic Opera browser features partial ad blocking, video compression, and dashboard capabilities. These functions speed up the loading of websites. A lightweight and smaller alternative is the Opera Mini browser. Opera also offers an integrated free VPN with a virtual IP address for monitoring your location.
3. Surfy browser
The Surfy browser is just another fantastic Android browser. It offers fundamental features such as history, bookmarks, and numerous search providers. This also has advanced features, including thematic, ad blockers, text-to-speech, fun toolbar changes, and more. The browser Surfy says the software provides text-to-speech functionality that, if you like, reads the web pages. A fingerprint and passcode are provided to secure your browser. It offers an incognito mode to prevent privacy and location. The Surfy browser allows you to change your background automatically by choosing a color or your favorite picture. This software prevents the monitoring of websites.
4. Microsoft Edge
Honestly, Microsoft Edge is a good web client. It includes features such as a QR code reader, hub functionality, voice search, and a private browsing mode. Microsoft Launcher and Windows 10 are the ideal solutions for this app. Microsoft Edge contains software focused on extensions such as password manager, ad blocker, and translation services. The software synchronizes effectively with your phone.
5. Dolphin browser
On Android devices, the Dolphin browser has achieved great popularity. It includes great features such as ad-blocking, incognito mode for privacy protection, multiple tabs, personalized search, quick download, flash support, and gesture control. The program, HTML5, includes a high-speed loading screen, flash, etc.
6. Kiwi browser
Kiwi browser is a newer browser for Android, which loads very well on web pages. It includes features including a 100% contrast night mode, a pop-up blocker, a native ad blocker, and crypto-jacking security. The Chromium and WebKit are based on Kiwi Browser. It claims to be very fast in viewing web pages. This software protects your privacy by blocking sluggish and violent trackers. This application will certainly be one of the best choices.
7. Lightning browser
The lighting browser is Android's best and most popular. It has a straightforward design and easy-to-use experience. This app offers many features such as theme, block, privacy, reading, etc. It offers a browsing incognito mode to protect your privacy and location.
The Free and Payable versions of the Lightning browser are available. The freely downloadable version offers limitless open tabs and personalized advertising blocking. By blocking custom ads, your browsing activities boost speed and security. The paid edition includes full-screen, history, bookmarks, ad-block, reading mode, search suggestions, and more.
8. DuckDuckGo browser
The client DuckDuckGo gives its users complete privacy. It gives you a web browser control of your personal data. The browser DuckDuckGo gives you privacy when you search and browse the Internet. This level of confidentiality lets you know how secure you are. The app provides regular browsing functionality, including tab, auto, and bookmarks. The software monitors advertising. To delete all your data and tabs on tap, in addition to the privacy mentioned above security, there is also the fire icon.
Recommended Articles
This is a guide to Best Browser for Android. Here we discuss the list of best browsers to use in Android. You can choose any of the above browsers as per your requirements. You may also look at the following articles to learn more –