Updated April 1, 2023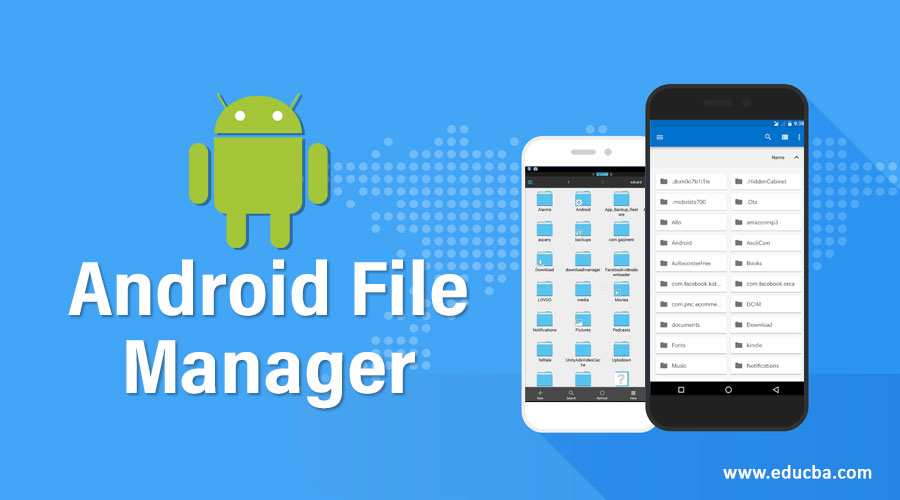 Introduction to Android File
Android allows each user to access the file system with a file manager on their computer. You can access and switch Android files between your device and your smartphone or tablet. You can plug into a USB cable and activate your mobile file manager in an Android system. As an essential part of a mobile program, Android's file manager app responds. It offers simple navigation of data, storage space management, downloads, transferring data around and many other activities. However, most manufacturers of Android devices have an Android file manager program on their devices before downloading. In contrast with other third-party file managers, the pre-install file manager has fewer features.
Top 10 Android File Managers
Below are the list of file managers:
1 MiXplorer Silver
MiXplorer Silver now has a powerful file manager at the moment, but now is a premium version of it in the Google Play store. This update bundles MiXplorer with several premium add-ons such as Mix folder, tagger, and metadata. This supports a variety of archive formats such as RAR and ZIP. The MiXplorer Silver has a built-in image and media player. It supports both a cloud-based and networked storage system.
2. Solid Explorer
This is an attractive framework for file management that offers a 2-pane Android phones and tablets GUI. It also supports TAR, RAR, and ZIP archive files, and the search indexing feature. Aside from a remarkable feature, Solid Explorer supports a wide range of plug-ins, including FTP server plug-in, USB OTG support, and much more. It has two distinct browser panes, combined with Drag & Drop support, that allows you to copy and move files from one location to another.
3. FolderSync
FolderSync File Manager has simple functionality for handling the file. The main purpose of the file manager of FolderSync is to ensure that the most used file by the user is synchronized between the Android device and cloud storage options. FolderSync File Manager user can easily backup and synchronize its files and directories with various storage providers including OneDrive, Dropbox and Google Drive. This file manager also supports several protocols for file transfer.
4. Ghost Commander
Ghost Commander is a Complete Commander-inspired file management tool. The Ghost Commander gives information on Android smartphones and tablets to the two-pane navigation system. You can easily access different functions with physical buttons. This application offers FTP support; left-hand users control and root features are enabled. It includes a range of complementary plugins, such as cloud storage and support for WebDAV.
5. Amaze File Manager
An open-source program with an appealing look and the impression of material design is Amaze File Manager. As an all-round central file manager, the Amaze File Manager works. Users can view the files in the grid or list view of the directory. The side drawer displays the folder mostly used such as images, songs, films, and downloads. This file manager helps users to bookmark their directories and display all media files filled with side drawer shorts. SMB and FTP connections are provided in this file manager program. It includes additional features for ZIP and root explorer support.
6. Tetra Filer
In a close directory, directory, or comprehensive view, the Tetra File Manager displays files and directories. Tetra Filer File Manager users can easily access by signposting their commonly used files. This also provides a search function to immediately locate reference files or directories. This concentrates on local data management so that cloud data is not stored here. This file manager does the job for you well if you're searching for a single simple file manager that navigates your internal storage.
7. File Manager +
File Manager + is an elegant user interface with a standard distribution of various directory categories. This is an easy-to-use file manager that offers all the functionality a file manager requires. Both local and cloud storage, including connected storage (NAS) network access, are provided. File Manager + provides an integrated storage analyzer to determine files and directories that take up more room in the memory.
8. Total Commander
All the main features a user may want in file management are included in the Total Commander. It offers advanced folder access and permissions for a transition. It includes additional plugins for SFTP, FTP, LAN, WebDAV, etc. A two panel mode window is support for the Complete Commander File Manager to quickly access files. This software supports various file formats, network and cloud storage, as well as LAN and FTP support plugins, root functionality, bookmarking and more.
9. File Explorer
File Explorer is also known as FX file manager with a decent user interface for browsing. It begins with a single-window which shows the files, bookmarks, and other resources. You will open the new windows in a split view. It has a variety of features for users including a text editor, displaying thumbnails, shared Wi-Fi SMB, recycling bin and Root Explorer optional.
10. OI File Manager
The OI File Manager is an open-source file manager for scanning, building files, renaming, and more from the external storage system. This software offers a wide variety of simple functions such as cutting, copying and pasting files. It provides easy access to files with bookmarks and ZIP. You can also submit the files via e-mail.
Conclusion
In this article we have seen what is an android file manager and various file managers available in the market. You can choose any one of them based on your requirements.
Recommended Articles
This is a guide to Android File Manager. Here we discuss Best 10 Android file managers which are given in detail for better understanding. You can also go through our other related articles to learn more –