Updated March 20, 2023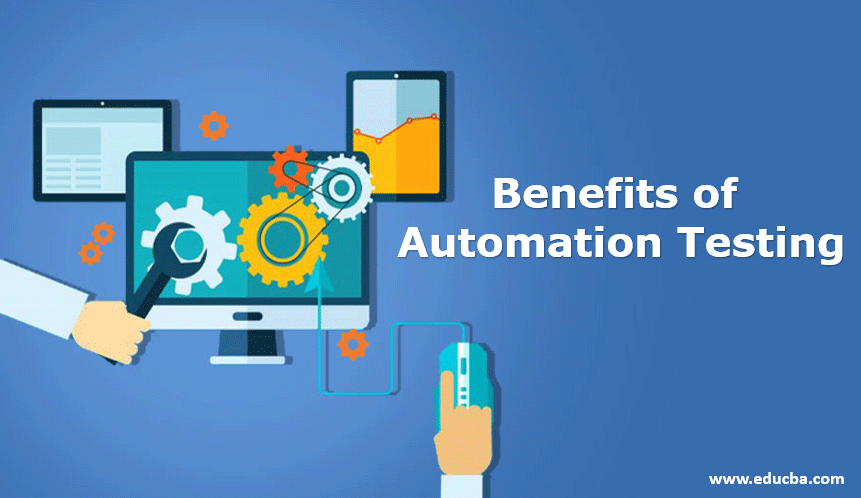 Introduction to Automation Testing
Automation Testing has several benefits over the traditional method of functional testing, which is usually performed using automation tools like UFT, Selenium, TestComplete, Appium, Cucumber, etc., to perform automated test execution. Automation Testing is beneficial in various factors in practical scenarios which is comparatively faster than manual testing, that produces consistency in results, saves time & manual efforts with lesser costs, higher efficiency.
Various Benefits of Automation Testing
Test automation brings a lot of benefits to your mobile app development phases, enabling you to build better apps with much less effort.
Given below are the benefits of Automation Testing:
1. Fast Feedback Mechanism
Automation speeds up test cycles and removes repetitive monotonous test cases and allows better test case scenarios by improving Faster communication among designers, coders, and customers. Potential glitches can be easily rectified. Thus, automation provides a better quality of the end product.
2. Improvement of Testing Efficiency
Testing covers a significant portion of the overall application development life cycle. Even slight efficiencies in the testing phase can improve product delivery deadlines. By removing or minimizing human intervention in the testing cycle it removes any overlooked errors which delay product delivery.
3. Reducing Operational Costs and Improving Manpower Utilisation
While automation testing can have large initial upfront costs and other additional expenses, companies can improve long-term profitability by reducing the manpower required. Automated test scripts need minimal intervention and require less frequent test case execution and troubleshooting script errors. It improves manpower utilization, by deploying manpower in more essential business processes, away from repetitive tasks.
4. Better Shift Left Testing
Shift left testing methodology, involves the testing phase be incorporated into the software development life cycle, starting from the requirement assessment to fixing bugs, it improves end-product quality. Since automation testing starts with the product's development, any bugs or defects in the product can be detected earlier in the development phase, helping to shift left faster.
5. Provides Continuity
Automated testing helps automation engineers, to know exactly what others have done, the script they have written, any tests which have already been performed, or any bugs found and fixed by them previously.
6. Maximizing Test Coverage
For 100% coverage for any complex web application, manual testing cannot always provide quality test cases, it is also challenging. However, automation testing tools make the testing process is easier by ensuring that databases, web services, and user interfaces are all at par with the business requirements. Thus, improving overall test coverage for web applications, which cannot be done manually in an effective manner.
7. Maximizes Return on Investment
Repetitive manual testing to launch a software product in the market causes product delays and impacts quality. Automation testing reduces product development life cycle costs, provides a bug-free product and reduces timelines for a product launch in the market. Thus, it improves operational costs and ensures better returns on investment in product development.
8. Accelerates Cross-Browser Testing
Manual testing across browsers causes multiple problems and challenges since testers need to identify the browser, their application support. Since customers use a wide range of browsers, manual cross-browser testing poses difficult challenges. Automated cross-browser testing tools, like the Lambda test, execute the same test cases multiple times on multiple browsers in parallel thereby removing this problem.
9. Performing Regular Smoke Testing
Smoke testing reduces outages and is a recommended best practice in testing. Many organizations remove it citing it reduces the tester's bandwidth when doing it. Automated testing builds on random smoke test cases so that smoke testing can be done regularly.
10. Distributed Test Cases
Distributing test cases, over multiple OS, browsers, and machines are not possible through manual testing since testers can only perform only one test on a single platform or a device at a time. Automated testing tools distribute test execution to run on multiple devices or platforms at a time, thus improving efficiency.
11. Executes Lengthy and Complicated Test Case Scenarios Easily
Automation testing executes complex and bug-prone test case scenarios very easily. Test cases that have many reproducible steps can lead to distractions and faulty assurances when tested manually, however with automated testing, robust test scripts can easily be made.
12. Improves Scalability
Since manual testing requires more human testers per project, it reduces the ability of a company flexibility to scale operations. With automation testing, high levels of scalability are achieved, with the utilization of a testing tool or platform.
13. Improves Data-Driven Testing
Automation testing has the key benefit, of being able to execute test cases and validate functionalities that involve very large data sets. Manual testing cannot always deliver the same results.
14. Improves Performance of Manual Testers
Automation testing reduces the stressful activities of manual testers so that they can come up with better test scenarios and leave the manual monotonous processes to a testing tool. Testers can cross-check test outcomes with those of automation tools, such results can help manual testers enhance the quality of their written test scripts.
15. Regression Testing is Made Easier
Since manual testing is a time-consuming process, testers have to repeat similar test cases over the same period to ensure that all bugs have been removed. In the case of regression testing, performing the same tests over and over again takes more time and also brings down the tester's efficiency. As such, automation testing is the best way to perform regression testing, as they can run regression testing suites nonstop.
16. 24/7 Test Execution Schedules
Automation testing can be performed anytime and anywhere. Automated tools can run nonstop 24/7, without the need for or physical rest as in the case of human testers, who are limited by time and geographical location.
Conclusion
The software industry is progressing towards increasing automation of its processes. As such, testing is a key area where automation processes can be applied to reduce timelines for software development life cycles. Automation testing tools remove barriers to manual testing, by reducing product development costs, reducing bugs in applications, and improving product quality.
Recommended Articles
This is a guide to Benefits of Automation Testing. Here we discuss the introduction and various benefits of automation testing respectively. You can also go through our suggested articles to learn more –