Updated June 16, 2023
Best Books to Learn Behavioral Economics
Behavioral economics books are a mix of behavioral psychology and economics. It incorporates how human behavior drives the world's economy as a whole.
The Behavioral Economics Books in this list act as guides for everyone- beginners and professionals. You use them to learn new things about the field of behavioral economics or get updated about the latest changes in it.
Below are a list of the top 10 behavioral economics books to help you access better knowledge and tips on manipulating business behavior.
#
Book
Author
Published

Rating

1
Predictably Irrational

Dan Ariely

2006
Amazon: 4.6

Goodreads: 4.12

2
Thinking Fast and Slow
Daniel Kahneman
2013
Amazon: 4.6

Goodreads: 4.18

3
Influence
Robert Cialdini
2006
Amazon: 4.6

Goodreads: 4.21

4
The Why Axis
Uri Gneezy and John List
2013
Amazon: 4.4

Goodreads: 3.66

5
Happy Money
Elizabeth Dunn and Michael Norton
2014
Amazon:4.3

Goodreads: 3.69

6
Paradox of Choice
Barry Schwartz
2005
Amazon: 4.4

Goodreads: 3.84

7
The Darwin Economy
Robert H. Frank
2012
Amazon: 4.2

Goodreads: 3.76

8
Nudge
Richard H. Thaler and Cass R. Sunstein
2009
Amazon: 4.5

Goodreads: 3.84

9
Scarcity
Sendhil Mullainathan and Eldar Shafir
2014
Amazon: 4.5

Goodreads: 3.94

10
The Upside of Irrationality
Dan Ariely
2011
Amazon: 4.5

Goodreads: 4.03
Now let us individually go through each book on the list.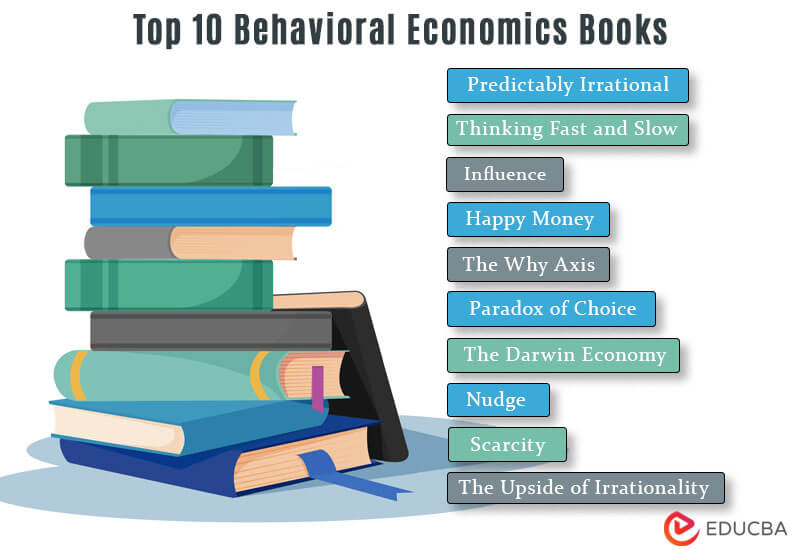 Book #1: Predictably Irrational
Author: Dan Ariely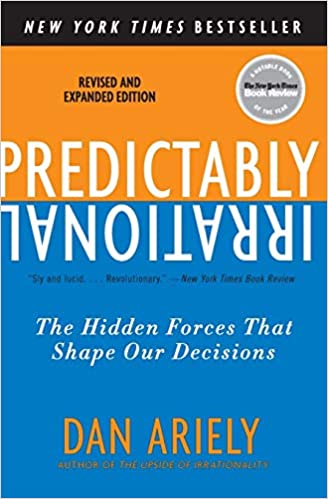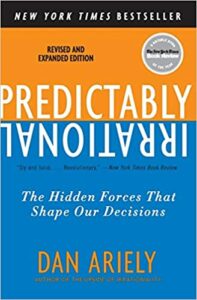 Purchase this book here.
Book Review
The book Predictably Irrational is about using rationality in making decisions. It incorporates social science into economics to briefly study the effect of decisions on society. The book explores the necessities behind our economic decisions beyond our imagination. Learning about our behavioral habits contributing to lessening our economic resources is also necessary.
Key Points
The book enlists people's irrigational economic choices and the reason behind them.
It incorporates psychology to define the cause of people's decision flaws.
The author enraptured how information of all kinds influences people.
Being a behavioral theorist, the author introduces multiple strategies in decision-making that help.
Book #2: Thinking Fast and Slow
Author: Daniel Kahneman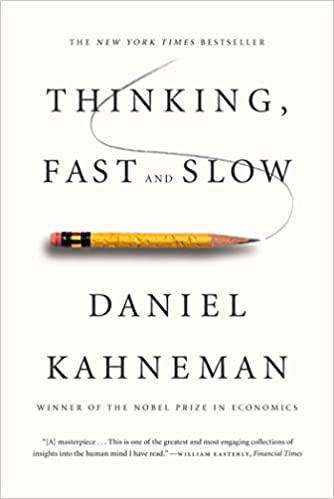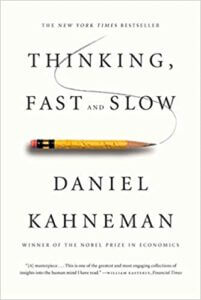 Purchase this book here.
Book Review
Thinking Fast and Slow compare two systems of the human mind that drive how people think and behave. These systems are fast and intuitive and slow and logical. The book is about making small enough changes to make a better economic future. The book also predicts incorporating changes that could account for a better future.
Key Points
The book recommends tips to save money through improved financial guidance.
There are guidelines on not using emotions or intuitions while making money decisions and instead being logical.
The author says the brain will always be lazy unless activated.
The errors, misconstructions, and lousy decision-making are due to constantly thinking about unimportant decisions.
Book #3: Influence
Author: Robert Cialdini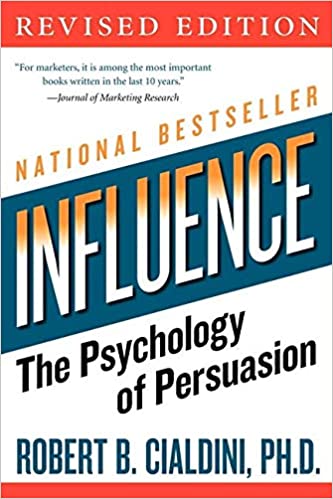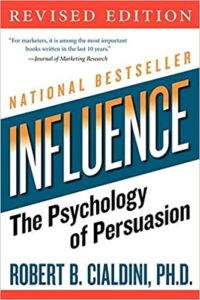 Purchase this book here.
Book Review
While manipulating others by learning enough behavioral economics is a dark trait obtained by the study, this book encapsulates how to use this strategy ethically. The book gives the six principles of influence to get this: reciprocation, commitment, social proof, liking, authority, and scarcity. The book details these unique steps to persuade people better. It has the backing of 35 years of research and a field study on changing behavior.
Key Points
The book teaches how to use the ability to influence others and not get influenced.
The reader learns how to make people say yes when persuaded.
The six sets of principles also help in aiding the decision-making process.
It is a guide to setting and completing social goals for everyday betterment.
Book #4: The Why Axis
Author: Uri Gneezy and John List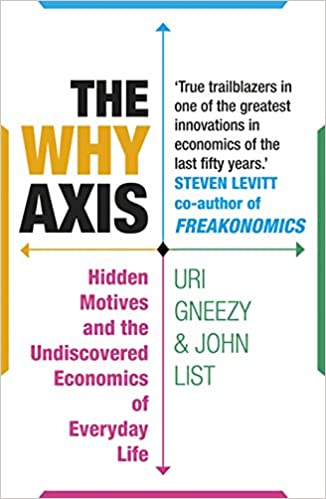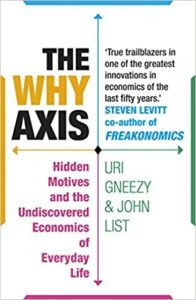 Purchase this book here.
Book Review
This book focuses on using behavioral economics to make the best business strategies. It integrates experimental economics and the causes of behavior changes in human beings. Through this association, the book lists the reflective effects of behavioral changes. It is a case study analysis of experimental economics. Anyone in politics, corporate, and philanthropic activities can use their models and theories to perform better and make a difference.
Key Points
The book provides advice on the best possible economic policy and actions.
It shows everyone can understand how incentives work and why gender differences exist.
The given experimental models are empirical behavior models and not theoretical.
The book explains the rich and the poor gap predatorily and discriminatory pricing.
Book #5: Happy Money
Author: Elizabeth Dunn and Michael Norton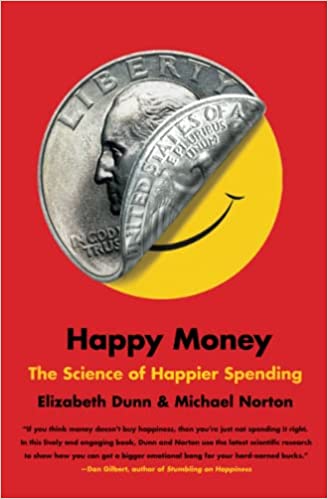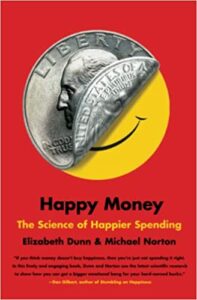 Purchase this book here.
Book Review
Happy money is about keeping finances secure. The book includes five core principles to help better earn, save, and invest their money. With an increased focus on spending, the book explains how you can get more happiness for your money by spending on experiences with people. The book enhances the psychological value view of products.
Key Points
The readers get to learn five principles of the science of spending.
You can gain knowledge by implying as many principles as possible to be happy with money decisions.
Organizations can seek to make employees happy and create "happier products" for their customers.
The book helps people get a good money mindset and life satisfaction.
Book #6: Paradox of Choice
Author: Barry Schwartz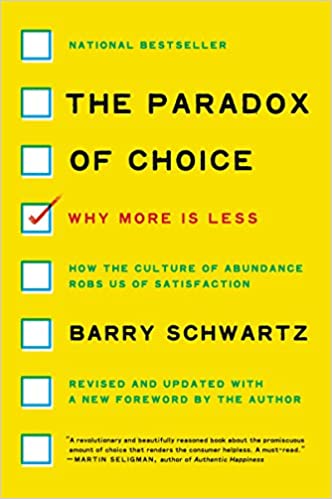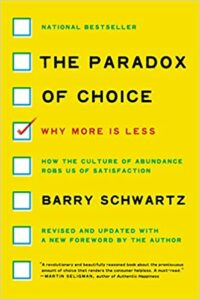 Purchase this book here.
Book Review
The book explains 'choice overload' and how it affects our choices. Choice overload is when we represent more choices in the illusion that more choices lead to a better quality of life. But in turn, it causes dissatisfaction in life. It is often due to bad decisions caused due to this information choice overload. The book explores such decision-making paralysis and perpetual stress and gives a solution.
Key Points
The book teaches how to eliminate more choices than necessary.
It explains how there are two kinds of people, maximizers, and satisficers.
It also shows the darker side of freedom is the stress of choice.
This book says that the secret to happiness in life is low expectations.
Book #7: The Darwin Economy
Author: Robert H. Frank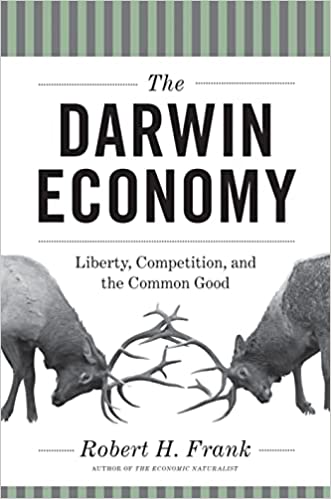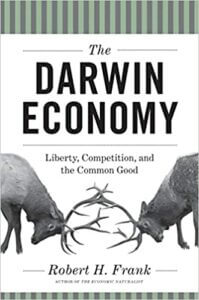 Purchase this book here.
Book Review
The book starts by arguing that reason; Frank argues that Darwin, a naturalist, will be better seen as an economist even when compared with Adam Smith. Darwin's understanding of competition describes economic reality more accurately than Smith's. The book says that the consequences of accepting Darwin's theology are profound. The book says that competition conduits self-interest for the common good of people, putting forward an interesting theory.
Key Points
The book teaches how to prevent harmful behaviors of people by taxing them.
It also speaks on the financial disparity between self and group interests.
It includes evolutionary theory, subjective arguments of the idea, and conclusions made out of several hypotheses as such.
The book helps one learn about social engineering and sin taxes.
Book #8: Nudge
Author: Richard H. Thaler and Cass R. Sunstein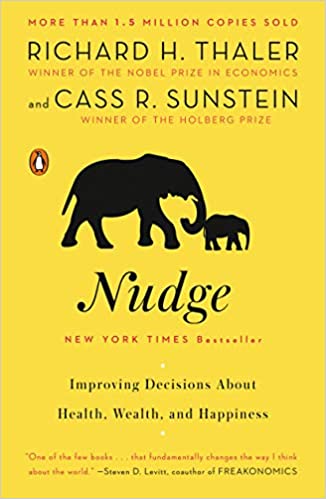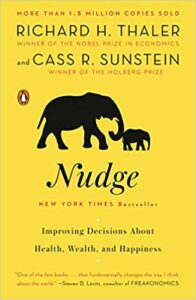 Purchase this book here.
Book Review
The book is about the everyday we make and our financial investments that have poor effects. As the name suggests, the book is here to provide a much-required nudge to people to help. The book analyzes decades of behavioral science data on decision-making science and provides people with various factors to assess their best decision-making process by questioning it. The book also discusses commonplace and natural biases, preventing us from naïve investing.
Key Points
According to the book, no choice is open to us in a neutral way, and we are all vulnerable to biases.
The book provides useful "choice architecture" to nudge people toward the best decisions.
Get libertarian paternalism-based ideas to make the best decisions financially.
The book teaches everyone the gap between the author's terms Econs and Humans.
Book #9: Scarcity
Author: Sendhil Mullainathan and Eldar Shafir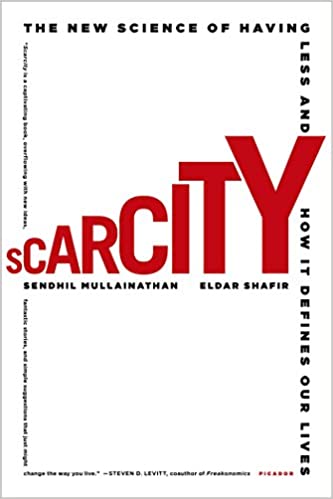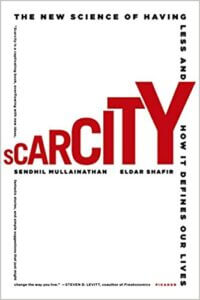 Purchase this book here.
Book Review
This book depends on how scarcity as a mindset trait causes human behavior. This book reasons that a lack of organizational skills and an able mindset makes scarcity a defined pattern in people's lives. It analyzes how the rich and poor make mistakes of mismanaging resources of time and energy in different ways.
Key Points
The book includes experiments on the magnitude of focus and how 'scarcity' diminishes cognitive ability.
The book enlists how different socioeconomic classes look at problems in their way.
It includes a self-analysis of people's thoughts and reasons for making certain choices.
The book points a new angle on payday loans, a problem of contemporary society.
Book #10: The Upside of Irrationality
Author: Dan Ariely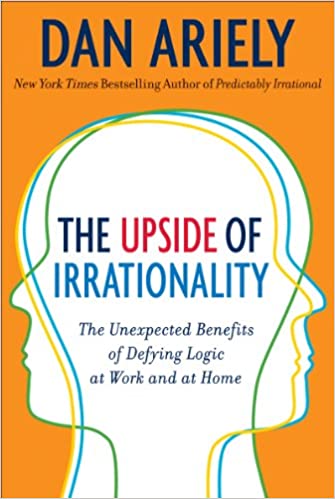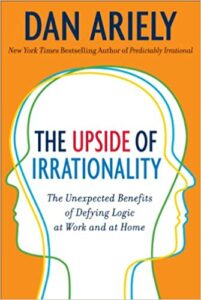 Purchase this book here.
Book Review
This book reveals why people make unhealthy and bad decisions irrationally. The book focuses on the relationship between motivation and long-term habits. It studies the effect of Positive Mental Attitude (PMA) and public relationships. The author lists seven practices that can help live a life of integrity. It is a self-help book.
Key Points
The book includes answers to how to convert goals into habits.
The book also includes information on how to cultivate new good habits.
The author interprets the four aspects of life, physical, mental, social, and spiritual, to help us use our best assets.
The book provides help to be proactive.
Recommended Books
We hope our top 10 behavioral economics books article has helped you. For more such articles, EDUCBA recommends the following,