Updated July 28, 2023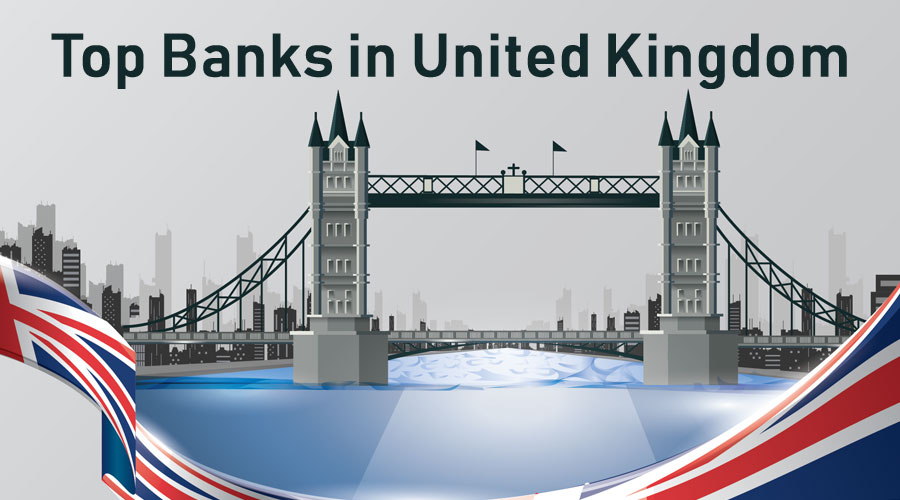 Introduction to Banks in United Kingdom (UK)
The following article outlines banks in the United Kingdom. There are many British and foreign-owned banks and financial institutions based in London; also, many small US banks have a relationship with one or more of the major banks in London. The 17th century marked the inception of the banking system in the UK, and since 1970, the UK government has undertaken numerous banking sector reforms to safeguard and enhance the banking sector. Although the banking and Finance sectors play an important role in the UK economy, in 1694 first bank was founded in the UK as the Bank of England, the Central Bank of the United Kingdom, which issues banknotes and operates monetary policy. Through it, the central bank maintains financial stability in the country.
The global financial crisis of 2008 prompted changes in UK financial regulations, leading to the division of the Financial Service Authority into two systems: the Financial Conduct Authority and the Prudential Regulation Authority. The division resulted in the allocation of responsibilities for UK banks. As a result, the RA and FCA. The number of branches open in the UK decreased from 3,370 in 1981 to 655 in January 2018. UK banking sectors are the largest in Europe and  4th in the world. Moody's outlook (last updated in October 2018) on UK banking sectors remains stable as the UK's strong capital and improving profitability. However, UK banking sectors remain challenging for 2019 due to uncertainty about Brexit deals in the market.
Top 10 Banks in the United Kingdom (UK)
Given below are the top 10 banks in the United Kingdom:
1. HSBC Holding PLC
HSBC was founded in 1865 in London started in 1991; and it is one of the world's largest financial services companies serving more than 39 million customers through four global businesses, Retail Banking and Wealth Management, Commercial Banking, Global Banking, and Global private banking. Total assets with the bank as of December 2018 were GBP 2007 Billion, and net income was GBP 10 Billion. As of 2018, the Bank has 235 thousand employees worldwide; the main employment centers are in the United Kingdom, and approximately 39 thousand employees work in the UK HSBC branch.
2. Llyods Banking Group
Lloyds Bank was founded in June 1765, and since then, the bank haBritain'seen served Britain's households, businesses, and ties. The Bank offers a comprehensive range of products and services, which includes current and savings accounts, mortgages, loans, and credit cards. The bank's total income during the first six months of 2018 was GBP 8,513 Million compared to GBP 8,730 Million during the same period last year. The total number of employees working in the UK Branch is approximately 75.1 thousand as of 7, and it's the largest retail bank in the United Kingdom and the third-largest insurance provider in the UK.
3. Royal Bank of Scotland Group
RBS is the third-largest bank in the UK and was established in 1727. The Bank employs around 12,000 people and serves 1.8m personal and 110,000 business customers. The Bank reported an operating profit of GBP 3,359 Million in 2018. Bank offers deposit, commercial banking services, assets and invoice finances, credit cards, financial planning services, etc. In 1946 bank launched its first mobile bank serving remote communities, and the bank has a total of 20 mobile branches, which serve around 650 communities in Scotland.
4. Barclays
Barclays is a multinational bank with its headquarters in London. During 2018 bank reported profit before Tax was GBP 5,701 Million, up by 20%, and the group returns on tangible equity was 8.5%, close to the financial target for 2019. The Bank started its first branch in 1690, offering services like current, savings, currency and bond accounts, debit, credit, and charge cards. In a bank, approximately 130,000 employees work, which serves more than 48 million customers in more than 50 countries. It is the second-largest bank in the United Kingdom regarding total assets.
5. Standard Chartered
Bank has a history of over 160 years in the United Kingdom and opened its first branch in the United Kingdom in 1853, and it is one of the largest banks in the United Kingdom. Today bank operates through nearly 1026 branches worldwide and employs around 86,000 people worldwide. London is a global financial center and a key hub for Standard Chartered corporate and institutional business. A bank's operating income was up by 5% during 2018 compared to 2017, and the underlying profit was up by 28% compared to 2017. Banks offer services like current and saving accounts, deposits, personal and other loans, mortgages and credit cards, etc.
6. Nationwide Building Society
In 1886, the Nationwide Building Society established itself as a provider of various financial services, including current and savings accounts, individual savings accounts, residential family deposits, retirement borrowing, mortgages, overdrafts, personal loans, and more. Underlying the profit of the bank during Q3 2018 was GBP 691 Million. It is the UK's largest saving Provider and second-largest mortgage provider, and it operates through more than 700 branches and employs around 18,000 people with about 15 million customers. Nationwide Building Society is like a mutual fund institution.
7. Santander UK
Santander UK is a large retail and commercial bank with 15 Million active customers and 5.5 Million digital customers as of 2018. Bank reported a net profit of GBP 1,567 Million in 2018 compared to GBP 1,814 Million in 2017. Bank offers services like retail banking, commercial banking, and Global corporate banking through its 806 branches and 64 corporate business centers. Bank's first branch was started in 1849, and in the year, 2010 the bank brand was rebranded as Santander UK. In 2017 banks rolled out NEOCRM, which allows its customers to engage through any channel.
8. Schroders
Schroders is a global asset and wealth manager who delivers a broad range of investments designed to meet the diverse needs of institutions and High Net worthy individuals. It is a world-class Assets Manager operating from 29 countries across Europe, The Americas, Asia, the Middle East, and Africa. Today Schroders has 5,000 people across six continents who focus on GBP 421.4 billion of assets of clients to deliver a sustainable return. Schroders reported a net profit of GBP 504.7 Million in 2018 against GBP 594.4 Million in 2017.
9. Co-Operative Bank
The cooperative bank provides services like Internet banking, current accounts, mortgages, savings accounts, credit cards, and loans. In 2018 bank won the award for Moneyfacts 5-star rating for a current account. Bank operates through a network of over 100 branches and businesses in the banking sector, employing approximately 4,400 people. Bank also offers insurance services, including car insurance, home insurance, pet insurance, business insurance, young driver Insurance, and so on. Bank most of the funding comes from retail and commercial accounts. During Q3 2018, the bank reported a pro of GBP 14.3 Million and a 14% reduction in its expenditure.
10. Tesco Bank
Tesco Bank was started in 1997 as Tesco personal finance, and later in 2008, it introduced a new name called Tesco Bank, one of the largest retail banks. Bank has 5.6 Million customers account and nearly GBP 10.1 billion in customer deposits. Bank offers a wide range of products, including Insurance, credit cards, personal loans, saving and current accounts, mortgages, etc. Bank reported a profit of GBP 215.5 Million in February 2018. In the first six months of 2018, the bank reported a profit of GBP 338 Million, employing around 3,900 people.
Recommended Articles
This is a guide to Banks in the UK. Here we have discussed the 10 top banks in the United Kingdom with their financial structure. You may also look at the following articles to learn more –