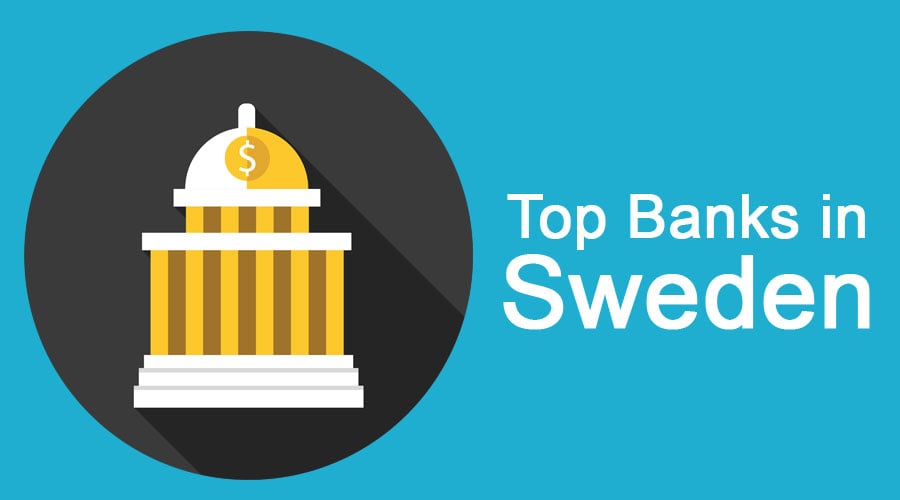 Overview of Top Banks in Sweden
The structure of Sweden banks is very developed, and various banks are operating in Sweden of various size and specialization. The banking segment in Sweden divided into four parts 1) Swedish Commercial Banks 2) Foreign Banks 3) Saving Banks 4) Cooperative Banks. Most of the commercial banks in defense established in the mid-1990s, and ahead, the first foreign bank was established in 1986. The banking sector of Sweden is mainly dominated by the big four domestic banks and operates as universal banks, and cover near about 80% of industry total assets.
Riksbank is Sweden central bank, and its responsibility to ensure that money retains its value, and it's also issued banknotes and coins. Finansinspektionen is Sweden financial supervisory authority which was established in 1991 with the purpose of creating a single integrated regulator covering banking, securities, and insurance. Its role is to promote stability and efficiency in the financial system and to protect consumers. Currently, there are 135 to 139 banks are operating in Sweden and Moody's outlook about Sweden banking sector is stable, and it is supported by a healthy economy of Sweden. Banks and financial institutions in Sweden are represented by the Swedish banker's association in Sweden.
Top Banks in Sweden
Here is a list of the top 10 banks in Sweden (source: relbanks.com). First, we will talk about the top four banks, and then we will discuss the rest:
1. Nordea Bank
It is one of the largest financial service groups in the Nordic region and one of the biggest banks in Europe. Bank operates in 20 countries, including four home markets Denmark, Sweden, Finland, and Norway. Total operating income of group EUR 9 billion and Total assets of EUR 551.4 billion in the year 2018. The bank has started its operation in Sweden in the year 1832. As of February 2018, Nordea Sweden bank has 4.2 million Household customers and corporate and institutions 200,000, and it is market position is 2 or 3 in Sweden. Nordea Bank offers Insurance, investment consulting and security brokerage services along with banking and related financial services to individual, companies and major corporations. Nordea is a financially stable bank with an AA+ rating by credit rating agencies.
2. SEB Bank
It is one of the leading wholesale Banks among the large corporate and institutional clients. SEB offers universal banking services in Sweden, and the bank advanced its positions among the small and medium enterprises in Sweden. Around 15,000 highly skilled employees work in the SEB group from the location in some 20 countries. The net profit of the group during the year 2018 was SEK 23.1 billion, which was 16.2 billion during 2017, and operating income was SEK 45.9 billion in the year 2018, which was 45.6 billion during 2017. Bank in Sweden generally operates as a commercial bank and offers services like checking, and savings account, credit cards, mutual funds, foreign exchange and also provides financial solutions to residence and non-residence within Sweden.
3. Svenska Handelsbanken AB
Bank started its operation in 1871, and today bank operates in six Home Counties. Bank currently has 12,000 employees working in more than 20 countries. The bank received the best service among banks in 2018 for the seven consecutive years in Sweden. Bank has nearly 400 branches and 4,000 advisors across the country. The net income of the bank was SEK 4,015 Million Compared to SEK 3,760 Million years ago. Bank provides services like business cards, financing for investment, group and health insurance, mortgage and private loans and so on. Recently the bank announced management changes in the bank effective from 1st March 2019.
4. Swedbank
Swedbank founded in 1820, and a today bank is an international group which offers services to private and corporate customers. Bank today has 7.3 Million private customers and 600000 corporate customers. The purpose of the bank is to promote a sound and sustainable financial situation for the many households and businesses. Bank operates through 186 branches in Sweden, and nearly 14453 employees work in the bank. The total operating income of the bank was SEK 44,222 Million during 2018, which is 5% higher than in 2017. The profit of banks also increased by 9% during 2018 as compared to 2017. Bank offers investment and trading services, including equity, currency, and fixed income trading services.
5. Forex Bank AB
Bank was established in 1965, and until 2003, the purpose of the bank is to sell and buy currency and provide payment services, and it is one of the world's largest foreign exchange providers. After 2003 bank started offering services like loans, accounts, cards and payments services; in addition to this, the bank also offers services like online, mobile and telephonic banking services. In 2003 Forex Company received a permit of bank and then it became forex Bank and throughout the Nordic bank has 107 branches. During the third quarter, the 2018 profit of the bank was SEK 60 Million, and over all of the first 9 months of 2018, it was SEK 100 Million.
6. Ikano Bank
It is an international corporate group founded in 1988 and owned by the Kamprad family. In Sweden, banks started their operation in 1995, and it offers simpler banking products to private individuals. Bank also accepts a deposit, provides loans and other services to the public. The operating result of the bank for the year 2018 was decreased by 18% to SEK 359 million as compared to SEK 435 Million in the year 2017. The bank is also present in the UK, Denmark, Norway, Finland, Germany, Austria, and Poland.
7. Avanza Bank
It was founded in 1999, and today the number of customers with the banks is 837,100, the number of employees is 406, and the bank covers a 4% share of the Swedish saving market. The market capitalization of the bank as of December 2018 was SEK 13 billion. Bank offer services like stock trading for individual investors, a broad range of saving products, and education and support for investment decision, pension solution, and mortgage loan. The operating income of the bank as of December 2018 was SEK 1,049 million. Avanza has Sweden's most satisfied banking customers, according to a survey conducted by the Nordic bench.
8. ICA Banken
It is established in February 2002 and owned by the retail chain ICA AB and the bank offers financial services to Swedish customers. Bank offer product and services like banking cards, current accounts, savings accounts, unsecured loans and credit, insurance and mortgage. The operating profit of the bank was SEK 42 Million in 2018 compared to 28 Million in 2017. In 2015 banks started offering insurance services through their subsidiary ICA insurance.
9. Resursbank
Bank was founded in 1977, and it offers retail banking financial services in Sweden. Bank operates in payment solutions and consumer loans. Bank also provides services like saving and other deposit account, Insurance policies and retail finance and online purchases. The operating income of the bank at the end of the year 2018 increased 11% to SEK 3,437 million, and operating profit increased by 6% to SEK 1,487 Million. The total number of employee working with the bank is 765 as of December 2018.
10. Westra Wermlands Sparbank
It is one of the oldest banks in Sweden, founded in 1856. It is a saving bank which provides services like retail banking products, current accounts, payment cards, saving accounts, funds, pension plans and consumer's loans and car loans. From 1998 the bank becomes part of the Swedbank group, and the bank employed over 100 employees. The main purpose of the bank is to create long term financial security and growth for customers, and they are trying this for the last 160 years.
Recommended Articles
This has been a guide to Top Banks in Sweden. Here we have discussed the 10 topmost banks in Sweden with their financial structure. You may also look at the following articles: