Updated July 17, 2023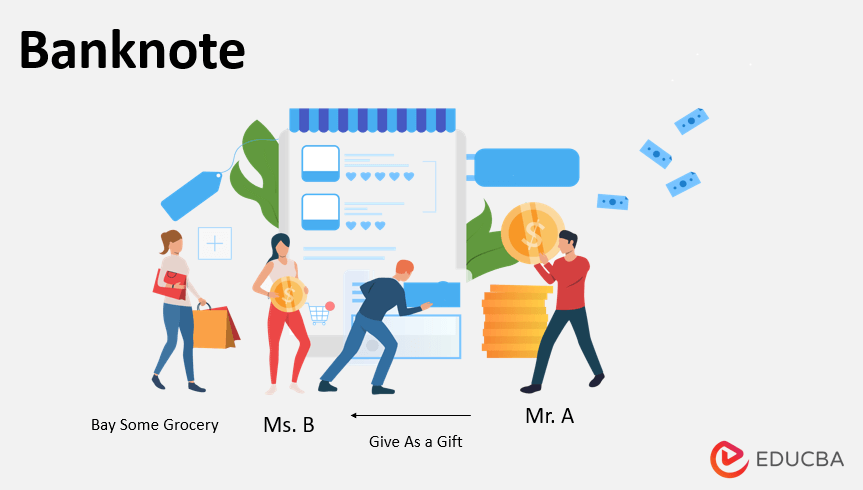 What is Banknote?
The term "banknote" refers to the negotiable promissory note the central bank issues. It is used as a legal tender such that one can use it to pay others a specific amount of money. These legal tenders are also popularly known as bills or notes.
The figure mentioned on the face of the Banknote is the amount payable on demand to the bearer without any interest.
Explanation
Early on, most purchases of goods and services were made with precious metals like gold or silver. However, the world eventually gave away the usage of such physical assets as they shifted to using paper money and coins over time. Countries started issuing banknotes that could be used to exchange objects of value. Today, banknotes and coins make up any economy's cash supply.
History of Banknote
Paper currency, in the form of receipts, was first introduced in China during the reign of the Tang dynasty in the 7th century. However, real paper money called "jiaozi" was first used in the 11th century during the reign of the Song dynasty. Later, paper currency spread throughout the Yuan Dynasty or the Mongol Empire. In the 13th century, European explorers, such as William of Rubruck and Marco Polo, introduced the concept of paper currency in Europe. By the 14th century, paper currency was eventually adopted in every part of Europe.
In 1695, the Bank of England was the first bank to introduce a permanent issue of banknotes, while in the United States, the federal government started to print banknotes only by 1862. Initially, the banks issued banknotes based on precious metals, such as gold or silver. However, as paper money has developed into pure fiat money, the precious metals that once backed banknotes have been rendered obsolete.
How does Banknote Work?
The central bank of a country can only print banknotes. For instance, the Federal Reserve Bank is the only issuing bank in the US. Today, paper currency is a pure fiat currency as it is not linked to any physical asset, such as the gold standard. In other words, today's paper currency is valued purely based on the relationship between demand and supply, not the currency's physical material. As such, central banks can print banknotes based on the demand-supply dynamics coupled with various other economic factors, such as inflation.
Example of Banknote
Let us now look at the example of some of the banknotes issued in different economies. In this example, we have mentioned the symbols on both sides of the currency.
Country

Denomination
Obverse

Reverse

United Kingdom
GBP 5
Queen Elizabeth II
Elizabeth Fry
GBP 10
Queen Elizabeth II
Charles Darwin
GBP 20
Queen Elizabeth II
Adam Smith
GBP 50
Queen Elizabeth II
James Watt and Matthew Boulton
United States of America
USD 1
George Washington
Great Seal of the United States
USD 2
Thomas Jefferson
Declaration of Independence
USD 5
Abraham Lincoln
Lincoln Memorial
USD 10
Alexander Hamilton
Treasury Building
USD 20
Andrew Jackson
White House
USD 50
Ulysses S. Grant
Capitol
USD 100
Benjamin Franklin
Independence Hall
Switzerland
CHF 10
Le Corbusier
Le Corbusier's buildings in Chandigarh
CHF 20
Arthur Honegger
Elements from Honegger's Pacific 231
CHF 50
Sophie Taeuber-Arp
Taeuber-Arp's Dada Head
CHF 100
Alberto Giacometti
Giacometti's Man Walking
CHF 200
Charles Ferdinand Ramuz
Swiss mountains and Lavaux area
CHF 1000
Jacob Burckhardt
Detail from the Palazzo Strozzi
Eurozone
EUR 5
Classical gateway
Classical bridge
EUR 10
Romanesque gateway
Romanesque bridge
EUR 20
Gothic windows
Gothic bridge
EUR 50
Renaissance windows
Renaissance bridge
EUR 100
Baroque/Rococo gateway
Baroque/Rococo bridge
EUR 200
Art Nouveau windows
Art Nouveau bridge
EUR 500
Modern windows
Modern bridge
China
CNY 1
Mao Zedong
Three Pools Mirroring the Moon at West Lake
CNY 5
Mao Zedong
Mount Tai
CNY 10
Mao Zedong
Three Gorges of the Yangtze River
CNY 20
Mao Zedong
Scenery of Guilin
CNY 50
Mao Zedong
Potala Palace
CNY 100
Mao Zedong
Great Hall of the People
Uses of Banknote
The Banknote is used for the following purpose:
It is used as the legal tender
It is widely used as a medium of exchange
It can be used as a store of value
Advantages of Banknote
Some of the significant advantages of the Banknote are as follows:

It facilitates ease of transaction as there is no confusion regarding the currency's value, given that it appears on the face of it.
A banknote is a standard and acceptable medium of offline transactions across the globe.
It is easier to store value in the form of paper currency than in the form of other physical assets. For instance, the price of 1kg of gold stored in banknotes will be much lighter than the actual asset.
Disadvantages of Banknote
Some of the significant disadvantages of the Banknote are as follows: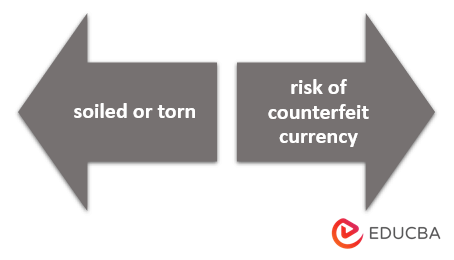 Because banknotes are made of paper, they are not resilient enough and can be soiled or torn, which may result in a total loss of value.
Holders of banknotes are constantly exposed to the risk of counterfeit currency, which is a replica of the original currency but without legal sanction. Counterfeit currency holds zero value and is considered illegal.
Conclusion
So, it can be seen that banknotes are pieces of paper issued by the central banks and represent the economy's legal tender. They are promissory notes, and the bearer of these notes is payable the amount mentioned on the face of it on-demand without any interest. The possibility of counterfeit money remains a serious concern even though it makes transactions simple and serves as a means of exchange.
Recommended Articles
This is a guide to Banknote. Here we discuss the introduction, history, working, example, uses, advantages, and disadvantages of Banknote. You may also have a look at the following articles to learn more –