Updated April 15, 2023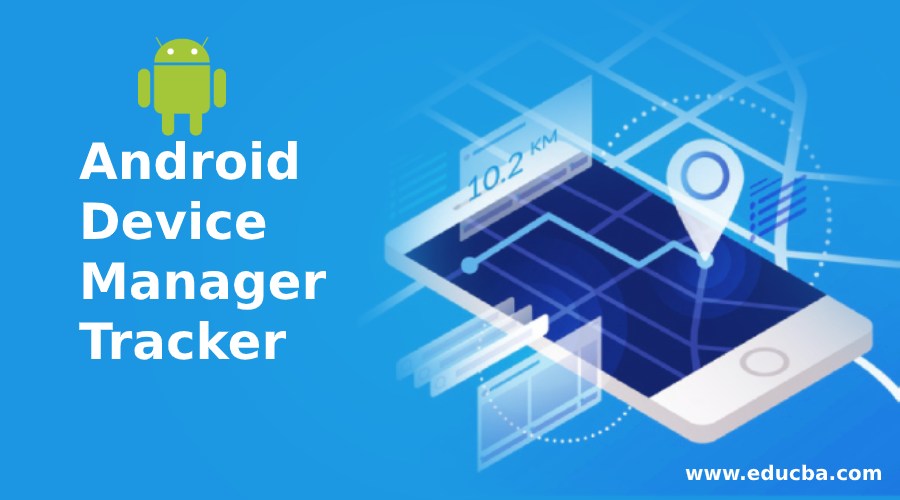 Introduction to Android Device Manager Tracker
Apps rule the world today, and rightly so, because you have an app for every single activity of your life, from your morning alarm clock to your daily reading of the scriptures before you go to bed. Often I wonder if there is a thing for which there is no app. I haven't yet pondered over this much to give you the answer, but I definitely would.
The latest app that has caught my fancy is an Android device manager tracker. As the name suggests, it manages your Android device. But the big question is how?
Let's get familiar with the W's of the Android device manager software before we jump to the question of how.
What is an Android Device Manager Tracker?
Android Device Manager Tracker is a Google app that helps users safeguard and track their devices remotely. So, misplacing or losing your phone should not make you sweaty and worried because now you can just, with the click of a button, utilize a number of features to find your precious lost device. You can track the nearest location of your device on the map where it was last used or switched on using Google. And what's more, if you are asking, here is a list of great features offered by the Android device manager software to safeguard your phone and the data you have stored in your phone.
Android Device Manager Tracker Features
TRING! TRING! Find My Phone
Let me introduce you to the best feature of the Android device manager tracker, which will surely make you laugh at the end of the day because it solves the most trivial problem – losing or forgetting where you last kept your phone.
Google's Android Manager lets you ring your phone on a maximum volume even if you have kept it silent. And when you have forgotten your phone at a place you had last visited, do not worry. Google efficiently allows you to locate it on the map to ensure the device can be quickly recovered. The App Manager also enables you to lock your phone, ensuring your data's safety if lost. You can activate or change the lock even after losing your phone. Thus the Android Manager provides the complete security of your device even if it reaches the wrong hands.
Wipe Out!
Anybody who has lost his cellphone umpteen times will know the pain of losing the stored data every time and re-creating it from scratch. And OH! The fear of having your data used against you is scarier. This scare can be permanently removed using the Android Device Manager Tracker. The ADM allows you to wipe out (erase your data) entirely in case of no hope of retrieving your phone.
Return My Phone!
The latest boon added to the Android Device Manager Tracker is the ability to add a number on your phone, which ensures that the person who has found your misplaced phone can reach you. As soon as the person switches on your phone, a message prompted by the device manager will flash your message with your contact number.
How to Use the Android Device Manager Tracker?
Open your favorite browser page and type in the following address google.com/android/devicemanager. Google will request you permit it to access your location data, and this is necessary for the device manager to run smoothly, considering it's a tracking service. You need to turn on your location services if it is not automatic. The automatic switch-on way is available in Nexus handsets.
You can check both the current location of your handset and where it was last used. Switching to another device is straightforward and can be selected by clicking on the device's name from the drop-down menu. The switching device option makes it easy for you to keep track of all your Android devices from one place. When you select your new device, the map will enable you immediately to track it. Renaming the device is easy and can be done by clicking the pencil button.
You need now to download the app from the Google Play Store. Make sure to download the correct app, as similar-looking apps are available on the store. Install the app and allow it to access your location data just as in the above step.
As soon as you activate your phone's GPS system, you can use its various features, and each part will be explained in detail to help you work conveniently.
You have two options: the Lock & Erase and Ring in an icon format beneath the device name. On selecting the option, the app will prompt you to change its settings. You can choose the volume at which the phone will ring when it is in vibration mode. You can opt for the maximum or alter it according to your choice.
To use the Lock & Erase feature, you must select its icon. Upon its selection, a dialog box will send a notification to your device about the activation of this feature. This is a necessary step and needs to be followed religiously.
In the Lock feature, you would be prompted to create a new password to lock your phone's screen, while the erase option is something you must be extremely careful about. Until and unless you are not sure about the recovery of your phone under any circumstances, you should avoid using it. The erase option functions like the factory reset mode and erases all the data on your phone to secure you from data theft trouble.
It erases data stored in your music, photos, video, and other folders. You cannot retrieve this deletion at any cost; it is permanent. However, the erase option can only delete data from your phone and not do anything to the data stored on your SD card. If you click on the erase button when your phone is switched off, the command will be executed as soon as you switch on your device.
The app will ask you to activate the device administrator in its Settings, enabling you to access all its features. You must agree to certain administration rights for the app to function smoothly on your device.
Now you are ready to use the Android Device Manager Software services. However, don't make it a habit to lose your phone considering Android Device Manager Software as an easy option to save yourself. Remember always; a stitch in time saves nine, and you don't know what data you may have to sacrifice for a silly habit of yours. So ADM is here to help you, but only if you help yourself correctly.
Recommended Articles
This has been a guide to the Android Device Manager Tracker. It is the latest feature of the Google app that helps the user to safeguard and track their devices remotely. These are the following external link related to the Android device manager tracker –