Updated April 4, 2023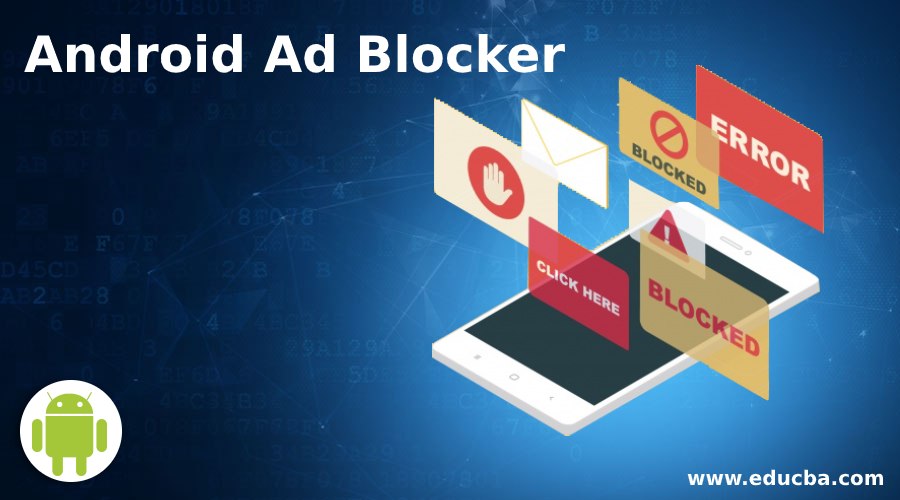 Introduction to Android Ad Blocker
The following article provides an outline for Android Ad Blocker. Companies and different websites are growing in the development of advertising as a main way to become sales. When you visit the internet, view a video and play a game, advertisements are shown. Many products or services use an application or website to move them. Pop-up advertisements were reserved for laptop and mobile computers, but they often targets smartphones, since they can be used by individuals. So for their smartphones, users need some decent ad blocker software. The Google Play Store does not have the majority of ad blocker software available. You can download and install them from any source from third parties.
Top Android Ad Blocker Apps
Given below are the top android ad blocker apps:
1. AdAway
AdAway is a basic Android ad blocker app. The ad request was sent to the new 12.0.0.1. use a changed Host file and you are not seeing any advertisements.
This program is set to host files that hit any ads that will change their course quickly. The redirect destroys banner publicities, pop-ups and any advertisements seen in sports.
New and amended host files are supported by the device. A read-only portion of the Android device stores host files.
2. TrustGo Ad Detector
Are you aware of mobile ads that collects your personal data through applications? Check your Android device and defend it against possible ID and privacy breaches that can sometimes happen with the advertisements that show up on your Android application.
TrustGo Ad Detector App Using your Android app in a transparent manner that ensures safe and protected personal information.
The TrustGo Ad Detector application is a unique type of ad blocker to secure and secure your personal information.
3. Adblock Plus Samsung Internet
You will search the web browser faster and without advertising on the Adblock Plus Samsung Internet. This software aims to preserve battery life by only loading essential details and stopping browser advertisements.
There is also an anti-tracking privacy feature. Often, when moving to another country, this software blocks country-specific advertising.
The Adblock Plus Samsung provides the highest and 100% free customer service. This app is certainly for you when you use a Samsung cell phone. The Google Play Store you can use.
4. AdBlock Fast
AdBlock Fast is an advertising blocking program that works for older Android devices and internet browsers. This ad blocker can be downloaded to Samsung 4.0.
This is considered to be one of the most powerful ad blockers. AdBlock Fast has its own customized filtering rulesets that help load websites more quickly.
Compared with other ad blocker apps it uses less power, CPU cycles, and disk space. The app is free, safe, quick and simple to use. The Google play store is able to download AdBlock Quick app.
5. AppBrain Ad Detector
The Ad Blocker blocks pop-ups and advertisements from AppBrain. Its functionality is somewhat different from other apps. The push notice and spam ads are locked when dangerous device networks are detected.
It is quick to use the AppBrain Ad Detector app. It has a "Concern" tab which helps you to instantly see any harm when it comes.
Download the Google Play Store AppBrain Ad Detector app.
6. Adblocker Browser
The Android software Adblocker Plugin is identical to other ad blocking applications. It automatically blocks all incoming ads and provides users with a measure of power.
There are also other ways to disable privacy and monitoring, malware domains and antimonopoly messages.
The Google Play Store Adblocker App can be downloaded.
7. Block This
Block This ad blocker app is an easy, open-source and user-free application. The ad blocker is not very common. It does not use a filter but uses DNS blocking.
The developer claims to use a less battery than a normal ad blocker on the DNS blocking system. This is because most research is done before your Android smartphone is reached by the results.
Block This Android app is available for download from their block-this.com website.
8. AdGuard
The AdGuard software is like the AdBlock Plus program. The context runs and all web traffic is filtered. In order to provide you with a graceful and simple browsing experience, the AdGuard Android app claims to remove all malicious advertising from the site.
It requires some additional configuration and works without the core. This also has a strong feel of the user interface for material design to incorporate anything.
It includes features such as increased page velocity, firewalls and security for malware. Premium and free versions are available.
9. Turbo Browser
Turbo Browser has an integrated browser ad blocking feature. It's popular for quicker loading of web pages and provides a high-speed download of several files.
The app also holds as much information as possible in order to access the only material you need. Blocks the ad on the site, which makes surfing easier than standard browsers.
Conclusion
In this article we have seen what is ad blocker and why is it necessary to use Ad Blocker along with TopAndroid Ad blocker Apps. You can choose any of the Ad blocker based on your requirements.
This is a guide to Android Ad Blocker. Here we discuss the introduction and top 9 android ad blocker apps respectively with detailed explanation. You may also have a look at the following articles to learn more –