Updated June 15, 2023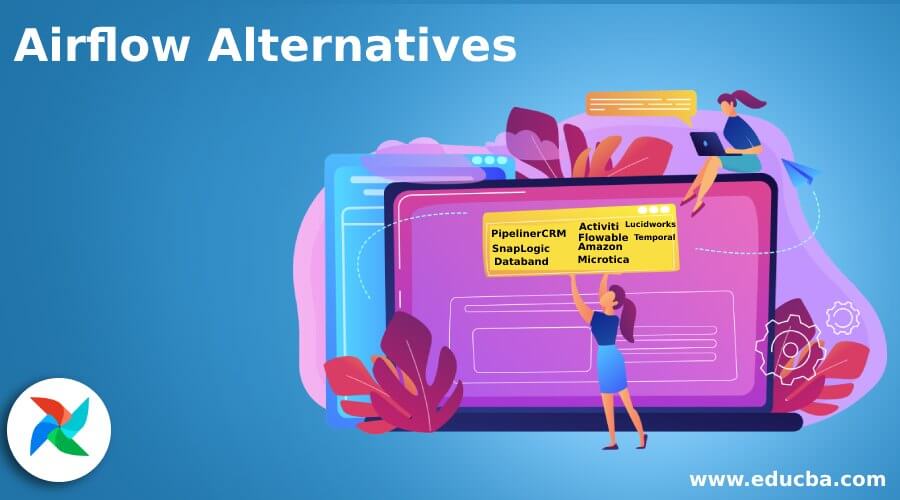 Introduction to Airflow Alternatives
Use Airflow as a directory acyclic workflow (DAGs) for workflows. While tracking the specified dependencies, the Airflow scheduler carries on your tasks. Complicated operations on DAGs make rich command lines a snap. In addition, the rich user interface makes it easy to view production pipelines, monitor progress, and resolve problems if necessary. Apache Airflow is a workflow management platform developed by the community. The software is free and open-source and can be used in the workflow of organizations to reduce complexity. In this topic, we are going to see different Alternatives of Airflow.
Top Alternatives of Airflow
Let's have a look at the top alternatives of Airflow:
1. PipelinerCRM
With our unique visual interface, our automated workflow engine, and instantaneous, dynamic insights and reporting, Pipeliner has revolutionized CRM. No CRM offers salespeople and sales management numerous ways of displaying and analyzing sales data and smart system insights. Plus, Pipeliner eliminates many of the handling and routine tasks of salespeople and sales managers thanks to our automation engine and the ease of integration with other systems (such as ERP, email, and marketing).
2. SnapLogic
SnapLogic is a software company that has the title SnapLogic Software. SnapLogic offers training in person and through webinars. The integration software is SnapLogic. SnapLogic can be used as iPhone, SaaS, iPad, and Android software for system requirements. In addition, SnapLogic includes support for business hours and online assistance. MuleSoft Anypoint Tray.io, Platform, and TIBCO Scribe include some other products to SnapLogic.
3. Databand
Monitor the health and performance of your data pipeline. Gain unified access to pipelines running on Apache Airflow, BigQuery, Spark, Kubernetes, etc., cloud-native tools. A data engineering observability platform. The demands of business participants only make data engineering more challenging. You can help catch up with the data band: more pipelines and intricacy. Data engineers work with more complex infrastructure than ever before and push for higher release speeds. It is more difficult to understand why a process is unsuccessful, why it is late, and how the quality of data output changes is affected.
4. Activiti
Supporting companies in distributed, highly scalable, and cost-efficient infrastructures solve automation challenges. Activiti is the leading lightweight, java-centered BPMN open-source engine to meet real-world requirements for process automation. Activiti Cloud is a new business automation platform offering several cloud-based native building blocks for distributed infrastructure operations. Unchanging, scalable, and painless Process & Decision Runtimes to integrate native infrastructure with your cloud.
5. Flowable
Grow your company with an exceptional customer experience and operational excellence and entice new customers. In today's competitive world, leading companies worldwide use Flowable intelligent business automation solutions to change their way of doing business. The retention and acquisition of customers by delivering excellent customer experience. Improving business efficiencies and reducing labor costs. Operational Excellence Enhance business agility to adapt to changing conditions in the market.
6. Amazon
AWS Step Functions is an orchestrator that enables easy sequencing of AWS Lambda functions and multiple AWS services into business-critical applications. You can create and run a series of controlled and event-driven workflows that keep the application status through its visual interface. One step's output serves as the next input. As defined by your business logic, each step in your application will run in order. It may be challenging to orchestrate several serverless apps, manage re-processes and debug failures.
7. Microtica
The pipelines are the core of the Microtica CI process, which can automate your work field. The building process is done manually or automatically in a pipeline for all components and micro-services. The building process is defined by a single source of truth, a microtica.yaml file. Every user can define the execution of their build process and commands by changing the users' customization microtica.yaml file as a key feature.
8. Lucidworks
Fusion turns your siloed data into individual user-specific insights. The Lucidworks Fusion allows customers to deploy data discovery and search applications powered by AI in a modern cloud-based containerized architecture. Data scientists can use existing machine learning models and workflows to interact with these applications. Or, they can quickly create and use popular tools such as Python ML, TensorFlow, scientific-learn, and spaCy to create new versions. As a result, reduce the effort and risk of Fusion's cloud deployments.
9. Temporal
Temporal is an open-source orchestration platform for the execution of critical mission code at every level. It ensures workflow completion of any size and complexity, has exponential activity retrieval support, and simplifies the definition of workflow compensation logic with support for native Saga patterns. You can determine retries, cleanups, and even human interventions if a failure occurs. Workflows are defined in programming languages for general purposes, which provide ultimate flexibility to define workflows of any complexity, especially marking-based DSLs.
Conclusion
In this article, we have seen various alternatives to Airflow. You can choose any of them based on your requirements. We hope you will find this article helpful.
Recommended Articles
This is a guide to Airflow Alternatives. Here we discuss the introduction and various alternatives of Airflow. You can choose any of them based on your requirements. You may also look at the following articles to learn more –