Updated November 8, 2023
Difference Between Artificial Intelligence (AI) and ChatGPT
ChatGPT and artificial intelligence (AI) are two different aspects of cutting-edge technology. Artificial Intelligence (AI) combines a range of machine learning and problem-solving techniques to address a wide range of industry difficulties. On the other hand, ChatGPT is a specialized AI application focusing on conversation and natural language processing. ChatGPT excels in human-like interactions, making it a valuable tool for tasks linked to language processing and creation, while AI demonstrates adaptability in tackling complicated challenges. To fully leverage these technologies in the rapidly evolving landscape, it is crucial to understand their distinctions and applications.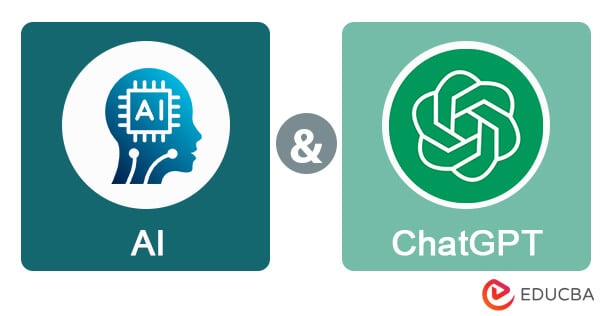 Table of Contents
What is AI?
Artificial intelligence (AI) attempts to create computer systems that can replicate human intelligence. AI systems use data and algorithms to mimic human cognitive functions such as learning, reasoning, problem-solving, and decision-making. They can process vast amounts of data, recognize patterns, and adapt to changing circumstances, making them valuable in various applications like autonomous vehicles, healthcare, finance, and more. AI can be classified into narrow or specialized AI, which excels in specific tasks, and general AI, which has the potential for broader and more human-like capabilities.
How Does AI Work?
Artificial intelligence (AI) combines data, algorithms, and computing power. Here's an easy explanation of how AI works:
Data Collection: AI systems start by collecting and ingesting vast amounts of data, which can be structured or unstructured, text, images, audio, or numerical.
Data Preprocessing: Raw data is processed to remove noise, clean inconsistencies, and prepare it for analysis. This step often involves data cleaning, normalization, and transformation.
Machine Learning: Machine learning algorithms examine processed data by training models on historical data, acquiring patterns, and enabling predictions or decisions using new data.
Model Training: Throughout the training process, the AI system fine-tunes its internal parameters to reduce errors and enhance performance, optimizing the model according to predefined objectives like accuracy or minimizing loss.
Inference: Once trained, the AI model can make predictions, classify objects, or generate responses when confronted with new, previously unseen data. It's during this inference phase that AI showcases its learned abilities.
Feedback Loop: Many AI systems use a feedback loop to constantly learn from new data and update their models to adapt to changing situations and improve their performance over time.
Decision-Making: Based on the data they receive, AI systems can use their knowledge to make decisions or offer suggestions in real-time.
Automation: AI may act or make decisions autonomously in specific applications, such as autonomous vehicles or industrial automation.
Use Cases for AI
Here are some concrete use cases for AI within the mentioned sectors:
1. Healthcare
Medical Image Analysis: AI aids in interpreting medical images like X-rays, MRIs, and CT scans, assisting radiologists in diagnosing conditions.
Predictive Analytics: AI predicts patient outcomes, helping healthcare providers identify at-risk individuals for proactive care.
Drug Discovery: AI accelerates drug development by simulating molecular interactions and identifying potential drug candidates.
Personalized Medicine: AI recommends personalized treatment plans based on an individual's genetic and medical data.
2. Finance
Fraud Detection: AI algorithms identify unusual financial transactions and patterns, preventing fraudulent activities.
Algorithmic Trading: Artificial intelligence-powered trading systems utilize market data and trends for high-frequency trading strategies.
Credit Scoring: AI assesses creditworthiness, determining loan eligibility and interest rates for borrowers.
Risk Management: AI algorithms estimate possible risks and returns while evaluating and managing investment portfolios.
3. Manufacturing
Predictive Maintenance: AI analyzes sensor data to predict equipment failures, reducing unplanned downtime and maintenance costs.
Quality Control: AI-driven vision systems inspect products for defects, ensuring high-quality manufacturing.
Supply Chain Optimization: AI can optimize inventory management, demand forecasting, and logistics, resulting in streamlined operations.
4. Autonomous Vehicles
Self-Driving Cars: AI enables autonomous vehicles to navigate, interpret sensor data, and make real-time driving decisions.
Drones: AI controls unmanned aerial vehicles for tasks like aerial surveillance, mapping, and package delivery.
Robotic Forklifts: AI-powered autonomous forklifts handle materials and products in warehouses, improving efficiency and safety.
5. Entertainment
Content Recommendation: AI algorithms analyze users' preferences and behavior to suggest movies, music, and books that might interest them.
Video Game AI: In video games, AI powers non-player characters (NPCs) and opponent behaviors for dynamic and challenging gameplay.
Film and Animation: In post-production, AI is used to produce special effects, improve video quality, and simplify animation operations.
Music Generation: AI generates music compositions and assists musicians in creating new melodies and harmonies.
What is ChatGPT?
ChatGPT is a sophisticated natural language processing model created by OpenAI. It's designed to engage in human-like text-based conversations, making it a powerful AI tool for various applications. ChatGPT, based on the GPT (Generative Pre-trained Transformer) architecture, is pre-trained on internet text to generate human-like language with high fluency. Its versatility spans customer support chatbots, content generation, language translation, and more. ChatGPT represents a breakthrough in AI-driven conversational agents, offering the potential to enhance user experiences, streamline tasks, and facilitate communication in various contexts.
How ChatGPT Works?
ChatGPT is a deep learning model for natural language processing built on the GPT architecture. Here's a rundown of how ChatGPT works:
Pre-training: ChatGPT is pre-trained on a massive corpus of internet text. It analyzes the context of preceding words to predict the next word in a sentence. This pre-training helps the model acquire general language understanding and fluency.
Fine-tuning: After pre-training, ChatGPT is fine-tuned on specific datasets to make it suitable for particular tasks or applications. Fine-tuning involves training the model on a narrower dataset with human feedback to produce desired responses.
Tokenization: Input text is broken down into smaller units called tokens, which can be as short as one character or as long as one word. This tokenization allows the model to process and understand the text in manageable pieces.
Contextual Understanding: By analyzing the preceding text, ChatGPT can comprehend the context of a conversation. It uses this context to generate responses that are contextually relevant and coherent.
Response Generation: ChatGPT creates answers when provided with a user's input by anticipating the most likely next token based on the context. It generates text one token at a time, gradually forming a complete response.
Sampling: ChatGPT can produce multiple possible responses. Sampling methods like "top-k sampling" or "nucleus sampling" help control the diversity and quality of the responses generated.
Post-processing: After generating a response, post-processing steps can be applied to refine the output, such as removing redundant information or ensuring grammatical correctness.
Model Variants: There are different versions of ChatGPT, and users can select different model sizes and parameters depending on their specific requirements and use cases.
Use Cases for ChatGPT
Here are some specific ChatGPT use cases mentioned below:
1. Customer Support
Automated Chatbots: ChatGPT may enable chatbots that respond to client requests, give information, and fix common issues 24/7, enhancing customer service efficiency.
FAQ Assistance: It can assist customers by answering frequently asked questions, providing product information, and troubleshooting basic problems.
Order Tracking: ChatGPT can offer real-time updates on order status, shipping details, and delivery times.
2. Content Generation
Blog Posts and Articles: ChatGPT can provide high-quality content on various topics for websites, blogs, and news publications.
Marketing Copy: It can produce marketing materials such as ad copy, product descriptions, and promotional content.
Reports and Summaries: Summaries of lengthy documents, research papers, or news stories can be generated via ChatGPT.
3. Language Translation
Real-Time Translation: ChatGPT can translate text or conversations across several languages, allowing for international communication and removing language barriers.
Localization: It can assist in adapting content for specific regions, ensuring cultural and linguistic relevance.
4. Personal Assistants
Scheduling and Reminders: ChatGPT can manage calendars, schedule appointments, and send reminders to users, helping them stay organized.
Information Retrieval: It can quickly answer questions, look up facts, and assist users with general knowledge inquiries.
Task Automation: ChatGPT can automate routine tasks like sending emails, setting alarms, or making reservations based on user instructions
AI and ChatGPT: A Comparative Analysis
Let's discuss the top comparison between AI and ChatGPT:
| | | |
| --- | --- | --- |
| Basis of Comparison | AI | ChatGPT |
| Purpose | General problem-solving and automation | Conversational AI and content generation |
| Specialization | Versatile, wide range of applications | Language-based, text-based interactions |
| Learning Approach | Machine learning, supervised/unsupervised | Pre-trained and fine-tuned for language understanding |
| Use Cases | Healthcare, finance, manufacturing, autonomous vehicles, entertainment, etc. | Customer support, content generation, language translation, personal assistants, etc. |
| Training Data | Varied data, domain-specific when needed | Internet text for pre-training, fine-tuned on specific datasets |
| Contextual Awareness | Variable depends on the specific AI application | Strong contextual understanding in conversations |
| Decision-Making | Complex problem-solving, decision support | Text-based responses, content generation |
| Comprehensiveness | Varies based on AI application | Specialized in natural language processing |
| Human Interaction | Typically indirect, minimal user interaction | Direct interaction, conversational |
| Adaptability | Task-specific may require extensive customization | Adaptable for various text-based tasks with minimal customization |
| Ethical Considerations | Ethical concerns related to data usage, bias, and impact | Ethical concerns regarding content generation, misinformation, and bias |
| Deployment | Diverse applications across industries | Primarily used in text-based customer service, content generation, and language understanding. |
Future of AI and ChatGPT
AI and ChatGPT are expected to continue advancing and integrating into various aspects of our lives. As AI evolves with improved capabilities, we may see more autonomous systems and greater service personalization. In addition, ChatGPT is likely to become even more proficient in natural language understanding and generation, which will enhance human-computer interactions. However, ethical considerations and responsible AI development will remain critical. These technologies are expected to play increasingly pivotal roles in healthcare, education, customer service, and beyond, transforming how we work, communicate, and access information. The focus will be on harnessing their potential while addressing challenges related to bias, transparency, and privacy.
Conclusion
AI and ChatGPT are two powerful forces shaping the technological landscape. AI is a game-changer for industries like healthcare and finance, thanks to its problem-solving abilities that offer efficiency and insights. On the other hand, ChatGPT is redefining human-computer interactions through language understanding and generation. It caters to customer support, content generation, and more. As both AI and ChatGPT are becoming more regulated, they are expected to advance ethically and responsibly while maintaining user safety. The future holds great promise for further collaboration between these technologies, enabling innovation, enhancing user experiences, and driving transformative changes across various fields.
Recommended Article
We hope that this EDUCBA information on "AI and ChatGPT" was beneficial to you. You can view EDUCBA's recommended articles for more information,