About E-Commerce
E-Commerce has taken the world by storm due to its ease. What is it? It's the act of buying or distributing goods or services on the internet. Well-known examples of E-Commerce are Amazon and Flipkart. Undoubtedly, the possibility to buy and sell online has helped various businesses become successful and viable. However, it also has drawbacks. In this article, you will get a good handle on the advantages and disadvantages of E-Commerce.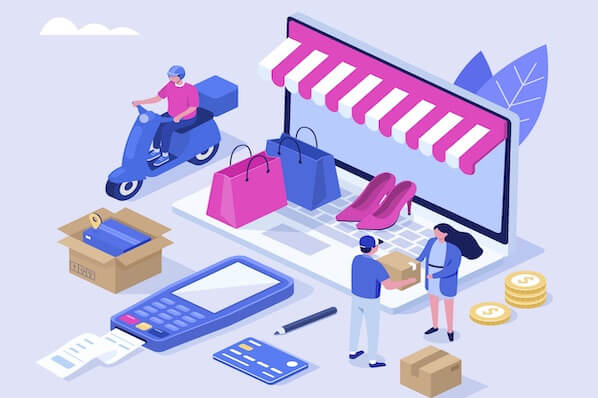 Advantages of E-Commerce
Individuals and businesses can benefit from e-commerce if they fully understand how it operates. Here are the top 6 advantages of E-Commerce:
#1 A Bigger Market to Sell and Buy
Through e-commerce, people can connect with customers both domestically and internationally. E-commerce provides a stage for business entrepreneurs to interact with their customers from their homes. Customers can buy anything they want whenever they want to, and an increasing number of people are becoming accustomed to shopping on their mobile devices.
#2 Flexibility
Online shopping is a flexible way of purchasing and selling products. There is no time restriction; hence, you can buy and sell at your convenience. You can open up your favorite E-Commerce app or website whenever you are free and order products.
#3 Big Savings
You're not just saving money on the platform with its awesome deals when shopping online. Instead, you also save money on fuel and transport. Moreover, you also save energy and time as you do not have to move anywhere, and you can just sit on your couch and order what you love.
#4 Easy Comparison and Large Option
The E-commerce platform has many options for you, unlike the local grocery store, which may give you limited options. With these options, you can easily compare prices and values of products to choose what's best for you. Moreover, since there are several E-Commerce platforms, you can also compare prices of the same effect on different platforms.
#5 Great Deals
Online platforms provide exclusive deals for their customers that the physical stores can't compete with. Moreover, during any occasion, festival, or anniversary, E-commerce platforms usually offer their customers a wide variety of discounts and other advantages.
#6 Easy Access to Customer Data
One of the significant advantages of e-commerce is that it gives easy access to customers' data. With the help of this data, companies can quickly analyze it and use it to target them. Moreover, while purchasing any product online, you have to share your address, email address, and contact number. This enables the company to reach out to you in three different ways. Moreover, companies can gain other knowledge about you from the various marketing surveys they ask you to fill out, making it easier for them to approach you.
Disadvantages of E-Commerce
E-Commerce business management is only sometimes a delight. E-Commerce has several loopholes as well, which lead to difficulties. Here are the top 6 disadvantages of E-Commerce:
#1 Security
The main concern about shopping online is security. You can easily fall victim to online shopping fraud if you're not careful enough. No matter how secure these platforms get, hackers can always find their way into them. Moreover, if you're not aware or conscious of the details you're providing on the forum, you can become a victim of cyber crimes.
#2 Satisfaction
Online shopping does not provide complete satisfaction to their customers as you can inspect the product quality. Moreover, there are a lot of chances of receiving the wrong product, delayed delivery, and many more problems that can frustrate anyone.
#3 Privacy and Security Issues
While shopping online, you must provide details, such as the shipping address, email ID, and other personal information. Hackers could hack into the company's servers and use this information for the wrong. Thus, there is always a chance of a data breach. This makes the buyer hesitant to shop online.
#4 Longer Waiting Period
Online shopping has a waiting period because the goods cannot be shipped immediately. Moreover, contrary to brick-and-mortar stores, you cannot simply "walk into" an online store and pick up a product. Further, if the product is out of stock, the waiting time can be several days or weeks.
#5 No Personal Touch
E-commerce platforms lack the personal touch, which is essential for people who want to buy expensive products. Such customers are not only looking for a personal touch, but they are also looking to have a great shopping experience. They love to talk to sales representatives and want to buy the product.
#6 All Products Cannot be Bought Online
Customers can only buy some things online. If customers are willing to buy gold or silver, they cannot accept the product online as there are certain factors that they need to consider. In such a scenario, the customer can only outcomes from a brick-and-mortar store.
Conclusion
E-commerce has revolutionized the transactional market, opening up new opportunities for people across borders. It has made our life easier and simple, but at the same time, it has some loopholes as well. This article has helped you understand the advantages and disadvantages of e-commerce.
Recommended Articles
We hope that this EDUCBA information on "Advantages and Disadvantages of E-Commerce " was beneficial to you. You can view EDUCBA's recommended articles for more information –