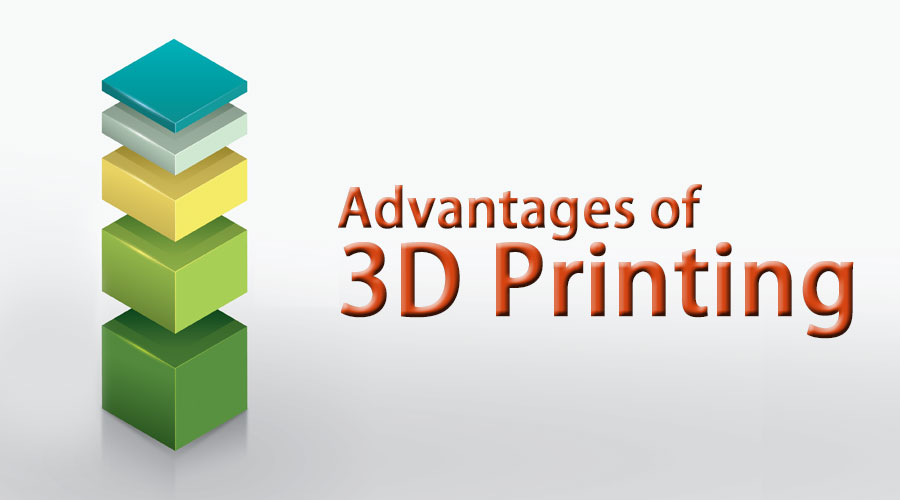 Introduction to Advantages of 3D Printing
In this Topic, we are going to learn about the advantages of 3d printing. This 3D printing is also known as Additive Manufacturing, a process in which three-dimensional objects are created by either joining or solidifying materials & putting them together layer by layer under computer controls. 3D Printing is popular and has set its grounds in the field of manufacturing. This technology is now commonly used by both professionals and hobbyists. 3d printing is a progressive technology and is being updated by advanced 3D printers every year. A printer usually takes 5-20 hours to complete the entire process, depending on the nature of a printer. Since 3D printing is a dynamic process, the 3D printed parts cannot be used just after the printing; they require some post-processing surface finishing for results.
This activity always starts with a digital 3D model or a CAD file. Science-fiction author Arthur C. Clarke invented this technique in 1964. The basic technique of 3D printing includes the model being divided by the printer's software into fine, two-dimensional layers and then follow the set of rules in G-code language for the printer to execute the further process. The materials used can also differ in the printing process. Metals and plastics are by far the most commonly used materials.
The advantages of this 3D Printing technology can help the designers and professionals make better decisions in selecting a better manufacturing process and will help deliver great results.
Advantages of 3D Printing
The top 10 advantages are as follows:
1. More Affordable
This 3D printing deals with a low cost of labor, and this is one of the most important pros of 3D Printing technology. Labor Costs has a huge role in deciding the amount of money to be used in creating a framework. Labor costs are very high when dealing with conventional manufacturing, and it requires experienced machine operators. But, in 3D printers, we only need an operator to press a button, and the rest of the procedure is followed by the automated process of the printer. Also, manufacturing products using 3D printing is equal to small scale and mass manufacturing.
2. Faster Production
The speed at which 3D printers can produce models is also a benefit in using this technology as compared to the old manufacturing methods. So, 3d printing is much quicker and easier than the conventional methods of manufacturing. From the stage of the blueprint to the final product, 3D printing incorporates ideas and designs quickly. Complicated designs can be taken from a CAD model and can be used for printing, and it takes just a few hours for the process to complete.
3. Better Quality of Objects
The biggest roadblock for designers is how to manufacture objects as systematically as possible. Additive manufacturing machines accomplish the task in a build-in, a one-step process. This process is so efficient that it doesn't require any interaction of the machine operator during the build phase. It takes only a couple of hours to get the results once the CAD design is finalized and uploaded to the machine. The designer achieves full control over the final product as the machine produces a part in just one step, thus reducing the dependence on various manufacturing processes like welding, painting, etc.
4. Risk Reduction
A faulty prototype may cost the designer both time and money. Even minor changes to the mold may have a large impact on financial grounds. Proper design verification is an important part of investing in a costly molding tool. 3D printing technology helps in checking a design by printing a production-ready prototype before investing in expensive manufacturing tools; thus, it removes the risk during the prototyping process.
5. Freedom of Creative Designs & Customization
Although Traditional manufacturing methods are better in creating hundreds of copies of the same thing, it results in the same lifeless and monotonous designs. While 3D printing gives the designers the freedom to design creative models with endless customization, making it easier to indulge in personal touches that the customers request. Most of the limitations of additive manufacturing revolve around how to efficiently create a print to reduce support dependency. So, the designers are free to create models and complex geometries.
6. Usage of Mixed Raw Materials
Mass manufacturing does not encourage the combination of raw materials as it can be expensive. Also, the product designers must first calculate the materials used for subtractive or injection mold manufacturing and combining chemical and physical elements. But with the 3D printing technology, nothing but the designer's imagination is a limitation. This technology easily accommodates a varied range of raw materials like metal, biomaterial, glass, ceramics, paper, silver, etc.
7. Sustainability
The subtractive manufacturing methods, like CNC milling, results in huge volumes of waste materials. These methods remove a notable amount of materials from the first initial block. Fortunately, 3D printing uses only materials that are required to create a part. Furthermore, the materials can be reused and recycled for further processes. Thus, Additive manufacturing results in very little waste and saves a lot of money.
8. Accessibility
Today, more and more people are getting access to 3D printing. 3D pens are also produced that can give the same results as that of the 3D printer. With this progress and advancement in this technology, many designers, companies, and professionals can create the product they need, when and wherever they are.
9. Practical Product Testing
3D printing offers the advantage of experiencing the touch and feel of the product prototype to test it and search for any errors or drawbacks in the design. The designers can even modify the CAD designs in case of a problem and again print them with a modified version.
10. Unlimited use of Shapes and Geometry
The old techniques of manufacturing count on molds and cutting technologies to produce the desired shapes. So, designing complicated shapes with this technology was both difficult and troublesome for the designers. With the introduction to 3D printing, this challenge can also be overcome, and with the availability of proper materials, this technology can achieve the desired results.
Conclusion
3D printing technology is a modern age technology that is better, cheaper, faster, more sustainable, more flexible, and more environment-friendly. We live in a fast-paced world where everything is needed quickly, and so, this is where 3D printing technology can be used to convert our imagination to reality; this is a great advantage in the printing world.
Recommended Articles
This has been a guide to the advantages of 3D Printing. Here we have discussed the 10 topmost Advantages of 3D Printing technology in the real world. You can also look at the following articles to learn more.