Verbal Communication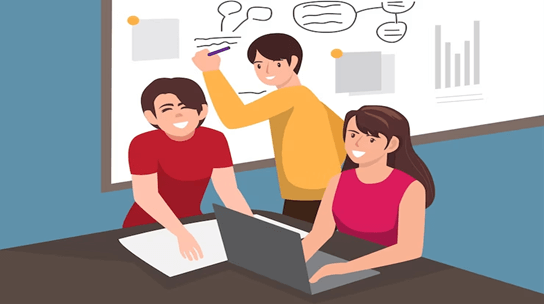 Verbal communication skills are one of the most in-demand skills of 2023. While most equate verbal Communication with spoken Communication, it includes both spoken and written Communication.
Advantages and Disadvantages of Verbal Communication
Did you know there are both advantages and disadvantages of verbal Communication?
Advantages of Verbal Communication
First, let's start by discussing the advantages and disadvantages of verbal Communication in its spoken form.
Spoken Verbal Communication
Builds trust:- It helps to build trust, especially when paired with non-verbal cues like effective body language.
Effectively convey the message:- It helps to get the news effectively using intonation and, thus, is an integral part of customer service.
Decrease chances of miscommunication:- Spoken Communication helps avoid miscommunication since clarification is faster than its written counterpart.
Fastest mode of Communication:- Most businesses prefer calls and video meetings over written guidelines, as they are much quicker and more suitable for one-on-one doubt clearance.
Reach a wider audience:- It helps to reach a wider audience, similar to how this article is accessible worldwide.
Useful for illiterates:- Verbal Communication transcends the boundaries of the ability to read and write. For people, especially those who are illiterate and can speak and understand but not read or write, speech is the best mode of Communication to convey the message.
Written Verbal Communication
Transcends geographical boundaries:- Today, technology allows writers to share their views on something they can read from anywhere.
It helps readers become the narrator:- The first-person POV (Point of View) is a big thing in stories and novels that help the reader feel themselves in the shoes of the story's narrator. Similarly, most books use the first-person to convey the feelings and thoughts of the characters.
Useful in negotiation and conflict resolution:- Verbal Communication is sure-sharp tool managers use to diffuse conflicts and employ negotiation power.
However, just like a coin has two sides, so does this in Communication; there are some Advantages and Disadvantages of Verbal Communication.
Let's discuss some crucial downsides of verbal Communication.
Disadvantages of Verbal Communication
Chances of its misuse to spread hatred:- Speeches and public debates can also become tools for disturbing the peace for political agendas.
People may use it to control others:- Spoken words carry a lot of power and can make or break someone. People may use it to gaslight or manipulate others into going their way.
Less creative:- Spontaneous creativity is rare, and most stand-up performances require some level of non-verbal Communication to establish a connection with the audience.
Require attention throughout:- There is the possibility of missing out on important information if one is unattentive or is a non-native speaker of a particular language.
A negative effect of mood:- A person under anxiety or anger may not effectively convey the message to others. The pressure to speak in that state doesn't give the mind enough space to think clearly and present their ideas.
Hard to be concise:- Verbal Communication requires being concise yet clear enough to convey the intended message. However, most of the time, conciseness may compromise quality.
Hurtful remarks as sarcasm:- "Tongue is that sword that can cut deeper." Bitter and painful remarks under the pretext of sarcastic comments may damage one's confidence and self-esteem.
High chance of misinterpretation:- Verbal Communication, especially using phrases, can get misinterpreted due to varying individual perceptions. One's "I'm sorry" may be interpreted by the receiver as an apology for the wrongdoing. However, the speaker may have intended to apologize to diffuse the conflict but was not sorry for his actions.
Increases the chance of mistakes:- Compared to written, spoken verbal Communication is spontaneous and gives less time to the speaker to think. Besides, one has to be constantly attentive to grasp the details, which is not always possible, especially when tired or sleepy. It thus can result in more mistakes.
No option to revise:- It is especially true for oral-verbal Communication. A message, once sent, has no scope for revision or editing. However, after much thought, one can compose the same message in written form.
No legal validity and permanent record:- Besides having no legal validity, spoken Communication doesn't hold any permanent record unless recorded.
Communication gap due to other accents:- Verbal Communication can be challenging with people from diverse backgrounds; a British or American accent may pose difficulties for an Indian student knowledgeable in written English.
It can be expensive:- Verbal Communication can save material costs, but it may become costly if a translator is required.
In a nutshell, one can balance out both advantages and disadvantages of verbal Communication if one uses the communication type cautiously.
Recommended Articles
We hope that this EDUCBA information on "Advantages and Disadvantages of Verbal Communication" was beneficial to you. You can view EDUCBA's recommended articles for more information,