What is Instagram?
Instagram is a social networking application mainly for smartphones that allows users to share photographs and videos. It functions similarly to Facebook or Twitter in that everyone registering an account has a news feed and profile.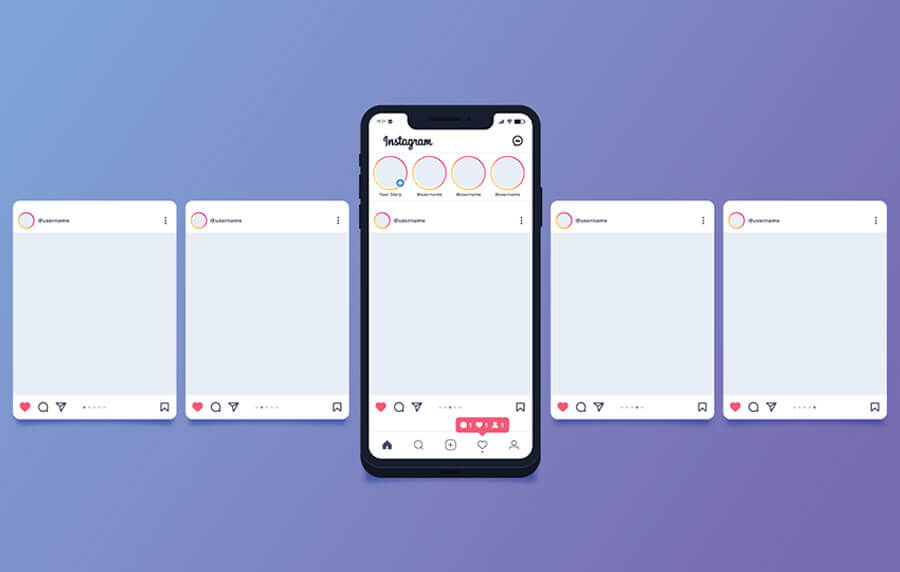 (Image Credit: Freepik)
When you post something on Instagram, it will be on your "wall." Others who follow your account will see your postings in their feeds. Similarly, you'll see posts from other persons you select to follow. Instagram, like Facebook, has the potential to be a good marketing tool. An American company named "Meta Platforms" owns the company.
Features of this application
Filters, video posts, Instagram stories, story highlights, Instagram Stories videos, Instagram live, AR filters, and IGTV are just a few of the user-friendly features available on Instagram. Certain well-known features demonstrate how social media has become a daily user usage app.
Some popular features include:
Reels
Stories on Instagram
IGTV
Utilize hashtags
Boomerangs
Advantages and Disadvantages of Instagram
Instagram has some advantages and disadvantages, which are listed below:-
Advantages of Instagram
Low cost or mainly free: The Instagram app is available for free download from the Google Play store. Anyone can sign up and make an account without paying anything. As a result, every smartphone user can access the software whenever they want.
Sharing: Every content on Instagram, whether made directly from the Instagram app or created by the user and afterward published to Instagram, can be freely shared by the user. Also, every user can share any content file on other social networking sites such as Facebook, Twitter, and others.
Instagram for Business: Market potential has grown due to the high number of people selling their services and goods on Instagram profiles. Businesses now have additional market potential due to their capacity to promote their products and investigate consumer demand.
Builds Contacts: It is a social networking platform that you may use to follow celebrities and stay in touch with your friends. Anyone who misses their friends can hunt them up on Instagram, and business owners can create profiles and ask for followers. In this approach, business executives and ordinary people can improve their interactions.
User Interface: No matter how many features a Social Network has, it will never gain a large user base if it doesn't have eye-catching visuals and isn't easy to use. Instagram has the most users of any social network due to its incredibly engaging user interface and clever and efficient organization.
Online Shopping: Seeing a visual of the product is one of the most crucial considerations when purchasing something online. As a result, Instagram is an ideal marketing tool. Many established stores and new ones use Instagram to market their products. Instagram enables better engagement between buyers and merchants.
First Choice for Travelers: Instagram, like Bloggers, has become a hotspot for travelers. It features a geotagging option that works flawlessly! You may quickly put the location of your photo when you share it anywhere you go. There is also a slew of additional public accounts where people share their trip stories and images.
Disadvantages of Instagram
Addictive: Instagram has become an addiction for consumers, and even now, young people frequently use it for entertainment. It's an addiction to use with caution because it can cause many issues.
Not compatible with all operating systems: Insta is only available and useable on iOS, Windows Mobile, and Android-powered mobile devices. Other mobile operating systems, such as LINUX and Blackberry, are not supported.
False Ads: Someone occasionally publishes inaccurate advertisements to defraud many people. As a result of multiple fraudulent promotions, people no longer trust Instagram. Other businesses must suffer as a result.
Image Stealing: Despite Instagram's various security measures, it is a digital platform, and there is always the possibility that any professional and quality content added to Instagram may be "stolen" by another person without the consent of the user who has uploaded the content.
Technical Issues: As I previously stated, Instagram has significant technical limitations. Because the platform is for mobile/Android, the web version could be better.
Final Thoughts
You must be aware of how many well-known Instagram users utilize this method to share their material and produce income; it's a pleasant way to study and make money. If your purpose is clear, you can use Instagram to its maximum potential for videos and images. Aside from its benefits, Instagram has numerous significant downsides you should be aware of before using it. Depending on the intended application and your engaging talents, you should have several problems.
Recommended Articles
We hope that this EDUCBA information on "Advantages and Disadvantages of Instagram" was beneficial to you. You can view EDUCBA's recommended articles for more information,