Updated November 16, 2023
Advantages and Disadvantages of the Internet – Introduction
Imagine you are at home, and suddenly, you crave a warm, cheesy pizza that makes your mouth water. And the best part is you can have it delivered to your doorstep with just a few clicks. This amazing convenience is made possible by the Internet, a revolutionary invention from 1969 led by Bob Kahn and Vinton or Vint Cerf. The Internet assists us in everyday moments, whether we need to find travel directions on maps, choose hotels, find local attractions, or even when we are planning a surprise gift for our loved ones.
The creation of the Internet undoubtedly brought benefits to the world, but it also has drawbacks. So, let's explore all the advantages and disadvantages of the Internet.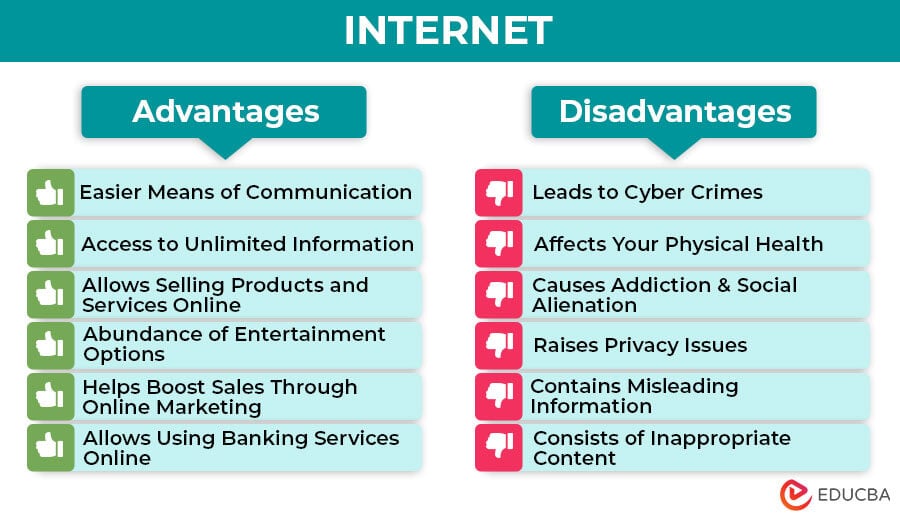 Advantages of the Internet
The ability to instantly share information thanks to the Internet is available to almost everyone, making it the most outstanding human achievement.
1. Provides an Easier Means of Communication
The Internet revolutionized communication by providing many tools for individuals and businesses to connect globally. It enables real-time communication through email, instant messaging, and video calls. Social media platforms like Facebook, Instagram, and Twitter have also transformed how we interact and share our lives with friends and family.
Example: During the Arab Spring uprisings in 2010-2011, protesters used Internet platforms like Twitter and Facebook to share information, coordinate actions, and raise global awareness of their movements.
2. Gives Access to Unlimited Information
The Internet is a treasure of information with search engines like Google and AI chatbots like ChatGPT, making it easy to find answers to any question. This accessibility to knowledge has transformed the way we learn and conduct research. The Internet allows us to access the latest news and updates in a matter of seconds.
Example: The COVID-19 pandemic highlighted the value of online information access. Health organizations like the World Health Organization (WHO) & Centers for Disease Control and Prevention (CDC) and governments use the Internet to disseminate critical updates, guidelines, and research findings to the public.
3. Lets You Create Your Digital Identity
The Internet gave us the opportunity to create our digital identities, including our online presence and reputation. Social media profiles, blogs, and personal websites are examples of how individuals can shape their digital identities. Businesses also use the Internet to create a strong online presence via websites and social media.
Example: YouTubers like "PewDiePie" and "MrBeast" have built massive online followings and lucrative careers by cultivating their digital identities and engaging with their audiences on various social media platforms.
4. Allows Selling Products and Services Online
The Internet has transformed how we shop and access various products and services. E-commerce platforms like Amazon, eBay, and Shopify provide a broad range of products that can be purchased online and delivered to your doorstep. Services, such as ride-sharing (e.g., Uber) and food delivery (e.g., Uber Eats), have become integral parts of our lives, offering convenience and efficiency.
Example: Amazon, the world's largest online retailer, has revolutionized how people shop. Amazon Prime, for instance, provides fast and convenient delivery services for millions of products.
5. Offers Abundance of Entertainment Options
The Internet offers many entertainment options, including streaming services (Netflix, YouTube, and Spotify), providing access to movies, TV shows, music, etc. Online gaming platforms, such as Steam and Xbox Live, enable multiplayer gaming and social interaction. These platforms offer a wide range of entertainment options tailored to individual preferences.
Example: Streaming platforms like Netflix have disrupted the traditional television industry. The release of popular series like "Stranger Things" and "The Crown" has captivated global audiences, providing on-demand, high-quality entertainment accessible through the Internet.
6. Simplifies Transferring Money Through Online Transactions
E-commerce and online payment systems have made financial transactions more convenient and secure. People can purchase goods and services online using credit cards, digital wallets like PayPal, or cryptocurrencies like Bitcoin. Online banking apps and platforms offer seamless ways to manage and transfer funds.
Example: PayPal has become a leading online payment system, offering secure, quick, and convenient transactions for millions of users worldwide. People can make online purchases, send money to family and friends, and even manage their finances through the platform.
7. Helps Boost Sales Through Online Marketing
Businesses use the Internet for marketing and advertising purposes. Digital marketing includes techniques like social media marketing, SEO, and email marketing to reach a broader audience and promote products and services.
Example: The "Ice Bucket Challenge" in 2014 became a viral sensation on social media and demonstrated the power of online marketing for a cause. The campaign, aimed at raising awareness and funds for ALS (Amyotrophic Lateral Sclerosis) research, engaged millions of participants who shared their challenge videos, leading to increased donations and research funding.
8. Allows use of Banking Services Online
Internet banking, or online banking, allows individuals to manage their financial accounts from the comfort of their homes. This includes checking balances, transferring funds, paying bills, and even applying for loans. Most banks offer secure online banking services with mobile apps for easy access.
Example: Online banking services offered by institutions like JPMorgan Chase, Bank of America, State Bank of India, ICICI Bank, and others allow customers to check account balances, transfer funds, and pay bills with ease.
9. Makes Plenty of Education Resources Accessible
Online education platforms like EDUCBA, Coursera, edX, and Khan Academy offer courses on various subjects. Universities and schools also use online learning management systems to facilitate distance education.
Example: The Massachusetts Institute of Technology (MIT) has made a vast array of its course materials available online for free through its MIT OpenCourseWare initiative. This resource has allowed learners worldwide to access high-quality educational content.
Disadvantages of the Internet
Despite the benefits of the Internet, some individuals misuse it.
1. Contains Tons of Misleading Information
The Internet is a vast source of information, but not all of it is accurate or trustworthy. Misleading information, fake news, and online hoaxes are prevalent, making it challenging for users to distinguish fact from fiction. Misinformation can influence public opinion, and it can have serious consequences, such as the spread of false health information during a pandemic.
Example:  During the COVID-19 pandemic, misinformation and fake cures circulated widely on social media platforms. Misinformation made it challenging for the public to access accurate, science-based information.
2. Negatively Affects Your Physical Health
The Internet can lead to physical health issues, including a sedentary lifestyle, eye strain, poor posture, sleep disturbances, digital addiction, stress from online interactions, and concerns about electromagnetic radiation.
Example:  The COVID-19 pandemic forced many individuals to rely on digital devices for work, education, and social interactions. Thus, the sudden increase in screen time had an impact on physical and mental health, like eye strain, sleep disturbances, etc.
3. Easy Access to Confidential Data Raises Privacy Issues
With the vast amount of personal and sensitive information being shared and stored online, it is easy for unauthorized users to get individual and business confidential data. This can lead to privacy violations, identity theft, and the misuse of sensitive data.
Example: In 2013, Edward Snowden, a former National Security Agency (NSA) contractor, exposed extensive government surveillance programs that collected data on individuals' digital activities. This revelation raised concerns about the extent of personal data that governments and corporations can access, highlighting the importance of safeguarding one's digital footprint.
4. Leads to Cyber Crimes
Cybercrimes are a range of malicious online activities, including cyberbullying, unauthorized hacking, distribution of malware, and various scams. These actions often exploit digital technologies and the Internet to target individuals, organizations, or systems for personal gain, harassment, or fraud, posing significant threats to online security and privacy.
Example: In 2020, the tragic case of Caroline Flack, a British television presenter, highlighted the consequences of cyberbullying. She faced relentless online harassment and abuse, which contributed to her mental health struggles. Despite her public profile, the impact of cyberbullying on her well-being was devastating, ultimately leading to her untimely demise.
5. Increases the Risk of Identity Theft
Identity theft occurs when an individual's personal information, such as their Social Security number, credit card details, or bank account information, is stolen and used for fraudulent purposes. Cybercriminals can use security issues in our systems to steal this information, leading to financial loss and damage to one's reputation.
Example:
The Equifax data breach in 2017 is one of the most significant identity theft cases in recent history. Hackers gained access to sensitive personal and financial information of nearly 143 million Americans. This breach resulted in financial fraud and identity theft for many victims.
6. Can Cause Addiction & Social Alienation
The easy access to a wide array of online content, including social media apps, can lead to excessive screen time. This can result in individuals becoming socially isolated, neglecting real-world relationships, and prioritizing online interactions over in-person connections. This can have negative impacts on mental health and overall well-being.
Example: The case of a South Korean couple in 2010 drew widespread attention when they were arrested for allowing their 3-month-old daughter to starve to death while they were engrossed in playing an online game. This tragic incident illustrated the extreme consequences of online gaming addiction. The couple's obsession with the game led to severe neglect of their real-life responsibilities, ultimately resulting in a tragic loss.
7. Can Potentially Cause Depression
Excessive use of the Internet and social media has been linked to higher rates of depression among teenagers. The constant comparison with peers, cyber-bullying, and exposure to negative content can contribute to feelings of inadequacy and low self-esteem.
Example: Numerous studies have shown a link between heavy social media use and increased rates of depression among teenagers. The "Facebook depression" phenomenon, where young people experience depression related to comparing themselves to their peers on social media, has become a recognized issue. The 2017 Netflix documentary "The Social Dilemma" explores this problem in depth.
8. Chances of Downtime Due to Critical Network Connections
The Internet relies on network connections that can sometimes easily be disrupted during thunderstorms or other natural disasters. Since we depend on the Internet for important things like work, communication, and business, temporary disruptions can result in unproductivity, and permanent disruption can lead to unemployment and other major issues.
Example:  In June 2021, "Fastly," a content delivery network (CDN) provider, experienced a major network outage. This outage impacted various high-profile websites and services, including Amazon, Reddit, and The New York Times, rendering them temporarily inaccessible to users.
9. Consists of Inappropriate Content
The ease of access to explicit or pornographic content on the Internet is a concern for both children and adults. While adults can make informed choices about their online content consumption, minors may accidentally or intentionally access such material, which can have psychological and emotional consequences.
Example:  In 2017, the "Marines United" scandal exposed the distribution of explicit photos of service members without their consent in a private Facebook group. This incident revealed the harmful use of the Internet to share non-consensual explicit content among military personnel, sparking investigations and discussions about online privacy and ethics.
Infographics

Final Thoughts
The advantages and disadvantages of the Internet highlight that usage depends on the individual; if they use it for good purposes like education, it's a blessing; if they use it for destructive purposes, it's a curse. You must exercise caution and be aware of the Internet's risks. You can now weigh the advantages and disadvantages of the Internet to determine how you want to use it.
Recommended Articles
We hope that this EDUCBA information on "Advantages and Disadvantages of the Internet" was beneficial to you. You can view EDUCBA's recommended articles for more information,