Updated April 29, 2023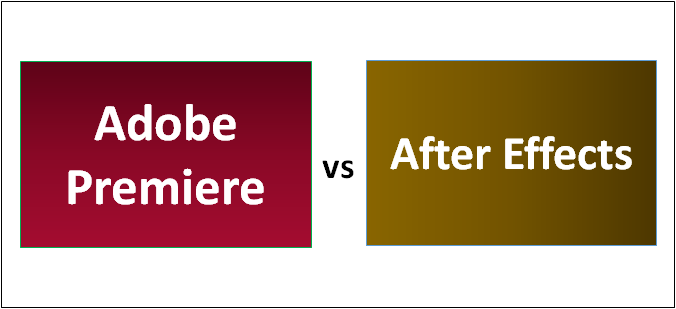 Difference between Adobe Premiere and After Effects
What gives you a buzz when you are out with friends? How do you come to memorize everything about the places you visit? Yes, we are talking about the videos we shoot on such occasions as parties, birthdays, and outings. As such, shooting the Video and taking snaps is the eternal part of a program. Many like shooting "selfie" videos and snaps; suitable applications need to be developed for such kinds of people.
We need to know which software is good for us when video editing. Editing the video is important as we must remove and keep something; we can't keep the original frames without editing. Well, editing enhances the quality of the video by applying some effects and trimming the unwanted scenes, adding or removing extra colors, and giving blur effects which is my favorite.
There are loads of software available in the market. Everyone's giving back a push to each other. The two software we will discuss below are "Adobe premiere" and "after effects". Adobe Premiere vs After Effects software is the products of Adobe and costs nearly similar. They are not similar; both are different and have to be used one after the other.
Head To Head Comparison Between Adobe Premiere and After Effects (Infographics)
Below are the top 10 differences between Premiere vs After Effects

Key differences between Adobe Premiere vs After Effects
Both are popular choices in the market; let us discuss some of the major differences:
Timeline Panel – Adobe Premiere has a big timeline panel with lots of functionality that allow the user to manipulate as he wants. After-effects have fewer options to deal with it as it deals with composite clips instead of multiple.
Editing tools – Premiere is designed to edit videos, so it got first class, easy, and precise editing tools for both audio and video. While After Effects has some editing tools, they are not user-friendly as one has to learn the operating procedure.
Audio mixer – This is one of the major factors because even audio is equally important as video. Premiere has a perfect panel called "Audio Mixer", which gives all possible effects to audio. After Effects don't have the perfect tool for audio editing.
Multicam – This is the mind-blowing tool developed by the premiere, which extracts all possible single images from the video and allows which to keep and which to remove. Again these are part of editing tools, so After Effects lag in such tools.
Masking – This is the tool where After's effects come in a boom when compared with the premiere. This is an option to track in between the scenes, which is good for effects creation and compositing. This is the time for editing tools; as usual, the premiere doesn't have these tools.
Camera Tracker – This versatile After-effect tool allows the user to make multiple copies of the camera movements, further allowing adding new layers that match precisely to the original movements. And this function is not available in the premiere.
Effects – After Effects have a huge collection of these tools. It is built around creating unlimited and enormous varieties of effects. It has motion control effects tools, color control tools, blurring shadows, and transitions; even though Premiere got some readymade tools to put some effects on edited videos, they are in a lesser amount. Since the pro version of Premiere also doesn't have many effective tools to put effects.
Adobe Premiere vs After Effects Comparison Table
Below is the topmost comparison between:
| | | |
| --- | --- | --- |
| The basis of comparison  | Adobe Premiere | After Effects |
| 1. | This is good for editing the videos directly coming from cameras and a handy cam. | This is good for giving effects or titles to the video after editing. |
| 2. | Professionals use it for video editing and filmmaking. | It adds motion graphics and visual effects to the edited video. |
| 3. | The cost is a bit lower than the after-effects as if the price is concerned. | Due to some modified effects and graphics, the price is slightly higher than Adobe Premiere. |
| 4. | In this package, Adobe products and Microsoft Teams are included. | This package includes video collaboration tools, 3d graphics programs, and project management solutions. |
| 5. | It has a tool that creates virtual reality environments. | It has good motion graphics templates. |
| 6. | Languages incorporated are English, China, Germany, Japan, Spain, France, Russia, Italy, and Portugal. | Languages incorporated are English, China, Germany, India, Japan, Spain, France, Russia, Italy, Dutch, Portugal, Polish, Turkish and Swedish. |
| 7. | Editing tools are perfect, allowing a user to use a wide variety of tools and making hands free. | For adding effects, users can create or use a wide variety of effects blatantly to enhance the quality of videos. |
| 8. | Multiple videos can be edited and made a composite with proper editing. | Combining multiple videos is not a job; it only deals with edited composite videos. |
| 9. | This is the first choice of the professionals when the raw video is in your hand. | The second choice would be this because it comes later when needed. |
| 10. | This app is hard to use on Android phones as This UI doesn't seem to be that user-friendly. The user has to put on the effects by searching options here and there. | Android app is very useful and easier to use as the user gets ready-made slides, and he is happy when he clicks on the edited slides and is done with the work. |
Conclusion
As per the discussion, it seems that both Adobe Premiere vs After Effects have plenty of overlap with each other. If someone wants a recommendation for Adobe Premiere vs After Effects, both should be the answer. To get fully edited, video effects are as compulsory as editing tools.
So for editing, Adobe Premiere should be the preference, and for giving effects, "After effects" should be the preference. As per the customer reviews, people usually use both Adobe Premiere and After Effects simultaneously. Using one software is good for learners and not for professionals.
Recommended Articles
This has guided the top difference between Adobe Premiere and After Effects. Here we also discuss the key differences with infographics and comparison tables. You may also have a look at the following articles to learn more –