Updated September 14, 2023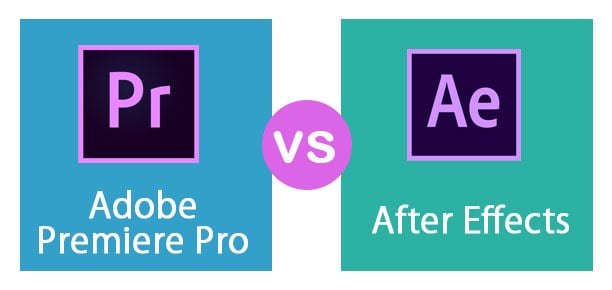 Introduction Adobe Premiere Pro and After Effects
The domain of video-editing programs is getting relatively crowded these days. This field now has offerings such as Adobe Premiere Pro, After Effects, Apple Final Cut Pro, Pinnacle Edition, Avid Xpress DV, and Sonic Vegas. Adobe Premiere Pro at present has more than ten years of experience in the field of computer-based video editing, first released in 2003. Adobe Premiere Pro is chiefly a video-editing software. It can produce advanced digital video productions like digital films, documentaries, and music videos straight from your desktop computer or laptop.
A non-linear editing system that is appropriate for both amateur experts and aficionados. It can be obtained and utilized exclusively or with different programs such as After Effects, Adobe Photoshop, etc. It is associated with the Adobe Creative Cloud software group as well as Adobe Creative Suite or Adobe CS6. It is utilized to edit videos that include films and is swiftly becoming the most preferred software for filmmakers all over the world. The interface is user-friendly, which in comparison is easy to utilize for people of various skill levels, high-power tools, and good learning resources.
Adobe After Effects can be defined as a program application designed for producing special effects and motion graphics utilized in the content, which is available online, videos, and presentations. After Effects is available on both Windows and Mac OS platforms, it is broadly utilized for digital post-production of movies, television, DVDs, video, animation and the production of special effects after Effects forms part of the Adobe Creative Cloud.
It comes with an extensive set of 2D and 3D tools that can be used for animation, effects, and compositing that visual effects artists, motion graphics professionals, video and film experts, and web designers require.
Head To Head Comparison Between Adobe Premiere Pro and After Effects (Infographics)
Below is the top 7 difference between Adobe Premiere Pro vs After Effects:

Key Differences Between Adobe Premiere Pro and After Effects
Both Adobe Premiere Pro vs After Effects are popular choices in the market; let us discuss some of the major Difference:
As Adobe Premiere Pro is a non-linear program, it permits you to create and layer more than one piece of media onto the same track. With After Effects, you can create only one piece of media per track. So it will be difficult to use After Effects for any media-rich or long-form projects.
With Premiere Pro, you get the full range of audio editing tools such as audio editing/mending options, audio mixing, stylish sound effects, volume controls, auto-ducking, etc. After Effects acknowledge any audio that comes with the optical media, but it does not have the potential to do anything with that audio and only helps with the increasing and decreasing of the volume.
While it is completely feasible to keyframe in Premiere Pro, it is much easier with After Effects, and you can attain superior outcomes. The After Effects interface makes it possible to achieve this because of its lucidity, which helps deal with the complicated and sometimes exacting job of keyframing. After Effects also brings with it a staunch graph display which allows you to fine-tune the direction and speed of your elements in a smooth and accurate manner.
Camera tracking is another feature where After Effects has the edge over Premiere Pro. With the assistance of 3D tracking and built-in planar, After Effects allows you to composite objects and titles onto your 2D footage then alter their movement in such a way that they look completely natural to the scene. While Premiere Pro has practically no camera tracking feature, the only thing you can do is to pixelate objects and faces.
When it comes to 3D, After Effects allows you to route 3D elements into your footage, but it also brings with it a 3D renderer that acknowledges inputs on all three dimensions (X, Y, and Z) so you can produce 3D elements from the beginning. Premiere Pro offers the Basic 3D functionalities, but this only permits you to imitate 3D movements, not produce them.
In terms of masking objects, both After Effects and Premiere Pro can do it but practically speaking, After Effects has an advantage here since it comes with all the premier tools you require, such as the Track Mask Effect and Mask Tracker to chop out objects with absolute fine.
The group of particular tools within After Effects for administering motion control effects, unfocus shadows transitions, for color control is huge, and whilst Premiere Pro covers some of its own, clearly After Effects has the upper hand here. Premiere Pro is essentially an editing software; it is designed to allow the swiftest, most systematic and top quality non-linear editing of a project feasible.
Adobe Premiere Pro vs After Effects Comparison Table
Below is the 7 topmost comparison between Adobe Premiere Pro vs After Effects
Basic Comparison Between 
Adobe Premiere Pro
After Effects
Timeline
Detailed timeline panel
User-friendly (Up to a point)
Used For
Video Editing
Video Compositing
User Interface
Built for accurate editing and clip manipulation
The focal point here is the composites and motion video work
Workflow
Substantial editing workflow
Not substantial
Audio Mixer
Professional-grade tool present for audio
Since it is a composite application, it lack of finesse where audio is concerned
Pricing

$29.99 / monthly
$19.99 / monthly(annual plan)

$29.99 / monthly
$19.99 / monthly(annual plan)

Integration
Video collaboration tools, 3D graphics programs
Microsoft teams, other Adobe products
Conclusion
It is not always about comparing Adobe Premiere Pro and After Effects; it is about knowing how to utilize each tool and making use of them in the supreme way feasible. You might utilize both the tools for the same projects. It can be used as a first-stop editing tool. Work with a fresh video and reach a point where you feel that it is right based on your requirements. It is more useful for conventional editing and lengthy or more complicated tasks.
Utilize After Effects to give final touches to the edited video. Addition of lively effects such as transitions and titles to make video cuts function as available online. It is useful for shorter, more absolute video clips and producing more flamboyant effects. Since both the tools are the products of the same company, they function together flawlessly.
Recommended Articles
This has been a guide to the top difference between Adobe Premiere Pro vs After Effects. Here we also discuss the Adobe Premiere Pro vs After Effects key differences with infographics and comparison table. You may also have a look at the following articles to learn more.