Updated May 19, 2023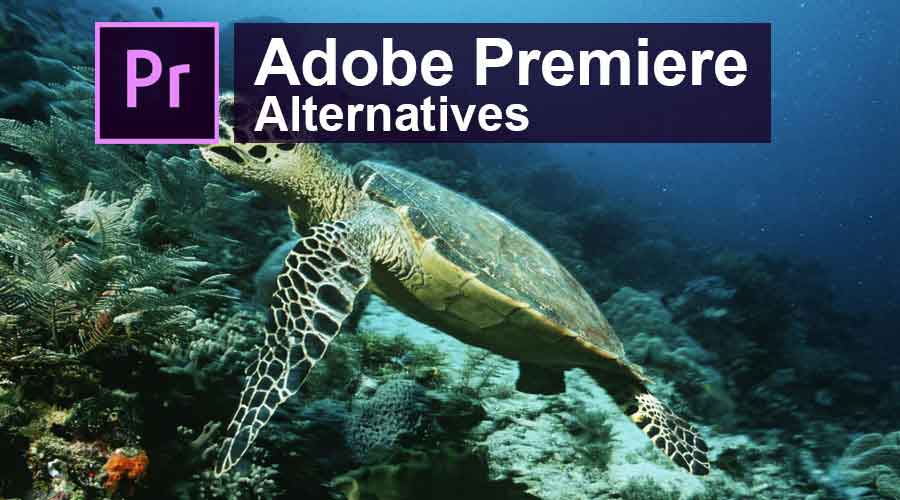 Overview of Adobe Premiere Alternatives
Adobe Premiere is a timeline-based video editing software to create multiple types of footage for commercials, promotions, movies, and more. Video editing attributions such as color workflow improvements, touch, gesture improvement, proxy workflow, and work can be spitted within panels and make edits, adding titles and texts, motion graphics templates, and many more.
This complete pledge video editing application has compatibility with multiple file formats. Motion graphics, animation, and keying for videos can be done. People new to video editing with basic knowledge can start learning with this software and explore their attributions with an easy understanding of terminology and the best user interface for working.
Not only videos even images and posters can be video graphed as required. You can easily create GIFs by selecting suitable images, adding background audio if needed, and setting the usable timeline as the final output. Many graphics, animations, movies, VFX, and other professionals use adobe premiere software for multiple projects and client requirements with updated cloud storage and project delivery options. The application has been in use since 2003 and continued by increasing its clients and services in a wide range of professional requirements and support the Adobe development team takes care of.
Premiere Pro supports the latest features for the latest visual and video files for the aspects of the project. The new features are configuring visually realistic RGB and adjusting the audio sample by level sounds; there are many suitable plug-ins to support. Import and export multiple file formats. Quick time supports in wide templates for videos and audio field samples for combinations and making interesting videos. It supports 2D and 3D visual editing. The material and texture added can be visually realistic, look and feel for videos.
List of Adobe Premiere Alternatives
Below is the list of top alternatives :
1. Open Shot
It is one of the free video editing software available for every individual to have started to end the experience of video editing and awesome video effects and makings. The unique newly enhanced features in the application are Cross-Platform, which helps users to open their work or files on any OS like Windows, Mac, and Linux. The software is also supported in all three OS, respectively. Quick trim and cutting of videos can be done easily. Unlimited tracks, Video effects, Audio waveforms, a Title editor, 3D Animations, and a special user interface with 70+ languages for the best user experience can be made respectively as per requirements. This application can be downloaded and installed from its official website.
2. Windows Movie Maker
This application is the default and installed by Windows OS while setting up or its updates respectively if we are Windows users, and if we don't have this through OS installing, then we can use Windows essential service packs to install this application. Its interface is easy and quick for new users and handy for professionals. We can easily add, cut, edit, import, export, and perform many other tasks per video editing requirements with multiple file formats. Adding text, names, video effects, improving video standards, and file enhancements can be done in times of visual quality. Creating GIFs and mixing video audio can be completed quickly using this application. All we need to do is explore the applications and tools in it.
3. iMovie
This application is handy and user-friendly but only for iOS users because this is the default video editing software given along with the installation of iOS for its devices. It adds magic to the video; all we have to do is to imagine how the video output must look like, and this application has all the attribution to perform and make those edits in less time and save the video output with all the effects and thoughts how we wanted it to be.
Handling and dealing with multiple file formats is easy. Browsing clips and adding thumbnails can be done. Cinematic video editing and expert video can be made. 4K resolution videos can be done. Title editing, different videos overlap, audio files, video cuts keys, special effects, filters,s and many more can be done. It's one of the most used applications on iOS.
4. Shortcut Video Editor
This professional video editing software is freely available from its official website. It also has all the attributions and multi-level video editing skills with video, audio, images, titles, gif, and many more technical video tricks and attribution to understand by achieving the required outputs per concept-oriented video-making and all other requirements. The application supports a wide format in the newsletter's updates and enables sharing work and finished files to a different screen for demonstrating the work video.
Easy understandable, and adjustable panes of the workspace provide a playlist with thumbnails, history view, jobs queue, filter panel, effects, playlist and drag and drop assets file manager, and more. Need enough practice on this application to perform high-quality and effective edits; continuing practicing helps us to be more skilled and get a professional job. We can download it from the official website.
5. VideoPad
One video editing software available for installation and use on Windows and Mac OS is VideoPad. It's free for non-commercial usage. It is handy and user-friendly. A few smart options like drag and drop files, 3D video files, effects, transitions, text effects, titles, caption overlap, video stabilization, color controlling, quick narration, and more can be done. We can change video speed, reverse the video, import music, and easily upload to YouTube and other similar sites with 2K and 4K. We can download the application using the official website.
Conclusion
There is multiple application, as explained above. We must select the best suitable application for our needs, explore editing, and enjoy working. All the applications and best used by more users, so pick the suitable one for your system configuration and project demands and start learning. As a professional, you can upskill yourself with different tools for better job opportunities.
Recommended Articles
This has been a guide to Adobe Premiere Alternatives. Here we have discussed the basic concept and top 5 Adobe Premiere Alternatives. You may also look at the following article to learn more –