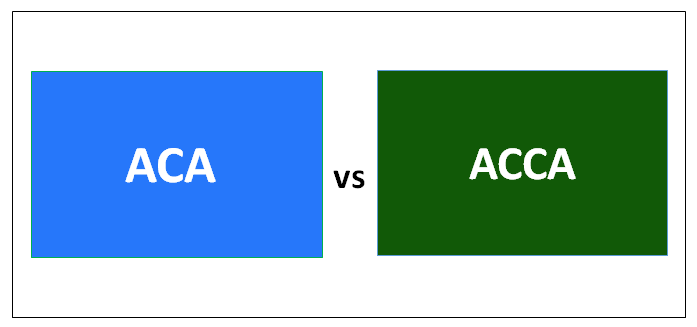 Difference Between ACA vs ACCA
Finance is the backbone of any business; be it a small vendor shop or an MNC. Thus, there is a demand for professionals who could understand the pulse of any business. They required passing through several professional courses and practical training which are extensively used for enhancing business efficiency, cutting expenses and increasing profitability. Thus Chartered Accountants are in huge demand that has the expertise of handling several business situations and allow the company to grow. The degree of Chartered Accountant degree is granted by several countries and has their own uniqueness. We will be discussing the degree of Chartered Accountant which is being provided by the Global and Region based Institutes.
ACA stands for Associate Chartered Accountant whereas ACCA stands for Association of Certified Chartered Accountant. This degree is given by the Institute of Chartered Accountant of England situated in Wales. The course structure is more or less adjacent with the accounting principles followed in the UK. The first one is the Chartered Accountant degree which one can be passed them in three years after completing 15 modules and added 2-3 years of experience. ACA course can be divided into three modules viz. certified level, Professional Level and Advanced level. Certified level constitutes the following principles such as Accounting, Assurance, Business and Finance, law, Management information, Principle of taxation. The Professional level constitutes Business Planning, Business Strategy, Audit and Assurance, Financial Accounting and Reporting, Financial Management and Tax Compliance. The advanced level includes Corporate Reporting, Strategic Business Management, and Case Study.
Association of Certified Chartered Accountant (ACCA) is also a Chartered Accountant degree which is given by the Association of Chartered Accountant with headquarters situated in London. The term charter in ACCA stands for Royal Charter which is referred as Royal Charter granted in 1974. The degree was given with the intention to give protection. They are fellow inspectors or auditors who need to pass through a series of procedures so as to carry out public practice engagements, must comply with additional procedures and must hold the certificates of carrying public inspection, audits etc. The exam also consists of 14 papers and is core values of integrity, accountability, diversity, innovations etc. It is accepted across 180 countries and the degree itself is a global degree. The qualification is based on international Accounting principles and is the key regulatory bodies of international accounting. ACCA has more than one hundred years of reputation of more than 7500 satisfied employers across the Globe. The three stages of ACCA are Applied knowledge (Diploma), Applied Skills (Advance Diploma) and essentials.
Diploma consists of AB Accountant in Business, MA Management Accounting, FA Financial Accounting. Applied Skills consists of LW Corporate and Business Law, PM Performance Management, TX Taxation, FR Financial Reporting, AA Audit and Assurance, FM Financial Management. The last module i.e Essential consists of SBR Strategic Business Reporting and BL Strategic Business Leader. The course is highly recognized across the globe and holds an edge over ACA.
Head To Head Comparison Between ACA vs ACCA (Infographics)
Below is the top 5 difference between ACA and ACCA :

Key Differences between ACA vs ACCA:
Both ACA vs ACCA are popular choices in the market; let us discuss some of the major difference  :
ACA is a degree that is only designed for the United Kingdom only. Whereas ACCA is designed for more or less all the counties across the globe. ACCA is an international degree.
ACA was established in 1974 and ACCA is a more than 100 years old Course. Both ACA vs ACCA are related to Finance and Public taxation and Auditing etc.
ACCA is globally accepted as the course content is very advanced and related to international accounting standards, Whereas ACA deals with the Accounting principles of England only.
The work experience of 2-3 years is compulsory of ACCA whereas the Work experience required of ACA is not compulsory.
ACA vs ACCA Comparison Table
Here are some of the Comparison between ACA vs ACCA –
| | | |
| --- | --- | --- |
| The basis Of Comparison  | ACCA | ACA |
| Related to | ACCA stands for Association of Certified Chartered Accountant and the degree is provided by Association of Chartered Accountant. Passed candidates are entrusted for Auditing, taxation, Management Accounting, Handling accounts etc. | ACA stands for Associated Chartered Accountant which specializes in Financial Accounting and strategic management and the Degree is awarded by Institutes Chartered Accountant of England. The role which can be chosen by ACA are Inspection, Auditor or Management Accounting, |
| Field of Work | Role of Work is related to inspection to accounting service to the public, private entities etc. They need to pass the certifications before the inspection. Other than Auditing; taxation etc an ACCA can mark their presence globally across the Field of finance like Finance Controlling, Accounting, Financial Analysis etc. They deal with International Accounting Standards. | A primary task which ACA can perform is to deal with the finance of any business. They are entrusted with the task of taxation and improve internal efficiencies etc. They are confined within Uk only. They deal with the accounts of the United Kingdom only. |
| Tenure | The tenure of the course Three years plus training of 2-3 years. | The tenure of the three years. |
| Position | Primarily deals with the rules and regulations and implementations of policies within a company and compiles with the Auditing and Taxation part. | ACA deal with the government and private audits and inspection of Non-profit-making organizations etc. |
| Experience required | Minimum three years of work experience with graduation or equivalent degree and complete three stages. | The minimum criteria required are a Graduation degree with Works Experience of 2 years of Financial Management. |
Conclusion
Chartered Accountants are required at every space of Business. As the world of Business is expanding, the need for a Chartered Accountant is also in demand. The rules and regulations of each country are unique and have a huge difference with each other. Thus several bodies have designed Chartered Accountant Course as per their suitability. ACCA covers all the latest modules and is way advance than ACA. It also bears a global recognition compare to ACA which is only meant for England. The language of business is changing and innovating whereas both ACA vs ACCA bears its edge over other Accounting courses as the Modules are very advance and contain every aspect of finance which is necessary for the current business scenario.
Recommended Articles
This has a been a guide to the top difference between ACA vs ACCA. Here we also discuss the ACA vs ACCA key differences with infographics, and comparison table. You may also have a look at the following articles to learn more –