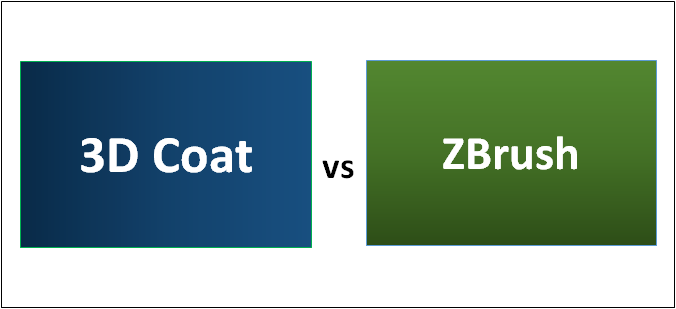 Difference between 3d Coat vs ZBrush
In today's world, adults and teens are die-hard fans cartoons and animated movies. One of the examples are a marvelous studio, they are making amazing 3d graphics. Nowadays, we see that many 3d animated movies and cartoons are coming in which 3d sculptures are used. These 3d sculptures and cartoons are been created professionally by using some software. when the time comes that we need to be specific about the software's which to use and what to use, then we need to go through the differences between 3D Coat vs ZBrush.
There are many software's which are contributing to making these sculptures, but among them, we are going to discuss a couple of them here. Two big software's having fame in the field of animation is "3d Coat" and "Zbrush". Today, We are going to discuss their features, advantages, and disadvantages.
Both 3D Coat vs ZBrush works for the same thing i.e. making sculptures by using different tools which are incorporated in it. So let us see how they are classified.
Head To Head Comparison Between 3d Coat vs ZBrush (Infographics)
Below is the top 10 difference between 3d Coat vs ZBrush

Key differences between 3d Coat vs ZBrush
Both 3d Coat vs ZBrush are website designing tools, but there are a lot of differences between 3d Coat vs ZBrush.
Some of the features of the 3d coat are:-
Texturing and Physical-based rendering:- It has smart materials for editing with setting up options. It also incorporates tools for painting tasks, multiple paint layers, layer groups and blending modes. It has Microvertex, ptex painting approaches where texture size is achieved up to 16k. For the assistance of some pics, we also can take help of photoshop.
Retopology Tools:- It has a tool or option of AUTOPO where we can create user-defined edge loops. Here we can import referenced mesh to do retopologization. In this tool, we have retopo groups with color palettes to get the proper mesh and better management.
UV mapping:- It is a kind of professional tool which is used for creating and editing Uv sets. This tool supports planar unwrapping algorithms and ABF.
Some of the features of the Z brush are:-
3D Brushes:- when the package is installed we get 30 by default 3d brushes for sculpturing and we can download more if we require them. Each brush comes with unique features which provide us to draw different shapes and sizes of specific patterns with an editable brush.
Polypaint:- This is a tool which allows us to fill color in each section of the polygon.
Zspheres:- A user is allowed to create a base model and then convert it to sculptable model. In this, we can start with a sphere and can extract more Z spheres from it.
Dynamesh and Fibermesh:- These are the tools which allow the user to make the uniform polygon and further to grow the polygon fibers. It is also a way to manipulate a large number of polygons.
The major difference between 3d Coat vs ZBrush software's is the UI and the ease of use Z brush is hard to use but it gives more minute detailing features, you can grow your sculpture from any side by growing polygon. Simultaneously in 3d coat, we get less quantity of mesh due to which minute detailing is not possible which in turn fine sculpture aren't made out of it.
One of the experience while working on 86 million poly models in a 3d coat that user was working smoothly without any interruption. Well, it is the main factor that many time z brush collapses while working in such a heavy load i.e. these are the complaints raised by users.
3d Coat vs ZBrush Comparison Table
Below are the 10 Topmost comparisons between 3d Coat vs ZBrush
| | | |
| --- | --- | --- |
| The basis of comparison between 3d Coat vs ZBrush | 3d Coat | Zbrush |
| 1. | This is a software which is developed by "Pilgway" in September 2017. | It was developed by "Pixologic" in March 2018. Basically it was released in 1999, but later on, it was developed and launched in 2018. |
| 2. | This tool creates a polygon in sculpture but the quantity is less than Zbrush. | This tool enables the user to create high-resolution models in which 40+ millions of polygons are created |
| 3. | Here we can create hard surfaced 3d models which are free from organic. | Here we can create 3d/2.5d modeling by texturing and painting. |
| 4. | This software allows editing the imported 3d models from other software by using plugins called Appliks. | It can create heavy models where it doesn't allow to modify outside 3d models. |
| 5. | It is a simple application to learn. Training and spending money on tuitions is not needed to learn this software | It is a complicated software as they provide commercial training as well which means it takes time for learning. |
| 6. | This is more intuitive software than Zbrush in the areas of retopo, uvs, subtools and painting textures. | Zbrush is a kind where everything has to be given in order to get done. |
| 7. | This is a quite more stable software and runs continuously on big designs as well. | Z brush has a problem of crashing if heavy designs are made then usually it gets crashed. |
| 8. | Here we can export complete voxy hierarchy out and can be open in z brush as a tool. | Here the process is a bit different for exporting for which some more steps need to be taken. |
| 9. | 3d coat is specialized in voxal objects and polygonal sculpture. | It uses Pixel technique which stores the information of light, color, material, and depth on the screen. |
| 10. | This is quite cheaper than the z brush if the prices are concerned. | This is a bit expensive than the 3d coat as it is more complex. |
Conclusion – 3d Coat vs ZBrush
Well, it's hard to make a comment on 3d Coat vs ZBrush software, still, we can say that 3d Coat vs ZBrush software's is good in their own way. 3d Coat vs ZBrush is different and has unique features which make them different from each other.
Popular Course in this category
Maya Course
16 Online Courses | 98+ Hours | Verifiable Certificate of Completion | Lifetime Access
4.7 (1,175 ratings)
---
Related Courses
Photoshop Course
Unreal Engine Course
Even if a 3d coat is giving less polygon level still its rendering is the best feature and modifying as well which enhances the sculpture design overall.
In Z brush they work on a very fine level to make a more precise sculpture which give more realistic sculptures and which are used in movies and cartoons.
Recommended Articles
This has a been a guide to the top difference between 3d Coat vs ZBrush. Here we also discuss the 3d Coat vs ZBrush key differences with infographics, and comparison table. You may also have a look at the following articles to learn more –
Design Course - All in One Bundle
280+ Online Courses
2000+ Hours
Verifiable Certificates
Lifetime Access