Updated September 14, 2023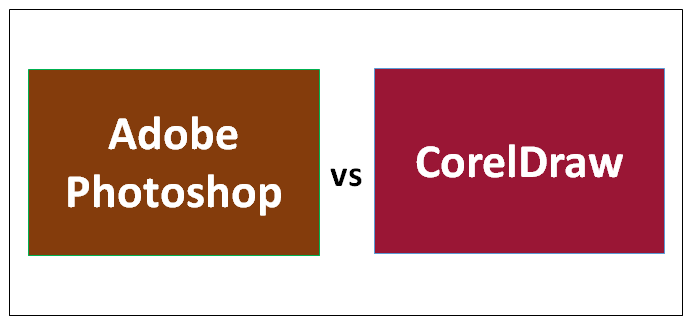 Difference Between Adobe Photoshop vs CorelDraw
In this topic, we will learn about Adobe Photoshop vs CorelDraw. Professionals use Adobe Photoshop software because it is pixel-based and creates raster images. People mainly use this software for editing, cropping, resizing, manipulating, and applying special effects to pictures. Corel Draw is a vector-based software big companies and freelancers use to print big banners and any large entities. People use it for creating business cards, barcodes, pamphlets, banners, logos, and illustrations.
Let us study much more about Adobe Photoshop and CorelDraw in detail:
There is plenty of software for photo editing, making, and modifying in today's world. Among these, professionals and beginners use some. But It is necessary for every designer that he should have basic knowledge of the software and design. We can see that some websites also support photo editing online/live; we have to upload the image and get modified with their existing template free of cost. Now to discuss the two big software with a big boom in the market: Adobe Photoshop vs CorelDraw. Adobe Photoshop vs CorelDraw software has pros and cons; Let's discuss some of them below with their detailed features.
Head To Head Comparison Between Adobe Photoshop and CorelDraw (Infographics)
Below is the top 10 difference between Adobe Photoshop vs CorelDraw:

Key Differences Between Adobe Photoshop Vs CorelDraw
Both are popular choices in the market; let us discuss some of the significant differences:
Some of the features of Adobe Photoshop are:-
Curvature pen tool.
360 Panorama workflow.
Tooltips.
Copy-paste layers.
Paint symmetry.
Stroke Smoothing.
Brush from Kyle T.
The properties panel comes for every layer.
Access Lightroom Photos.
Quick share menu.
Some of the features of the Corel Draw:-
Gaussian Blur Feature.
Healing clone tools.
Live sketch tool.
Custom node shapes.
Multi-monitor.
Corel font Manager.
Font filtering and search.
Powerful stylus.
Gu Interface.
If we check the live clients of these two software's in the market, small business people and freelancers use Photoshop. Simultaneously, Large enterprises, Medium Businesses, and freelancers are using Corel Draw.
Let's take the survey of this software based on client experience to determine which is most favorable among the users and mark the percentage. Adobe Photoshop gets 98 percent, and Corel Draw receives 99 percent.
Photoshop can convert text layers, vectors, and graphics into pixel images. Similarly, Corel Draw can convert any image into a vector image.
One of the major differences between Adobe Photoshop and CorelDraw software is artistic control. Photoshop is used for creating creative effects because Corel Draw does not have those effects. But we can create nice-looking huge graphics if we combine the two software.
Photoshop has the advantage of making 3d art, while in Corel Draw, we get the predefined layout for the business cards and logos. We don't have to waste time creating new ones.
Another difference in the software's learning is that someone says Corel Draw is easy or Photoshop is easy. Adobe Photoshop vs CorelDraw is relatively the same to learn as the parent company provides an equal amount of tutorials and data. But still, far from it, we can say that Photoshop is a bit complex, and Corel Draw is easier.
Adobe Photoshop vs CorelDraw Comparison Table
Let's look at the top comparison:
| | | |
| --- | --- | --- |
| Sr.no. | Adobe Photoshop | Corel Draw |
| 1. | Professionals use images created by this software because it is pixel-based and produces raster images. | This software creates images using a mathematical equation because it is vector-based. |
| 2. | It is developed by Adobe, and it's the extended version of it. | It is developed by Corel Corporation, so it's Corel's graphics suite. |
| 3. | It read a pixel from the image following layers which are used for detailed manipulation of images. | This software converts the images to vector form as it doesn't understand the concept of pixels. |
| 4. | This software is mainly used for editing, cropping, resizing, manipulating, and giving special effects to the images. | It is used for illustration and for creating business cards, barcodes, pamphlets, banners, logos, etc. |
| 5. | This is more expensive than Corel draw by some amount. | The price of this is a bit lower than Photoshop. |
| 6. | Adobe Photoshop is nearly the world's leading software for the design and development of images. | Its graphics suite 2017 is industry-acclaimed design software used for quantity-based work. |
| 7. | This is available in English, Dutch, Turkish, and Swedish languages. | It is available in English, China, Germany, Spain, Japan, France, Italy, Dutch, Portugal, and Polish languages. |
| 8. | In this, only one page can be formed, not like Corel Draw. | This software allows you to make multiple pages in a single file format. |
| 9. | In this, we can't put the barcode in between the image editing. | While editing the image, we can insert the barcode in between. |
| 10. | This software is used to create most of the images for web presentations. | Banner printers mostly use images from this software because converting the image to a vector prevents it from having a blurry look. |
Conclusion
The difference between the two software is the technology on which they are based. As we have seen, Adobe Illustrator is similar to Corel Draw. As both are vector-based programs, their commands for working are similar and the user interface is almost the same.
Both the software is good and differ in price, which may be why the user should consider it. In addition, the features and tools of these software programs should also be considered. While Corel Draw can achieve non-blurry images when zoomed in, it still lacks proper 3D quality.
So a user has to decide what he wants, quality in what sense, a non-blurry side or a 3d print quality type.
In the end, both the software is a good choice depending on the user to choose as per his requirement.
Recommended Article
This has been a guide to the top difference between Adobe Photoshop vs CorelDraw. Here we also discuss the key differences between infographics and comparison tables. You may also have a look at the following articles to learn more –