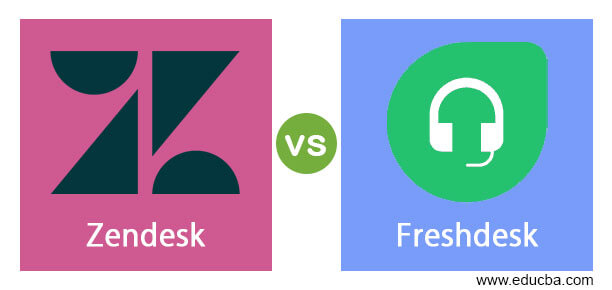 Difference Between Zendesk vs Freshdesk
Zendesk is defined as customer service solution software that supports ticketing system which is mainly used for tracking, prioritizing, and solving the customer interactions, and hence zendesk can be said as a customer support system which is simple, and many of the world's organizations use this zendesk which will improve the customer relationships with this responsive support. Freshdesk is also one of the cloud-based customer support software systems that usually includes a self-service portal for end-users and engaging the customer community; it provides the community platform, which also supports multiple support channels such as live chat, phone, emails, etc. In this topic, we are going to learn about Zendesk vs Freshdesk.
Head to Head Comparison Between Zendesk vs Freshdesk (Infographics)
Below are the top differences between Zendesk and Freshdesk

Key differences between Zendesk and Freshdesk
Below are the key differences between Zendesk and Freshdesk:
1. Introduction and features
Zendesk provides help desk solutions for supporting customers across multiple channels such as emails, chatting, social media messages, and knowledge base creation. Whereas Freshdesk also provides a help desk software solution for supporting customers across channels such as phone calls, email, ticket ordering, or live chat widgets and a self-service knowledge base.
2. Pricing
Zendesk offers 30 days of the free trial plan, and it grows with $19 for small teams, $49 for medium number of customer support, $99 for large teams, $199 for enterprise level. Whereas Freshdesk offers 21 days of a free trial plan, and it grows with $15 for small teams, $35 for medium teams, $49 for large teams, and $99 for enterprise level. So from this, we can make out that Freshdesk provides the best pricing for any customer service support than zendesk.
3. Integration
Zendesk can integrate with Facebook, HubSpot CRM, Joomla, Jira, Mailchimp, etc., where it cannot integrate with Freshdesk. Whereas, Freshdesk can integrate with Facebook, Jira, Google analytics, Mailchimp, etc., and it cannot integrate with Joomla, HubSpot CRM, Freshdesk.
4. When to choose which support software?
Zendesk can be opted when we need customer support software with features like robust enterprise feature list, with more native integrations, when required more complex reporting & analytics, with solid functionalities. Whereas Freshdesk needs to be selected when we need a unified view of customer experience, if we want to be economy while choosing customer service, top-class support is needed.
5. Platform supported
Zendesk and Freshdesk support Web-based, Android app, iPhone app platforms, or OS can be supported for customer service solution support.
Zendesk vs Freshdesk Comparison Table
Let's see some more differences between Zendesk vs Freshdesk through a comparison table for clear understanding:
| | | |
| --- | --- | --- |
| S.NO | Zendesk | Freshdesk |
| 1 | It is an American company which is headquartered in San Francisco, USA. This is a software company that provides customer service solution software which was launched in the year 2007. | It is an Indian company headquartered in Chennai. This is a cloud-based software that supports the customer services that was launched in the year 2010. |
| 2 | Zendesk provides the most basic plan of pricing, which costs only $9 per month. In Zendesk, we can buy separate or individual tools as per the use instead of the whole tool where only 35% off. | Freshdesk provides the most basic plan that costs only $19 per month. If we consider buying the whole Freshdesk, then it is cheap when compared to zendesk tools. |
| 3 | Zendesk provides knowledge base features that start from localization to bot integration with a zendesk guide tool that contains great and rich features. | Freshdesk is considered as knowledge management software which is one of the best help center feature and is multilingual, which also include few search engine optimization features. |
| 4 | Zendesk provides a helpdesk feature that is best among any tool in the market as their ticketing feature is great, which can convert the customer's chats, emails, social media requests into tickets where they can be prioritized to solve them if any issues occur. | Freshdesk also provides a help desk which also works smoothly where; this also can convert customer's every chats, email, or calls into tickets where they can be prioritized and solved if any issues occur. The Freshdesk can connect the help desk channel to customer's Twitter and Facebook pages and can get customer requests from these also. |
| 5 | This helpdesk provides a customer support team to gather all the issues at one place from any disconnected channels and put them together into one single or central place so that they can be prioritized and the action to solve will be listed accordingly. | Freshdesk help desk provides this gathering of tickets automatically, which can also set priority to the tickets, following up on tickets, and many other tasks to run the support service. |
| 6 | Zendesk provides chat widgets which is a bit outdated design and limited options for customization along with; it also provides some features like live chat analytics, automated triggers, shortcuts, etc. | Freshdesk also provides a chat widget that looks better than zendesk, but if we want a live chat, then we need to buy the freshchat tool, which is separate from the Freshdesk tool. This also provides features like triggered and in-app messages inside the chat widget, tracking of the events such as last visited pages, etc. |
| 7 | It offers integration with companies like eBay and Amazon marketplaces; besides;, it offers tools such as autoresponders for both and multilingual support to Amazon. There are many other channels also where they provide integrations also. | It also offers integration with eBay and Amazon marketplaces where also provides a dispatch tool for setting up some advanced triggers, which are based on the order and data of these companies. Freshdesk provides some other channels also offering integration. |
| 8 | Zendesk provides reporting capabilities such as displaying the metrics on a dashboard, detailed report display, metric comparison of each industry, tracking of help centers using these metrics. | Freshdesk provides reporting functionalities such as agent's performance report, reports that display ticket tracking, SLA metrics, timing spent on each ticket, customer satisfaction surveys. |
| 9 | It provides SSL certificates and digital signatures for security purposes. | This also provides the SSL certificates and digital signatures for security. |
| 10 | Zendesk does not support ITIL. | Freshdesk supports ITIL (Information Technology Infrastructure Library). |
Conclusion
In this article, we can conclude that zendesk and Freshdesk both are nearly the same customer service support software along with the most common features also. Though Zendesk is more popular, the pricing is a bit high, and also there it does not provide ITIL, so if we do not need these features, then we can go for Freshdesk. So if we go according to considering these two features, then Freshdesk is better than zendesk.
Recommended Articles
This is a guide to Zendesk vs Freshdesk. Here we discuss the Zendesk vs Freshdesk key differences with infographics and comparison table. You may also have a look at the following articles to learn more –