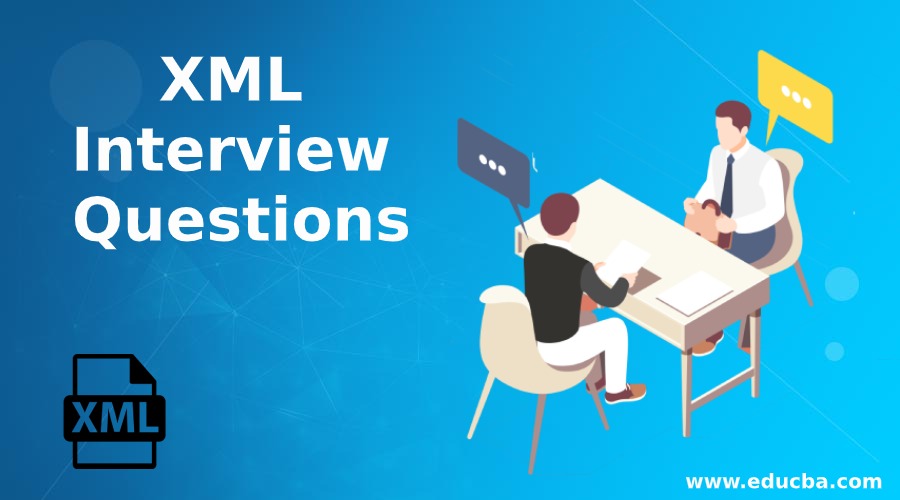 Introduction to XML Interview Questions and Answers
XML stands for Extensible Markup Language. It is a text-based markup language derived from Standard Generalized Markup Language (SGML). The basic building block of an XML document is an element, defined by tags. An element has a beginning and an ending tag. XML data is known as self-describing or self-defining, meaning that the structure of the data is embedded with the data, thus when the data arrives there is no need to rebuild the structure to store the data, it is dynamically understood within the XML.
The XML format can be used by any individual or group of individuals or companies that want to share information in a consistent way.
XML is actually a simpler and easier-to-use subset of the Standard Generalized Markup Language (SGML), which is the standard to create a document structure. I am sure you want to know the most common XML Interview Questions and Answers that will help you crack the interview with ease.
Below are the most common feature of2020 XML Interview Questions, that can give you a great foundation into the language.
Part 1 – XML Interview Questions (Basic)
Below are the basic XML Interview Questions and answers:
1. What is XML?
Answer:
XML is called Extensible Markup Language which is designed to carry or transport and store data.
XML tags identify the data and are used to store and organize the data, rather than specifying how to display it like HTML tags, which are used to display the data.
XML is mostly used to transfer data from one system to another e.g. between client and server in enterprise applications. XML technology facilitates you to create your own markup language.
2. What is a markup language?
Answer:
Markup languages are designed for presentation of the text in different formats, and
it can also be used for transporting and storing data.
This markup language specifies the code for formatting, layout, and style of data. This markup code is called Tag.
XML is a simple and flexible markup language in the text format.
3.How XML is different from HTML?
Answer:
Below is the point that explains the difference between XML and HTML:
XML is a software and hardware independent tool used to transport and store data while HTML is used to display data and focuses on how data looks
XML is for data representation while HTML is for displaying purpose
XML supports user-defined tags while HTML provides pre-defined tags
XML is a case-sensitive language while HTML language is not case-sensitive
In XML, you make up your own tags while HTML uses a fixed, unchangeable set of tags
In XML, all tags must be closed while in HTML, it is not necessary to close each tag
XML provides a framework to define markup languages while HTML is a markup language itself
XML is content-driven while HTML is format driven
4. What are the features of XML?
Answer:
The features of XML are:
Very easy to learn and implement
Does not require an editor because XML files are a text file
Both human-readable and machine-readable
Minimal and a limited number of syntax rules in XML
It is extensible, and it specifies that structural rules of tags
Has a free open standard
5. What are the benefits of XML?
Answer: These are the main benefits of using XML are:
Simplicity: Very easy to read and understand the information coded in XML.
Openness: It is a W3C standard, endorsed by software industry market leaders.
Extensibility: It is extensible because it has no fixed set of tags. You can define them as you need.
Self-descriptive: XML documents do not need special schema set-up like traditional databases to store data. XML documents can be stored without such definitions because they contain metadata in the form of tags and attributes.
Scalable: XML is not in binary format so you can create and edit files with anything and it is also easy to debug.
Fast access: XML documents are arranged in a hierarchical form so it is comparatively faster.
6. What are the basic rules while writing XML?
Answer: The basic rules while writing XML:
XML should have a root element
XML tags should be closed
XML tags are case sensitive
XML tags should be nested properly
Tag names cannot contain spaces
Attribute value should appear within quotes
White space is preserved in XML
7. What is an XML Schema?
Answer:
An XML schema gives the definition of an XML document and it has following:
Elements and attributes
Elements that are child elements
Order of child elements
Data types of elements and attributes
Part 2 – XML Interview Questions (Advanced)
Below are the advanced XML Interview Questions and answers:
8. Where is XML used?
Answer:
It is used to exchange information between two applications. Information can also be exchanged between two different applications that are running on a different server or the same server. It is used in Web Application, Mobile Application (IOS, Android, iPhone, window Phone) for providing the API. It is also used AS installer in a web application; you can set the application configuration in an XML file.
9. In What case you are not going to use XML?
Answer:
XML is verbose and it can be 5-8 times larger in size compared to a CSV or a tab-delimited file. If your network has less bandwidth and your content is too large and your network throughput is vital to the application then you can consider tab or csv delimited format instead of XML.
10. What is XML parser?
Answer:
XML parser is a piece of software that will check for well-formedness and validate the document. It also allows us to read, create and modify an existing XML document.
11. What is an XML namespace?
Answer:
An XML namespace is a collection of element types and attributes names.
12. What is XQuery?
Answer:
XQuery is a query language that is used to retrieve data from XML documents. You can add, update, delete and list the XML with the use of XQuery.
13. What I XMLA?
Answer:
It is a protocol of Microsoft for XML-messaging used for exchanging data between clients and servers.
14. What is XSL?
Answer:
XSL is a language used for expressing style sheets. An XSL style sheet is a file that describes the way to display an XML document.
15. What is XSLT?
Answer:
XSLT is Extensible Style-sheet Language Transformations that is a part of XML, which is a mechanism to transform an XML document into another XML or HTML document.
Recommended Article
This has been a guide to List Of XML Interview Questions and Answers so that the candidate can crackdown these XML Interview Questions easily. You may also look at the following articles to learn more-