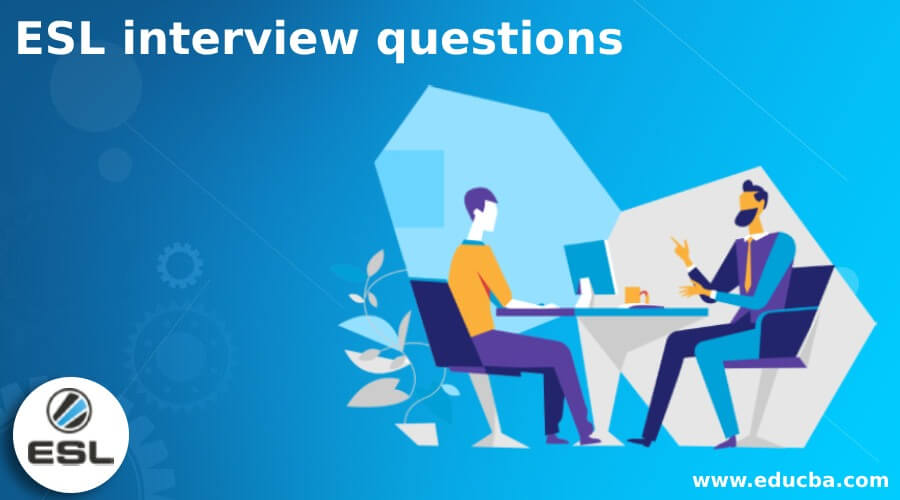 Introduction to ESL interview questions
ESL interview is something that most people, especially grads, can opt for their career enhancement or can even be opted as an alternative option. Most often, ESL (English as a secondary language) is ignored as a career option that actually can help in shaping the career in a positive growth direction. This job helps in many ways by giving a lot of options and exciting offers for people to settle abroad and get a good earning in terms of money. Once the person is ready and lands in this job of English, teaching abroad can do wonders.
ESL interview questions with answers
Once it is decided to opt for ESL as career advancement or career initiation, then landing on a relevant job needs an interview with some set of ESL-related interview questions with answers.
To prepare this interview and crack it, there is no hard and fast rule to study day and night just needs preparation in an incremental way where the person needs to understand the concept and practice it on daily basis.
All the grads have a good opportunity to adopt ESL as their career option because it gives many luxurious options where they can earn, travel, and settle in abroad as per the requirement of the job.
It helps in making you earn a lot in parallel to your job if you have proper skills to manage and get into this field or domain.
It needs the zeal and a lot of endeavors to crack the interview with the relevant set of questions and answers.
Some tips for driving the interview:
The first key step is to find the proper teaching English abroad program, and getting a TEFL certificate is a valuable addition to your current qualification as it opens the door for any abroad-related courses of choice.
Hopefully, an interview scheduled with proper date and relevant information will be provided once the candidate is shortlisted for interview. Therefore I hope for the best.
Anxiousness should be avoided, and wait for the next step that will be part of this interview because once anxiety comes in, then the person might feel tense, and that can create some blocker for a good and successful interview.
A calm and composed interview with proper communication with a smiling face and confidence can help in achieving what is expected.
ESL is considered to be a good job if the candidate is having good communication and verbal skills. If both the elements mentioned are missing, then it is not considered a suitable job.
Appropriate hand gestures, eye contact, body language, and etiquettes play a vital role once the conversation with the interviewer gets started.
If in case the interview is in online mode, then make sure you are dressed in your best attire, with a proper internet connection and less background noise that can distract you.
Part 1 – ESL Interview Questions and Answers (Basic)
This first part covers basic Interview Questions and Answers.
Once the aura and proper environment are set between the candidate and the interviewer, then probability arises to ask the following set of questions:
Q1. Have you traveled abroad before? If yes, then how was the experience?
Answer:
So this question is asked to know about the candidate whether he or she has prior experience in dealing with the culture, and people of abroad. Sometimes people learn a lot about the country that might create an interest in people to learn English as it is the most common medium of communication for anyone. Also, if the candidate has completed the education from any of the abroad universities or colleges or has volunteered for any of the foreign colleges, then the candidate getting selected for a particular course gets increases for many of the factors as mentioned.
Q2. How can you manage a class where people from different countries speaking different languages or say not having English as their first language?
Answer:
To answer this question, the first suggestion would be to keep a calm and composed mind as this question is fabricated to judge the candidate's patience level and kind of load testing as per scenario that might occur and create commotion between student and teacher. So the teacher must make the students understand that they can easily learn English just like a cakewalk with some motivation and then provide proper suggestions by not asking the students to hastily get everything; rather, they should be told to learn at their own pace everything.
Q3. Do you have any prior teaching experience?
Answer:
If the candidate has prior teaching experience, then well and good if not, they can showcase and talk about their TEFL/TESOL certification that they have earned or else about any teaching experience from previous positions or any other job they were in.
Q4. What Qualifications you have, and how your education can influence the ESL teaching experience?
Answer:
This question is constructed to know about the candidate's experience about the knowledge gained for English learning, in-depth grammar learning, and the background of learning all the things that helped the candidate learn and empathize with the students.
Q5. How the ESL teachers ensure that they have understood what is being to be delivered as an end goal to the students?
Answer:
The best and good thing that teachers expect from the students is proficiency in the subject with proper command and deliverance across all the topics logically and efficiently.
Q6. Do you have technical knowledge with some tools that can help in making teaching more fun and robust with the English language being inculcated within it?
Answer:
Overall the main aim of the question is to know whether the candidate is technically proficient and makes use of visuals like presentations or articles for reference and teaching paradigm.
Conclusion
ESL interview questions with proper preparation can help candidates land the job, which can mold their career in a proper positive manner. Communication and intellectuality are the two keys to gel into this profession to come out of flying colors. Anyone with good knowledge of the English language, communication, and have a passion for teaching can do wonder.
Recommended Articles
This has been a guide to the list of ESL Interview Questions and Answers so that the candidate can crack down on these Interview Questions easily. Here in this post, we have studied top ESL Interview Questions and Answers for Interviews, which are often asked in interviews. You may also look at the following articles to learn more –