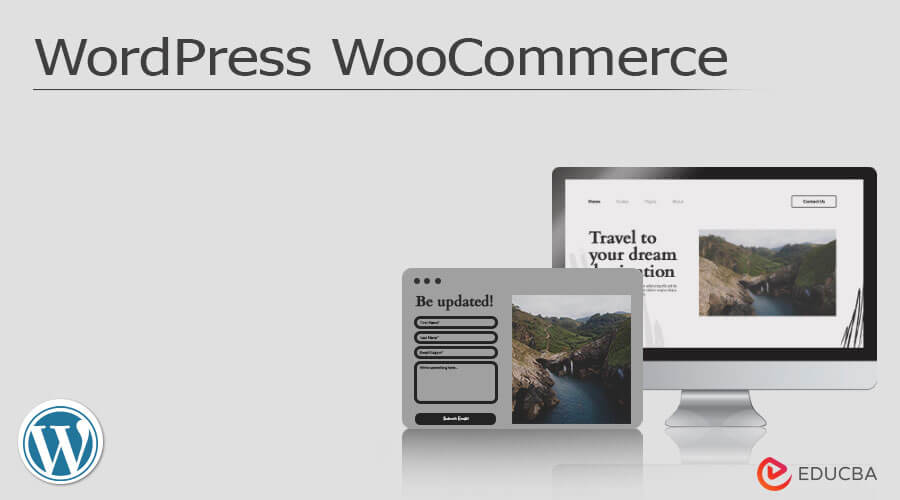 What is WordPress WooCommerce?
Generally, WooCommerce can be defined as an eCommerce plugin that is introduced for WordPress. On the other hand, WordPress is a popular CMS (content management system) for hosting and creating websites. WordPress WooCommerce is recognized as the world's preeminent established open-source eCommerce resolution. This basic platform is super-flexible, unrestricted, easy to handle for beginners, cost-effective, and intensified by a global community which means the user preserves complete proprietorship of the store data and content always.
WordPress WooCommerce provides a platform operating for both big and small types of businesses online. WooCommerce offers several tool options like many shipping and payment techniques, variable products, and so on.
Why do you need WooCommerce?
In WordPress, you can consider many plugins for eCommerce store online and free to implement but among all these, WooCommerce plugins is known to be at the top. Following are some reasons why we need WooCommerce:
It is designed for WordPress, has seamless integration features, and also can establish connections with several other WordPress clients.
WooCommerce shows scalable nature so that it can drive the wave with your needs like large, small, many, or few.
WooCommerce confirms security, preserving the users' data from dropping into the hands of some third-party platform. It helps to protect the transactions between the owner and the consumers.
Being audited by Sucuri, it certifies that the plugin twigs to the standards of coding plus superlative practices of WordPress.
It consists of a large and ever-growing type of global community of more than 350 numbers of contributors and also 5 million installations today.
WooCommerce has well-documented support and comprehensive guides covering a wide range of WooCommerce and stores hosting topics like installations, SSL, snippets, theming, security, etc.
One of the best significant advantages of WooCommerce is using a huge number of free as well as a paid array of extensions which permits to customize the WordPress WooCommerce store online having a broad range of integrations plus features.
Key Takeaways
WooCommerce is recognized to be one of the best e-commerce solutions designed for WordPress via few margins.
This plugin boasts around 4 million of active installs, on wordpress.org it is rated 4.6 stars by the users and an army of happy and loyal digital online store owners.
It includes several beneficial features such as customer engagement, order tracking, inventory management, delivery status, shipping integration, secure payments tax management, etc.
How to Set up WordPress WooCommerce?
Let us discuss the steps with instructions about how to set up and start our WordPress WooCommerce briefed as follows:
1. Beginning with WooCommerce domain
You can go ahead with the world's biggest hosting provider 'Bluehost', which offers discounts on web hosting. So visit the website Bluehost and choose your hosting plan by clicking on the button Get Started Now.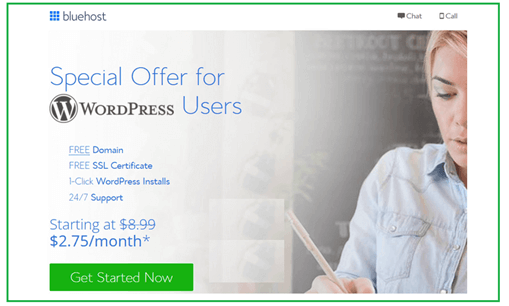 You can see the most popular plans Basic and Plus: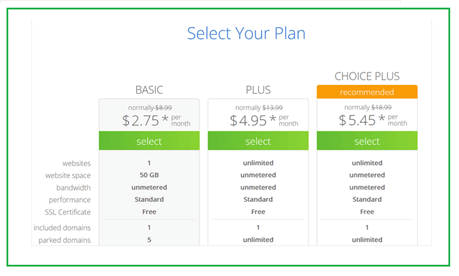 After that, you need to register a fresh domain or may use an already prevailing domain name to proceed further.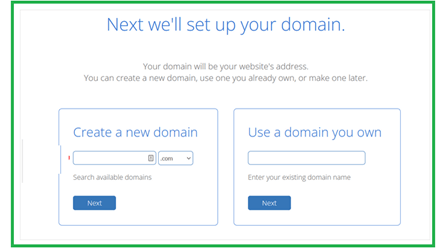 Then next will be the package information section with extras options.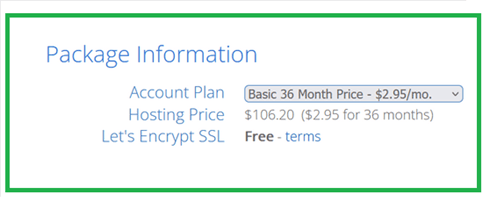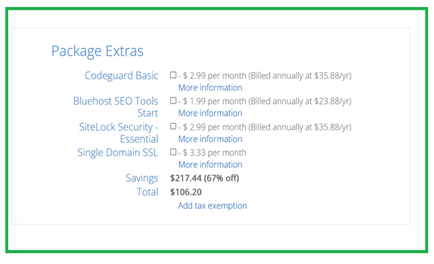 Next is the payment process and then once submitted you will get an email with login details and can manage the website through the dashboard provided.
2. WordPress Setup
When you sign in to your hosting account then, you can see Bluehost provides WordPress installation automatically via the button 'Log into WordPress.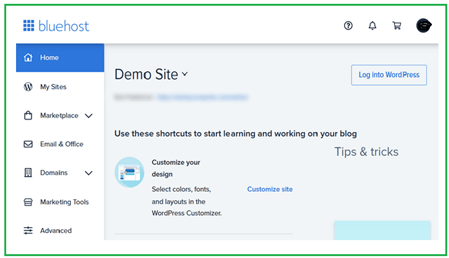 Now, without a password requirement, you will be logged in to the wp-admin panel.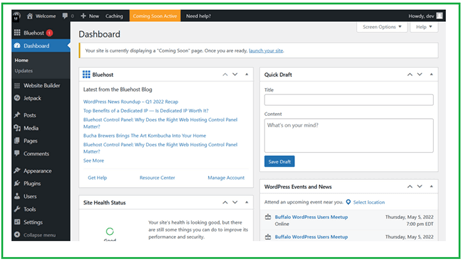 Set up the basic WordPress settings by going to the Settings page.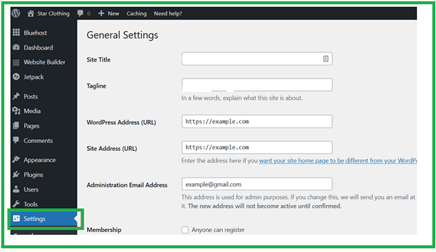 3. Installing WooCommerce
In the wp dashboard, visit the Plugins page and look for the WooCommerce plugin and install it. Then, activate the plugin which will start the WooCommerce setup wizard where you can choose and continue the process and finish the store setup.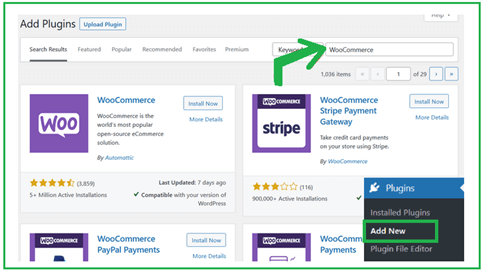 Then, activate the plugin which will start the WooCommerce setup wizard.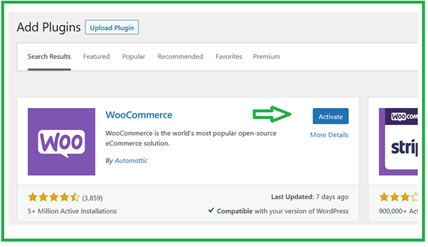 Now, you can choose and continue the process and finish the store setup wizard.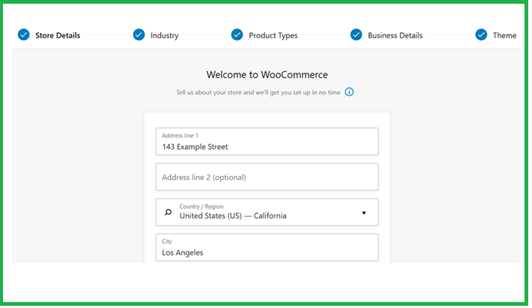 4. WooCommerce Store Setup
In the WooCommerce dashboard, you will view a list of steps for customizing the store.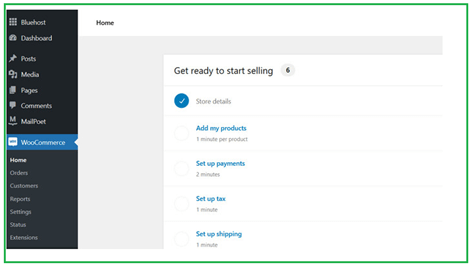 This includes:
Adding the products: By template, importing CSV or from other sources, manually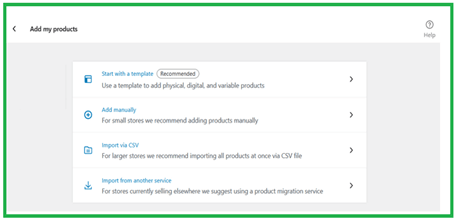 You need to select a template for a digital or physical or variable type product as,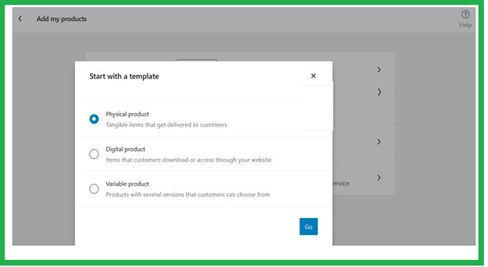 After clicking GO, you will go to the editor of Products and then add a new product page there: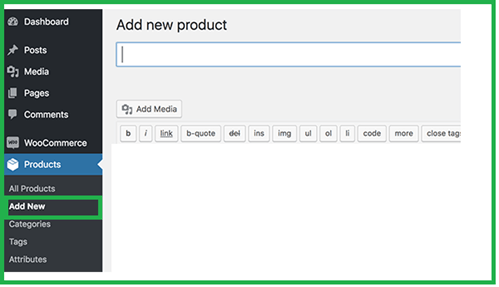 Choosing categories, titles, descriptions, images, etc., and then publishing it with the Publish button.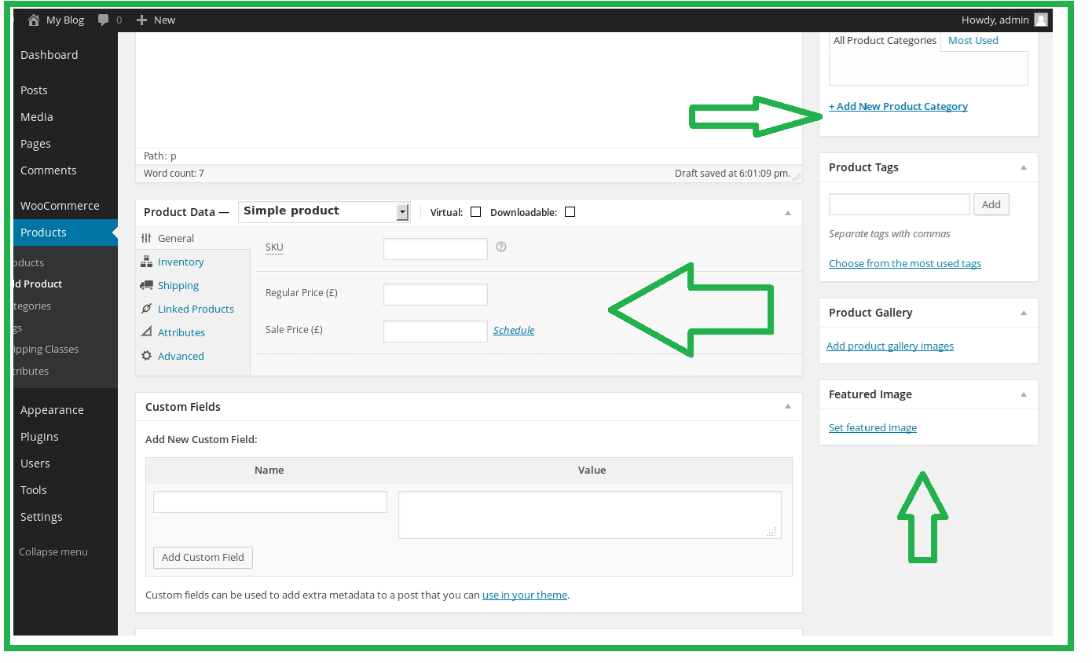 Payment setup; Via WooCommerce options, go to any payment process to connect it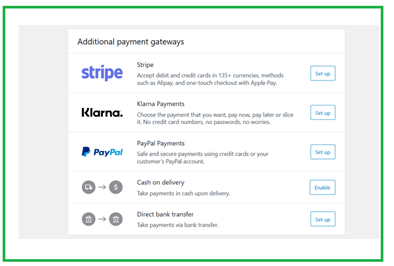 Tax option setup; Through the WooCommerce page go to setup tax option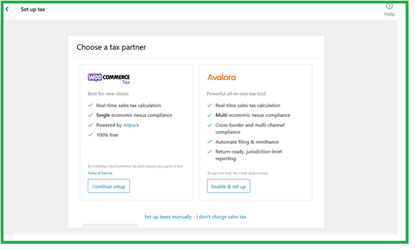 & finally, do the  Shipping setup; via WooCommerce setup guide by clicking on the Setup shipping option.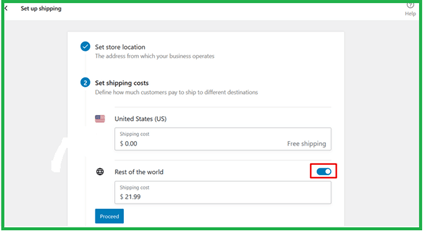 5. WooCommerce template/theme selection
You can choose your professional template or theme design from thousands of options available on the market for the WooCommerce store online. You can find free and paid designs both with mobile friendliness and SEO support such as Astra, Shoppe, etc.
6. WooCommerce plugins plus extensions installation
The powerful add-ons, extensions, and plugins promote the real power of our WooCommerce store. These are just like any WordPress plugin and can be easily installed and used for contact forms, SEO, optimization, security, gift cards, landing page, email marketing, etc.
7. Resources for growth of the online WooCommerce store
Now your WooCommerce store is running up properly, but it's better to get started for your business promotion and growth by following some options like an Email list, More Leads, WooCommerce users tracking, SEO, Improve unrestricted cart sales, and so on.
WordPress WooCommerce Template
Nowadays, you can check thousands of stores online which are competing with WooCommerce for selling their related products. For creating a great difference one needs to select an attractive professional store design so that the consumers can view your brand.
In the market, WooCommerce contains many templates and themes made available for users. However, one can implement WooCommerce with some WordPress theme also, but it is recommended to have a WooCommerce-ready theme. Being made particularly for WooCommerce website stores these themes help to generate more sales.
For beginners, it may be quite problematic to select a perfect design as there are various choices because of thousands of paid as well as free templates and themes available specifically in the market. For this, we have made it easier by handpicking some of the finest WooCommerce ready-made templates and themes, which are mobile-friendly and optimized as per SEO performance:
FAQs
Given below are the FAQs mentioned:
Q1. Where to look for the WooCommerce user guides and documentation?
Answer: For setting up and configuration help and support WooCommerce, you can refer to the document: Getting Started and also the New Woocommerce Store Owner Guide. Further for help in theming or extending WooCommerce, visit our codex along with the Plugin Developer Handbook.
Q2. Will WordPress WooCommerce function with my theme?
Answer: Yes of course! WooCommerce will function with any theme. But it may need some extra styling. We can recommend you the theme Storefront, if one is searching for a theme that deeply features WooCommerce integration.
Q3. Where can the bugs be reported?
Answer: The user can notify bugs to the WooCommerce team directly through our support forum but make confirmation that the forum related to the same error issue is not reported earlier. For reporting bugs visit the Woocommerce GitHub Repository.
Conclusion
Certainly, WooCommerce is a great means for spinning WordPress into a fully-featured type eCommerce online store. Also, the best part of it is the user does need not have knowledge in-depth of programming for marketing the products online. Even, this WordPress plugin is translated into various languages comprising Persian, Danish, and Ukrainian. Further, you can also localize the WooCommerce by adding the specific locale or visit to the website wordpress.org.
Recommended Articles
This is a guide to WordPress WooCommerce. Here we discuss the introduction, needs, and how to set up WordPress WooCommerce. You may also have a look at the following articles to learn more –