Updated February 20, 2023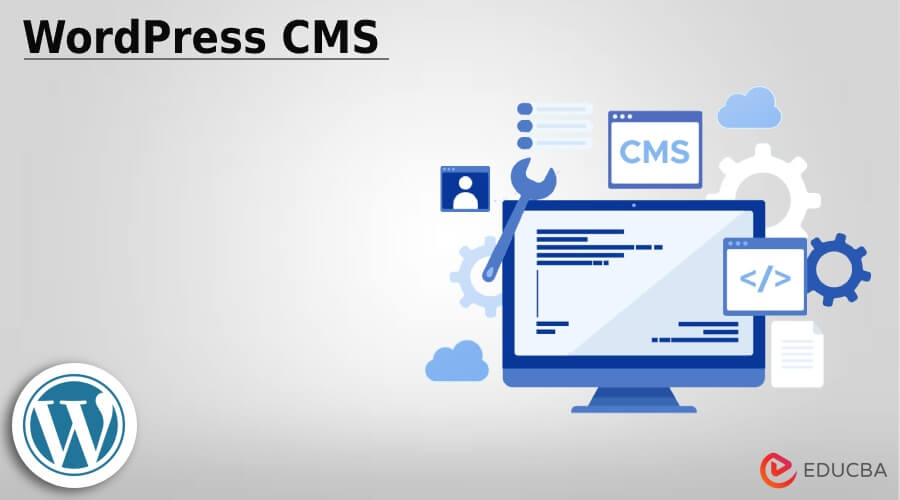 Introduction to WordPress CMS
WordPress CMS (Content Management System) is the application of the software that handles the fundamental infrastructure of developing Websites. By using CMS (Content Management System) users can spotlight the Website creations' in the areas of the Front-End like customizing the design of the Website and maintaining the contents. WordPress CMS is the foremost Open-Source platform, it is known for highly customizable and large community plugin builders.
Key Takeaways
CMS enables easy publishing it does not require technical skills it contains simple dashboards.
Convenient content scheduling allows the admin to publish content with click buttons and also to set schedule posts to be published.
Work with desired business size.
Simple to manage and affordable.
Ability to customize.
What is WordPress CMS?
The WordPress CMS is the Open-Source Content Management System, which initially connected essentially with private blogs and it is used for an extensive range of Websites which includes e-Commerce platforms, professional publications, and so on. WordPress.org is the best CMS (Content Management System) platform and it is the world's most popular CMS Software above all it comes to around 43% of the entire websites on the internet.
WordPress is frequently a target for hackers; as a result, users should always ensure that their WordPress software is updated. There are several types of content management systems.
Let's see three majorities and a well-liked one as follows:

1. Open-Source CMS
It is the community of developers which manages the software in the place of a single company owning it. The third-party developers right to use the source code and they can build up and progress the functionalities of the software.
2. Cloud CMS
The Pre-build system is available exclusive of downloading software or hardware. Users can maintain the content of the web securely above the cloud and it is simply easy to get from various devices.
3. Proprietary CMS
This CMS comes with the payment type it is a license fee we have to purchase the license as the legal property of the organization, company, or individual which formed it. The payment type of this CMS is a one-time primary payment or a monthly fee payment or a yearly charge.
Best WordPress CMS
WordPress CMS is the foremost Open-Source platform, it is known for highly customizable and large community plugin builders. Let's see the various CMS (Content Management System) options and their characteristics as follows:
1. WordPress
WordPress is the most widely used CMS platform because of its flexibility and scalability.2% of all websites will utilize it; it is an open-source content management system. Most of the websites use wordpress. It contains a gallery of around 58,000 WordPress Plugins and it helps to create any type of website.
Let's see the key features as follows:
Themes: It contains an extensive gallery of various WordPress themes and also it has great plugins.
Flexible Cost: The cost of this product is flexible for individual requirements and budgets.
User Management: User management assigns roles and access to various user types like authors, administrators, subscribers, editors, and contributors.
Media Management: This media management includes captions and alt text which is used for inserting images to improve SEO.
Built-in Comments: This built-in comment enables visitors to comment on pages and posts.
2. Joomla
2% of all websites will utilize it as it is an open-source content management system. When compared with other CMS platforms it is the central part of the software that offers much functionality. Joomla is best in the Websites of Professionals which are managed by various people.
Let's see the key features as follows:
Sub-Pages: It manages the site with numerous efficient sub-pages.
Factors: It uses the two-factor confirmation to keep away from break-ins.
Banner Management Tool: It helps to create ads to monetize the website.
Multilingual Setting: It supports more than 70 languages for Websites using platforms with the core software.
Search: It facilitates visitors to search out the information on the website by using the smart search feature and built-in tools.
3. Drupal
This Drupal website is designed for professional Web Developers, and it is flexible for API architecture which supports a variety of digital platforms. When compared with WordPress and Joomla, Drupal optimizes its built-in features for better performance and security.
Key Features:
Security: It has less vulnerable to secure threats than the CMS software which conducts security tests regularly.
Functions: It has a built-in module that helps out to expand the functionality of the website.
Multilingual: It is an automated language translation that supports over 100 languages.
Personalization: It creates a personalized customer experience by using data from the browser history, geolocation, device type, and so on.
Marketing Automation: It creates automated marketing to increase accomplishment.
Working of WordPress CMS
Let's see how the WordPress CMS Works, the best CMS (Content Management System) provides the essential tools and functions for the determined audience. There are several best CMS (Content Management System) platforms that satisfy the requirement of several customers. Look at the platform for the requirement
Cost: When using it confirm whether it is suitable for your budget.
Scalability: To glance at the plugins and extensions to check how the website grows when using the platform.
Simple to Use: Initially select the CMS that suits your skill.
Examples of WordPress CMS
Let's see the examples of Content Management System (CMS), there are several things they are:
BBC America
OptinMonster
WPForms
The Next Web
The Walt Disney Company
Van Heusen
Squarespace
Fauna and Flora International
Magento
Wix
FAQ
Given below are the FAQs mentioned:
Q1. What is CMS Open-Source?
Answer:
Open- Source CMS is managed by a community of builders than one developed and possessed by a distinct company. The coding is avail to everybody and anyone can alter it and build in their own functionality.
Q2. Can anyone create a Website without CMS?
Answer:
It is not compulsory to have CMS to create a dynamic Website. It is not used by many websites.
Q3. Can anybody create their own CMS?
Answer:
Yes, there are numerous pre-built CMS to choose. Initially try to build your own CMS which takes time and later it is easy to use and faster to use pre-built CMS.
Q4. Do developers of Web use CMS?
Answer:
Few developers like to select this because of pre-built Website which eliminates the coding. There are still many benefits of using CMS.
Conclusion
In this article, we saw about WordPress CMS that contains the best WordPress CMS. In this we need to check regularly the target hackers, to decrease the threat users make sure their WordPress Software keeps up to date all the time.
Recommended Articles
This is a guide to WordPress CMS. Here we discuss the introduction, best wordpress CMS, working, examples, and FAQ respectively. You may also have a look at the following articles to learn more –