Updated April 4, 2023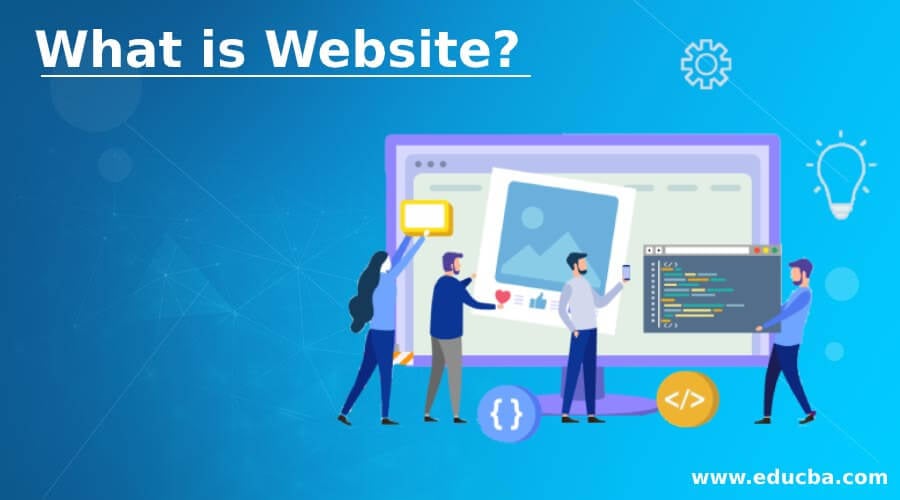 Introduction to Website
The website or site is the central location of web pages connected to and accessed by accessing the website's home page using a browser. A series of interconnected websites share a single domain name and are open to the public. A person, a group, a corporation or an organisation may build and maintain websites for a variety of purposes.
Will you need a Website of your Own?
A digital web presence allows the internet to view content, including text, pictures and videos.
There are a variety of reasons why businesses need agent websites: knowledge about goods and services for potential clients, promoting the company, interaction with various departments or the delivery of products online. It provides private users with the ability to engage directly in public affairs.
There are also personal websites with information or entertainment materials.
You may add the opportunity to attract the attention of prospective employers, interested parties or like-minded persons through a connection to your own website next to your social network profile.
Creating a Website
Most businesses have on their business cards or in e-mail signatures a link to their website.
Its start page appears when this address is entered in the search field of the browser.
Site visitors can access its subpages depending on the size of the site.
To connect a website's single HTML documents, hyperlinks or simply ' links ' are used. In navigation, typically, connections to essential subpages are combined and can be found in headers.
This is seen on all subpages of the website and not just on the home page.
The user can be guided by the navigation and show the layout of the web.
Further subpages can be linked to the content of it in the text and image components.
Links to more details, such as the site owner and the legal structure, also appear in the footer on the bottom of a page.
Types
There are 2 main types of websites which are as follows:
1. Static Website
It is stored on a server in the form of HTML, CSS, and JS files. When the browser sends the server an HTTP request, these files are returned to the server as it is. There is no processing to produce the material. It's like picking up a file from your filesystem over the internet and through your browser.
2. Dynamic Website
It carries out some processing at its end to configure the HTML according to the received request and sends this configured output to the browser of the user.
Millions of websites are currently accessible on the Web that can be grouped into one of the following website groups.
See that a website will fall into more than one of these categories. The website, webmail, blogs or search engines may also be a site, for instance.
Blog: You have already noticed blogs in your browsing experience; even those that are not familiar are frequently updated online journals or knowledge sites. Usually, the blog can cover any topic, whether it's travel tips, financial advice, or doughnut reviews, run by a person or small group. While they are mostly written informally or in a conversational way, professional blogging has become a very common way of making money online.
Corporate: There is no website for 50% of small businesses. This is remarkably small considering that the value of an online presence drives a company's reputation. Fortunately, that is to say; you can build it that gives a competitive edge to your company. You can not sell directly through a company, but you can use these sites to provide your company details and let potential customers know how to reach you.
Ecommerce: You may take online payments for goods or services from an ecommerce site, otherwise known as an e-shop. Stores can operate separately or can be paired with a blog or corporate site. A strictly corporate website without ecommerce can still, for example, implicitly allow users to buy something without payments.
Portfolio: Like a portfolio, these web pages are used to display samples of previous works and promote them. A portfolio can mostly be used by those in the creative industry, like a CV that displays the talents to please clients, clients and prospective employers.
Social Media: We all know about Twitter and Facebook, but many other types of social networking sites that take. These platforms are usually designed to exchange thoughts, photos or thoughts or simply to communicate with others on a similar topic. Increasingly, social media websites are becoming the gateway to read the news.
What can you do on a Website?
You can read information about any site on most websites.
If there are interesting hyperlinks, click or tap on these links to find out more information or do a job.
Music, photos, stores, communication and many more you can also listen to on several websites.
Recommended Articles
This is a guide to What is Website? Here we discuss the introduction, will you need a website of your own? creation, types and what can you do in it? You may also have a look at the following articles to learn more –