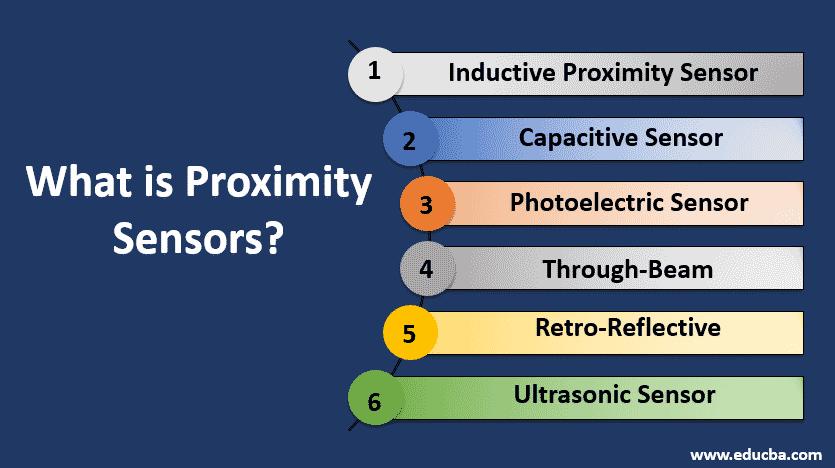 What is Proximity Sensors?
It is a sensor that can detect the presence of new buy objects without any physical contact. Is might called non-contact sensors.  A proximity sensor releases an electromagnetic field or a beam of electromagnetic radiation. It makes changes in the field or tries to return the signal. The proximity sensors target is an object which is sensed. It has long functional life and high reliability because of the absence of mechanical parts and the lack of physical contact between the sensor and the target. It can be used in temperature between -40 to 200°C. It is not affected by the object's color.
Top 6 Types of Proximity Sensors
Types of proximity sensors are given below:
1. Inductive Proximity Sensor
The sensor is called inductive because it detects under the electric principle of inductance. It detects metallic objects. It uses the oscillator circuit to generate a high-frequency electromagnetic field. The sensor consists of an inductive loop. When cable comes out of the sensor it turns red, metal gets detected and the sensor is switched on. When the cable goes away, sensors output is switched off.
2. Capacitive Sensor
It detects metallic and non-metallic objects in liquid, solid and granulated form.    It operates as an open capacitor because it has two conduction plates are positioned at the sensing head. The capacitance of these two plates increases when an object enters the sensing area, it causes to change oscillator amplitude, Schmitt triggers state changes and the output signal is created. Capacitive sensor oscillates if the target is present. Charging plates range from 10 to 50 HZ. It detects any type of material; the sensor should be kept away from non-target material to avoid the false trigger.
3. Photoelectric Sensor
It can sense target within 1mm in diameter. It is a rapidly advanced sensor. It can solve the bulk of industrial sensing objects. It has a laser diode, photodiode receiver to detect emitted light. Supporting electronics are designed to amplify the receiver. To detect the receiver emitter is used because it transmits the beam of visible or infrared light.
4. Through-Beam
It is the most reliable photoelectric sensor. Emitter provides a constant beam of light. Sensing occurs when the object passes the between two breaks the beam. It is separated from the receiver using separate housing. It is reliable to use. It can be used in commercial and industrial areas. It can save the car from being smashed.
5. Retro-Reflective
It has the longest photoelectric sensing distance. It has sensor monitoring range up to 10m. It works the same as through-beam but emitter and receiver are located in the same housing, facing the same direction. Emitter produces laser and projects it towards reflector which deflects beam back to the receiver. When the light path occurs or disturbed, detection happens. It saves cost and time. Reflective objects like cans or mirrors are challenging for retro-reflective sensors. This will cause erroneous output because the target reflects light to trick the receiver that the beam was not interrupted.
6. Ultrasonic Sensor
It consists of three components such as a transmitter, receiver and trans receiver. Transmitter converts -> electrical signal into ultrasound, receiver converts->ultrasound into an electrical signal and trans receiver can transmit and receive ultrasound. It can be used to measure the tank's fluid level, speed through the water. To measure the tank's fluid level sensor measures distance to the surface of the fluid. It can be used in automated production processes. It can detect within a specified sensing distance by measuring propagation time. This sensor is best suited for applications that require detection of the continuous object.
Benefits of Proximity Sensors
Some of the benefits are given below:
Inductive proximity sensors are accurate, high switching rates and can work in a difficult environment.
Capacitive sensors can detect metallic and non-metallic objects. It is having high speed and low cost.
The ultrasonic sensor has more sensing distance other than other sensor types.
The photoelectric sensor can sense any type of material with long life and fast response time.
It can be used in mobile devices like when we handle call it will detect that the screen should be off while answering the call, this will avoid dialing numbers.
It can be used while parking the car, it will detect the area safer to stop or park the car.
Conclusion
We have learned what is proximity sensors and use of it in real-time. Proximity sensors can detect the object without touching it, this makes our life easier because it gives us alert if sensors detect the object. Different types of sensors work differently in different areas. It is working is based on coil and oscillator.
Recommended Articles
This is a guide to What is Proximity Sensors?. Here we discuss the introduction and types of proximity sensors along with benefits. You can also go through our other suggested articles to learn more –