Updated June 2, 2023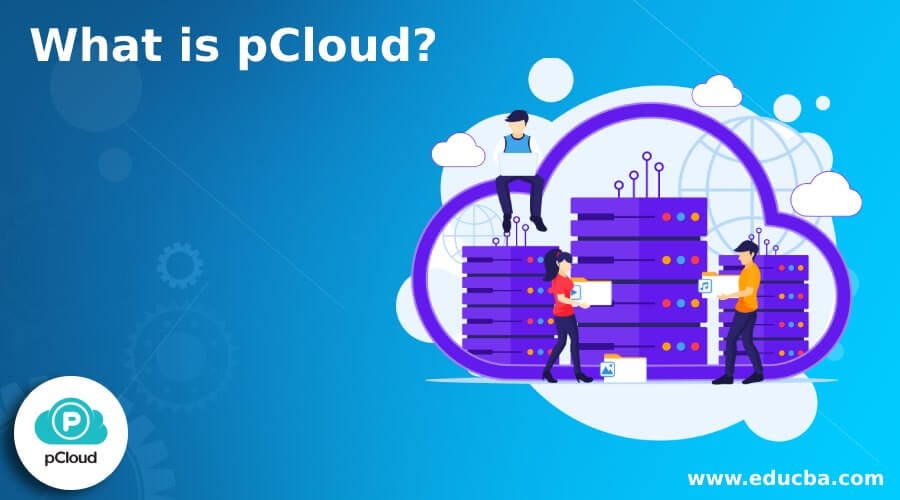 Introduction to pCloud
The software is available as a personal cloud space on a desktop or any device that stores files, folders, images, videos, etc., called pCloud. pCloud is installed in the systems with the help of another application pCloud drive, creating a secondary storage space other than the local one. Here, we can store our files or create files in the cloud storage that instantly display changes in the local system. The same pCloud account allows synchronization with any number of devices, enabling users to change files in the system.
Why do we Need pCloud?
Storage: We can store 10GB files for free, and there is 2TB file storage for a lifetime. This makes pCloud satisfying among users compared to other cloud storage. If we need to synchronize any folder from one of our devices to pCloud, the folder structure remains intact irrespective of the changes in the folder's content. If we would like to store the files without any encryption, pCloud allows us to do so, and this facility is not available in most cloud storage.
Media: Rather than helping to store the media in the cloud storage, it also helps to install and use media extensions in the cloud storage. This helps the users to store the media and play it through cloud storage without any synchronization issues. The user interface of pCloud is very interactive and helpful; even beginners can use pCloud without any confusion. Colorful interfaces help users locate and use all the features whenever needed.
How does pCloud Work?
We should register in pCloud with an email or Facebook account that creates our space in pCloud. We will get up to 10GB of storage space if we use it for free. The premium account offers 500GB storage, and the premium plus offers 2000GB storage space. Also, this cloud offers to pay in crypto coins. Once we open pCloud, we can see a sync option where we can sync our local folders. We can add or make changes in these folders and save them to cloud storage that can be available even while offline. To add files to pCloud, you can drag them from your local device and drop them into the cloud storage folder. This folder is synced with your local files and stored in the cloud.
If we want to upload files to the cloud, we can do file or folder upload directly from the internet, make the files available in the cloud, and then synchronize them in our system. We also have remote upload, where we can download videos or any media directly to the cloud storage and use it whenever needed.
We can share files with others with the help of invite links of pCloud storage or sending links of files or folders to them directly. This makes them to view the files and download them to their local. Also, if needed, we can provide download or upload links to others which helps them to retrieve files into their system.
Advantages and Disadvantages of pCloud
Given below are the advantages and disadvantages mentioned:
If we are working on a file and forget to save the same, we can track the history of files for up to 30 days and locate it in the cloud. Also, if we lose files locally due to a virus attack, we can retrieve the same from pCloud, as it saves five replicas of our files in three different storage locations.
If we need to store any sensitive information in pCloud, we can do so with the help of a crypto pass key. The files will first be encrypted from our devices and then transferred into pCloud. This makes the system store files from other people. Only those with the crypto pass key can view the files and make amendments. Security is made necessary in pCloud files.
We can consider pCloud drive as an online hard drive in our system to store files from other cloud storage and make them available whenever needed. Also, the mobile phone cloud application is user-friendly and helps store files or media. We can archive the data in the cloud if we do not use the data always. Retrieving the data might be costly, but storing it for a long time does not incur such charges.
If the network of pCloud is not good, it creates issues while syncing files, which makes files get corrupted in cloud storage. Also, we don't have proper support if the files get corrupted in the cloud storage while synchronizing them. We should restart the entire process and make the files in place. Another disadvantage is that we must pay for the crypto pass key to secure the files in the cloud. Extended history versions of files are available at an additional cost if a history of files for more than 30 days is needed.
Conclusion
Individuals who wish to store their files securely can use pCloud, which provides secure encryption for data storage. Or anyone who wants to save the archive files and ensure they are stored with extra security. Small companies use pCloud to store and share files among employees. Less cost and ease to use make it attractive for small-scale companies. If a file needs to be secured among a group of people, pCloud helps them with the crypto pass key. With a one-time payment, we can use pCloud for the lifetime that sets them apart from other cloud storage. Also, the encryption of files solely depends on our needs. If we need to encrypt, we can do so that prevents any other users to view the same files in the cloud storage unless we permit them. ISO certification makes them stand apart from their rivals with their quality of services.
Recommended Articles
This is a guide to What is pCloud? Here we discuss the introduction, need, working, advantages, and disadvantages. You may also have a look at the following articles to learn more –